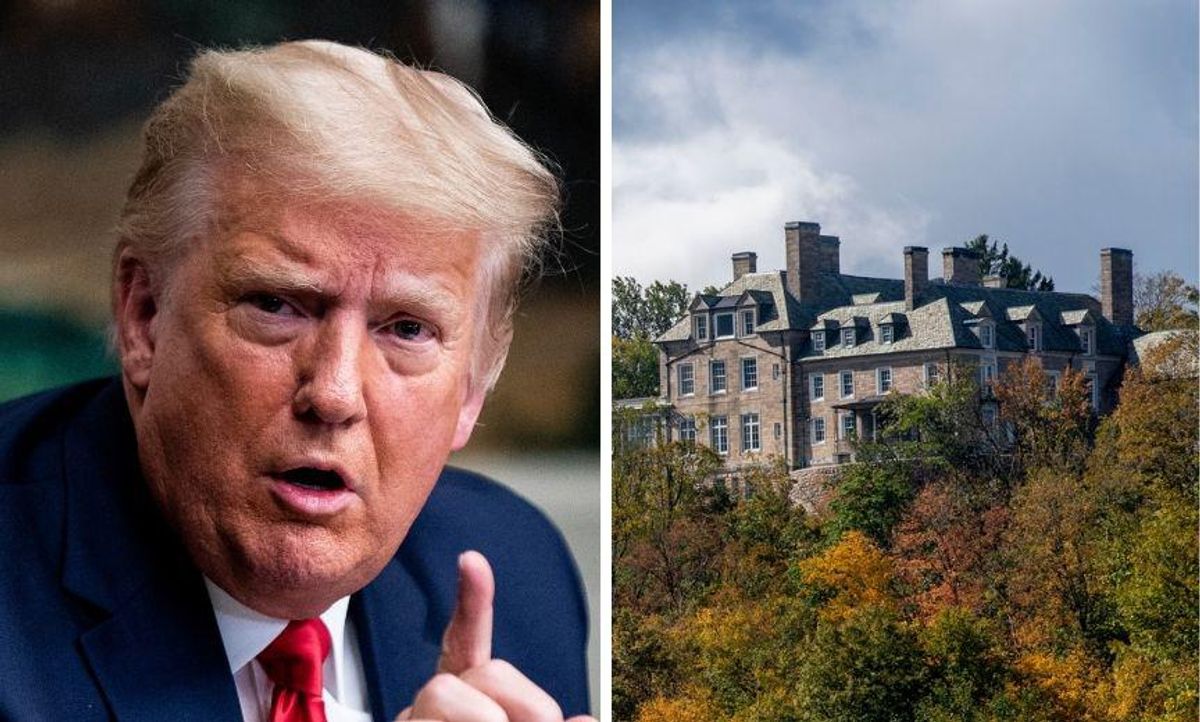 Erin Schaff - Pool/Getty Images // Johnny Milano for The Washington Post via Getty Images
In the coming weeks and months, much attention will be upon "Seven Springs" in upstate New York. It's one of Donald Trump's lesser-known properties, but it could be the thing that finally brings him down. Seven Springs now has the attention of both Manhattan District Attorney Cy Vance and New York Attorney General Letitia James.
Trump bought the 213-acre property back in 1995 for $7.5 million. The land features a stately 28,322 square-foot mansion built in 1919 by media magnate Eugene Meyer. The estate changed hands a few times, with some of the land given away to conservancy before the remaining property was sold to Trump, who envisioned a golf course or a housing development on it.
Trump's plans ran into opposition and litigation from environmental and community organizations, so nothing progressed for years. Then Trump saw an opportunity to save millions on taxes by granting an easement on the property to preserve 158 acres of forest and meadowland. From this grant, he wrote off $21 million based on an assessed value of the property in 2015 of $56.5 million.
This assessment was around $36.5 million higher than the $20 million that local assessors said the property was worth. Michael Colangelo, a lawyer in the Attorney General James's office, put it succinctly at a court hearing last year:
"If the value of the easement was improperly inflated, who obtained the benefit from that improper inflation and in what amounts? It goes without saying that the attorney general needs to see the records that would reflect the value of that deduction, as it flowed up to intermediate entities, and ultimately to Mr. Trump, personally."
Michael Cohen, Trump's longtime personal lawyer and fixer, told a congressional committee in 2019 that Trump regularly manipulated property values by inflating them in some cases and minimizing them in others to gain favorable loan terms and tax benefits. Cohen testified that Trump claimed Seven Springs was worth $291 million as of 2012, just three years before he told tax authorities it was worth $56.5 million. That's a discrepancy of over $234 million.
Cohen gave copies of three of Trump's financial statements (from 2011, 2012 and 2013) to the House Committee on Oversight and Reform that showed this inflated value. Two of these, from 2011 and 2012, were the same financial statements Trump gave his main lender, Deutsche Bank, when he'd sought a loan to buy the Buffalo Bills and Forbes magazine. But in his federal ethics disclosures while president, Trump had stated the properties were worth only between $25 million and $50 million.
The inflating and deflating of stated property values, in order to obtain a favorable tax deduction on the one hand and dupe his lenders on the other, opens Trump up to claims of tax and bank fraud, and possibly insurance fraud as well. But some experts will argue, no doubt, that this practice is common, especially in New York.
To pursue this possible angle and see if there's anything to the price manipulations, Vance recently hired former mafia prosecutor Mark Pomerantz—who as a federal prosecutor put the Gambino family crime boss John "Junior" Gotti in prison—to assist in a deep dive probe of Trump's finances.
Based on the written documentation, it is likely not in dispute that different amounts were stated at different times to different parties on the same property, sometimes by as much as a factor of 10. It will be far harder to prove that Trump knew what these disclosures said at the time and had intended to defraud the government or the bank.
Trump will say, as most defendants do in these cases, that he was just doing what the accountants told him to do, and that he was ignorant of the differences. To show this isn't true, prosecutors will need cooperation from people like the Trump Organization's CFO—Allen Weisselberg—and Michael Cohen.
Investigators have been looking into Weisselberg's investments to see if they can exert any pressure on him to flip on Trump. According to a report by Bloomberg, there are all-cash businesses in the form of two skating rinks in Central Park owned by the Trump Organization but operated by one of Weisselberg's children, Barry, that are now targets of inquiry.
Barry Weisselberg was also provided a rent-free apartment as another one of the unusual arrangements with the Trump Organization. And recently, the New Yorker reported that Jennifer Weisselberg, the ex-wife of son Barry, is cooperating with prosecutors and providing insight into her father-in-law's psyche around Trump.
So far, prosecutors are keeping their Weisselberg cards very close. It isn't clear they can build enough pressure, at least not yet, to cause Weisselberg to turn on Trump. But Vance certainly has a more cooperative witness in Michael Cohen.
Cohen has now been in to see his investigators a total of eight times, most likely to corroborate their investigation and help make sense of the financial documents they obtained from Trump's accountants at Mazars USA.
To some experts, this means that Vance's grand jury is likely close to issuing indictments, and they are just getting their case and the facts solidified.
For his part, Trump is likely readying to smear Cohen as a liar and an opportunist who will say anything to sell his book or please prosecutors. That's why the trove of documentation obtained by subpoena matters a great deal. Cohen may also have evidence of communications between himself and Trump on the subject of Seven Springs and many, many other suspicious transactions.
It is entirely in keeping with Trump's history of cheating—on everything from his deals with small contractors, to his marriages, to the election in 2016—that he should be caught cheating the IRS and his own banks.
Money has always been Trump's true love and obsession, and his greed could well be his poetic undoing. It was tax fraud that brought down mobsters like Al Capone, and it could be tax and bank fraud that finally brings down Trump, too.