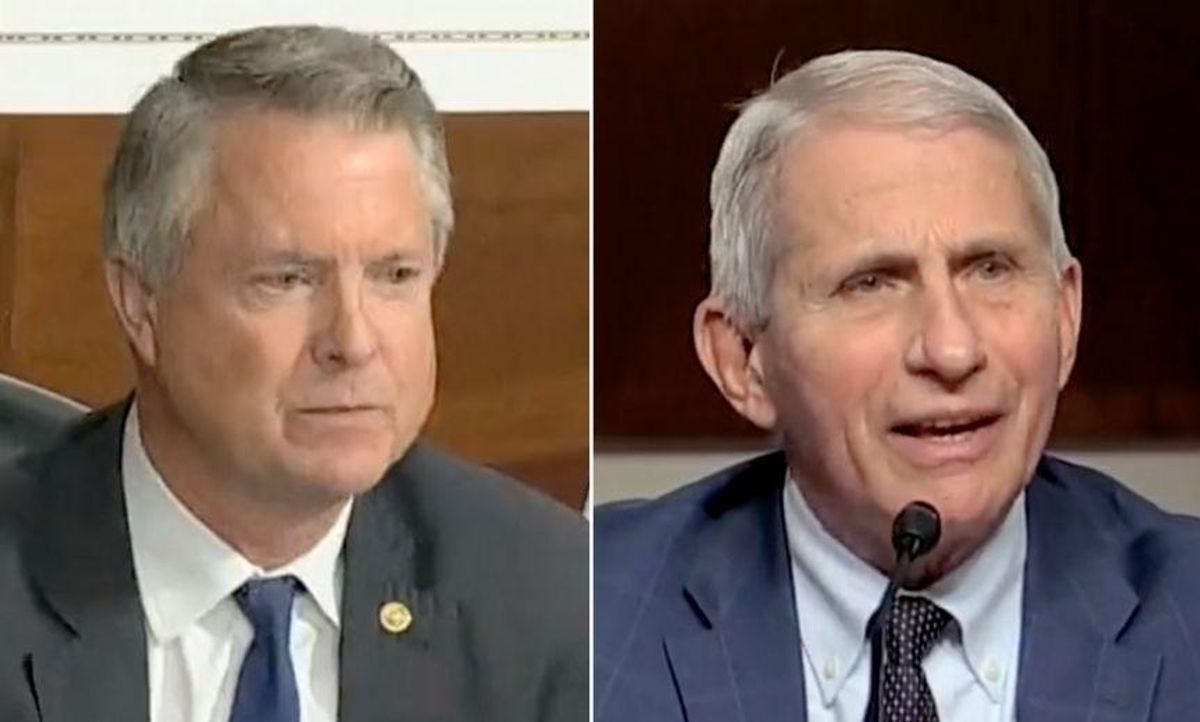 C-SPAN // C-SPAN
National Institute of Allergies and Infectious Diseases (NIAID) Director and Biden's top medical advisor, Dr. Anthony Fauci, has become one of the most polarizing public figures in the face of the pandemic that's killed more than 800 thousand Americans.
For many, Fauci, who has served under ever President since Reagan, represents science and factuality amid an ever-evolving pandemic landscape unceasingly convoluted with disinformation and conspiracy theories. For others on the right, Fauci—who has no power to dictate or enforce mandates or shutdowns—represents a totalitarian effort to shut down the country that's at odds with the party's near-unanimous dismissal of the pandemic's severity.
So when Fauci testified along with other health officials before the Senate Health Committee on Tuesday, he faced some belligerent questioning from the latter camp.
A particularly heated exchange came during the questioning of Republican Senator Roger Marshall of Kansas, who falsely accused Fauci was concealing his financial disclosure.
Watch below.

Marshall noted that Fauci is the highest paid federal government employee, asking:
"Would you be willing to submit to Congress and the public a financial disclosure that includes your past and current investments? After all, your colleague, Dr. Walensky and every member of Congress submits a financial disclosure that includes their investments."
A befuddled Fauci said he didn't understand why he was being asked that question, as his financial disclosure is already available to the public.
Marshall insisted they were not, or that there was an insidious effort to keep the disclosure hidden. He asked where the disclosure could be found.

Fauci responded:

"All you have to do is ask for it. You're so misinformed. It's extraordinary."
Marshall said the disclosure was a "huge issue" and that there was an "air of appearance that maybe some shenanigans are going on."
"What are you talking about?" Fauci asked. "My financial disclosures are public knowledge and have been so. You are getting amazingly wrong information."
As the Senator's time expired, he continued to insist that his office couldn't find the disclosure, though decades' worth of Fauci's disclosures are—in fact—available to the public through a Freedom of Information Act request to NIAID. His 2020 disclosure is available here.
Fauci was clearly frustrated with Marshall's grandstanding, and a hot mic captured how he really felt.
He muttered:

"What a moron. Jesus Christ."
The moment soon went viral, with Marshall's office issuing a statement continuing to liet that Fauci's disclosures aren't public.
"I understand that Anthony Fauci had a very frustrating day ... being called out about his personal financial disclosure during the COVID pandemic NOT being publically [sic] available must be very frustrating. Calling me a moron during a Senate hearing may have alleviated the stress of the least trusted bureaucrat in America, but it didn't take away from the facts,"
Reflecting on the exchange in an interview with MSNBC's Chris Hayes, Fauci said:

"He made the statement that we can't get your financial statement. It was stunning to me that a United States senator doesn't realize that my financial statement is public knowledge. It was just like where have you been?"
Social media users far and wide agreed with the sentiment Fauci let slip on the hot mic.
Others felt embarrassment for Marshall.

As it turns out, Marshall himself violated the STOCK Act just last year for not submitting his financial records on time.