We shouldn't be surprised.
09 July 2018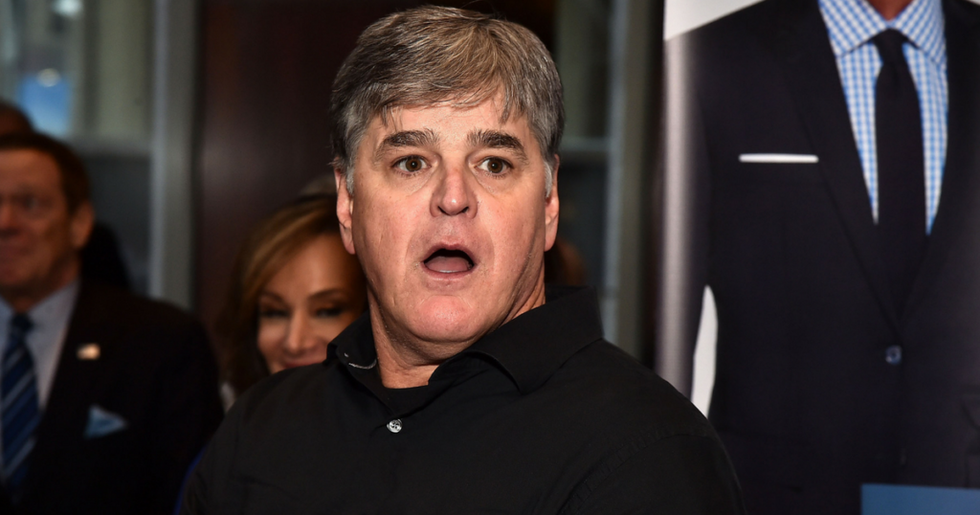 NEW YORK, NY - APRIL 02: Sean Hannity attends Geraldo Rivera Launches His New Book 'The Geraldo Show: A Memoir' at Del Frisco's Grille on April 2, 2018 in New York City. (Photo by Theo Wargo/Getty Images)
Fox News host Sean Hannity reportedly weighed in on whom President Donald Trump should nominate to the Supreme Court during a visit Trump's Bedminster, New Jersey golf club over the weekend.
Sources familiar with the conversation told the New York Times Hannity urged Trump to choose Amy Coney Barrett, an extremely conservative Chicago Circuit Court of Appeals Judge who was appointed by Trump to the bench last year.
Barrett was also a law professor at the University of Notre Dame and served as a clerk to the late Justice Antonin Scalia, who died in 2016 and whom Trump replaced with Neil Gorsuch.
Sean Hannity and Donald Trump's sister could influence president's Supreme Court decision https://t.co/U3oqAQdZqA https://t.co/cFmaHIDsLZ

— Newsweek (@Newsweek) 1531158310.0
The president is expected to announce his pick Monday evening to replace Justice Anthony Kennedy, who retired on June 27th.
I have long heard that the most important decision a U.S. President can make is the selection of a Supreme Court Ju… https://t.co/YzbriAXZwj

— Donald J. Trump (@Donald J. Trump) 1531138483.0
"I'm very close to making a decision," Trump said as he boarded Air Force One to return to Washington on Sunday night.
NYT: "But Mr. Trump has also said positive things to associates about Judge Amy Coney Barrett, a staunch social con… https://t.co/tue9otfNKt

— Rick Duncan☘️ (@Rick Duncan☘️) 1531108477.0
Trump and Hannity have an intimate relationship. In May, it was reported the two men speak every night, with Hannity serving as a sort of therapist and informal adviser to the president.
Sources close to the president say Barrett's social conservatism could have broad appeal with Trump's base, primarily from her skepticism over Roe vs. Wade and its establishment of abortion as a constitutional right.
@realDonaldTrump Will @VP Mike Pence be the last person @POTUS speaks to before taking the podium after 9 pm ? The… https://t.co/C1iHwe6Iui

— One Wireless Place (@One Wireless Place) 1531157981.0
Barrett's religious affiliations have also come under scrutiny. A devout Roman Catholic, Barrett belongs to a conservative sect known as the People of Praise, whose doctrine includes the idea of women being subservient and obedient toward their husbands.
The group "looks like a cult," said former George W. Bush White House ethics lawyer and Minnesota Senate candidate Richard Painter (D). People of Praise allegedly requires members to swear a lifetime allegiance to a same-sex adviser, the female version of which are known as "handmaidens."
"Amy Barrett Is downright dangerous unless we want to live in a theocracy," Painter added.
A religious group in which members take an oath of loyalty to each other and are supervised by a male "head" or fem… https://t.co/Or8yXczssX

— Richard W. Painter (@Richard W. Painter) 1530372250.0
Another blogger wrote of People of Praise:
Barrett is a dangerous religious extremist who believes a federal judge can subvert the U.S. Constitution and the laws of the United States in order to promote her own religious agenda.
People of Praise is rumored to have served as some of the inspiration for the Hulu series, The Handmaid's Tale, based on the Margaret Atwood novel, depicting a dystopian society in which women are relegated to serve as bearers of children.
Barrett "has championed originalism and a strict form of textualism that are incompatible with the advancement of civil rights for African Americans, women's rights, and rights for LGBTQ Americans," The Alliance for Justice, a progressive advocacy group, said. They also described Barrett's views as "genuinely antithetical to our system of democracy."
Friends of Barrett, however, say she recognizes the importance of sequestering her religious beliefs from her judicial duties.
"She's just crazy smart and a very decent down-to-earth person," said Rick Garnett, a friend of Barrett's and fellow Notre Dame law professor. "She has a quality of kind of a generosity and kind of a charity that strikes people."
"She's a remarkable person," said Jennifer Mason McAward, another Notre Dame colleague of Barrett's. "Amy can handle anything."
I have every reason to believe that would be the case if she was a justice.
Critics of the president have voiced concern over all of his far-right potential nominees, among whom are D.C. Circuit Court Judge Brett Kavanaugh of the United States Court of Appeals and Raymond Kethledge, a United States Circuit Judge of the United States Court of Appeals for the Sixth Circuit.
@realDonaldTrump With Justice Kennedy retiring the following are severely at risk if Donald Trump nominates another… https://t.co/bssm4O9Vl5

— ♻️🇺🇸 Christopher Zullo (@♻️🇺🇸 Christopher Zullo) 1531141416.0
@realDonaldTrump Why I #RESIST Tax Scam Bill Net Neutrality Trade Wars Pre-Existing Conditions Space Force March F… https://t.co/DrWWZKphru

— ♻️🇺🇸 Christopher Zullo (@♻️🇺🇸 Christopher Zullo) 1531141458.0
Others are wary of whoever gets the nod from Trump because of potential rulings on if a sitting president can be indicted, which is likely to be decided by the Court if Special Counsel Robert Mueller's investigation turns up evidence that Trump obstructed justice.
Democrats are also sounding the alarms over Trump picking a justice who could potentially decide his own legal fate. The main question, according to Democrats, is whether a president under federal criminal investigation for stealing an election should be able to pick a Supreme Court justice.
"I do not believe this committee should or can in good conscience consider a nominee put forward by this president until that investigation is concluded," Senator Cory Booker (D-NJ) said during a Senate Judiciary Committee meeting last week.
If we're not going to thoroughly discuss what it means to have a president with this ongoing investigation happening, who is now going to interview Supreme Court justices, and potentially continue with his tradition of doing litmus tests, loyalty tests, for that person, we could be participating in a process that could undermine that criminal investigation.
On Friday, Senator Jeff Merkley (D-OR) expanded on this, tweeting that whomever Trump picks to replace Kennedy may ultimately decide if the president can pardon himself.
A President under investigation for colluding with a foreign nation to interfere with an election should not be all… https://t.co/Qr9nwjBSRR

— Senator Jeff Merkley (@Senator Jeff Merkley) 1530895717.0
Trump has said he "has the absolute right to pardon" himself, but since there is no legal precedent for doing so, that too may end up being decided by the Supreme Court.
For now, Trump's choice remains known only to the president until tonight.
Keep reading...Show less