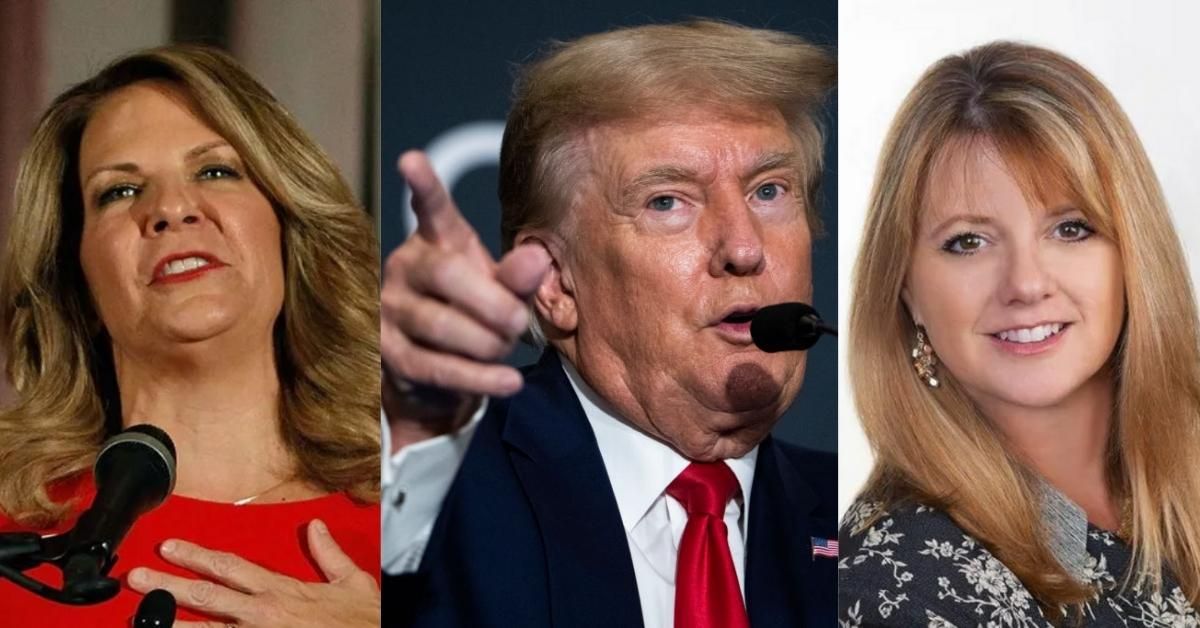 Ralph Freso/Getty Images; Tom Williams/CQ-Roll Call, Inc via Getty Images; Wikipedia
A leaked email obtained by the New York Times revealed that two Republican Arizona politicians, and allies of former President Donald Trump, expressed concerns about a fake elector scheme to help overturn the 2020 Presidential election "could appear treasonous."
The Times reported that Kelli Ward–the chairwoman of the Arizona Republican Party—and Kelly Townsend–a GOP state senator—warned Trump's lawyers in December 2020 the scheme to overturn the election might come off as suspicious and be seen as a possible betrayal of the country.
The scheme involved creating a fake slate of electors voting in favor of Trump to appear as if he had won Arizona despite Biden's established victory in the state by virtue of having more votes.

In the email written by Kenneth Chesebro, a lawyer who worked on Trump's campaign, he apprised other members of the legal team regarding Ward and Townsend's concerns about "casting votes as part of an alternate slate of electors because there was no pending legal challenge that could flip the results of Arizona's election."
Chesebro wrote:
"Ward and Townsend are concerned it could appear treasonousfor the AZ electors to vote on Monday if there is no pending court proceeding that might, eventually, lead to the electors being ratified as the legitimate ones."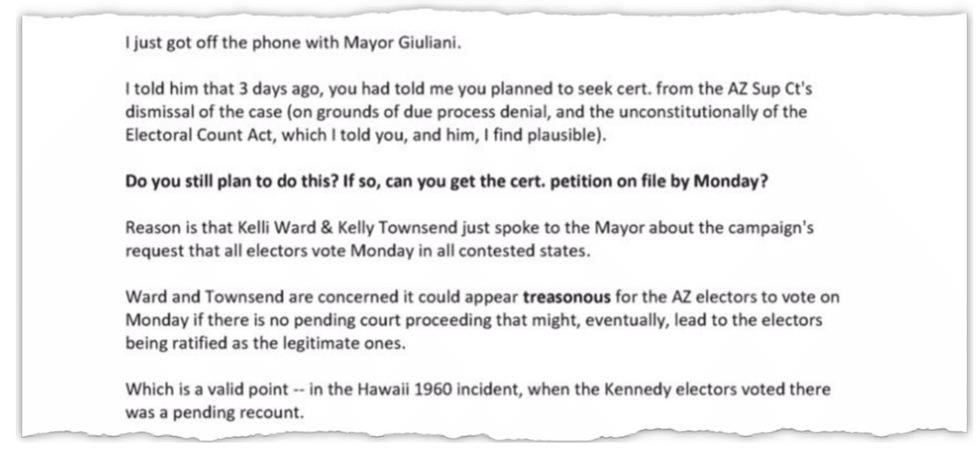 The New York Times/Twitter
The word, "treasonous," was highlighted in bold in the circulating email–suggesting some of Trump's allies were cognizant of the severe risks involved to ensure Trump would remain in office at all costs.
The email was sent to a group that included Trump's personal lawyer, Rudolph W. Guiliani.

Exasperated social media users continued stating the obvious.
Ward ultimately signed a document purporting to be a "certificate of the votes of the 2020 electors from Arizona" and falsely claimed that Trump had won Arizona's 11 Electoral College votes.
Townsend, on the other hand, did not sign the document, but she still pushed false claims about a stolen election.
The Justice Department sent subpoenas to both Arizona officials inquiring about the alternate electors' plan, and they also requested documents detailing their communications with Trump's legal team.