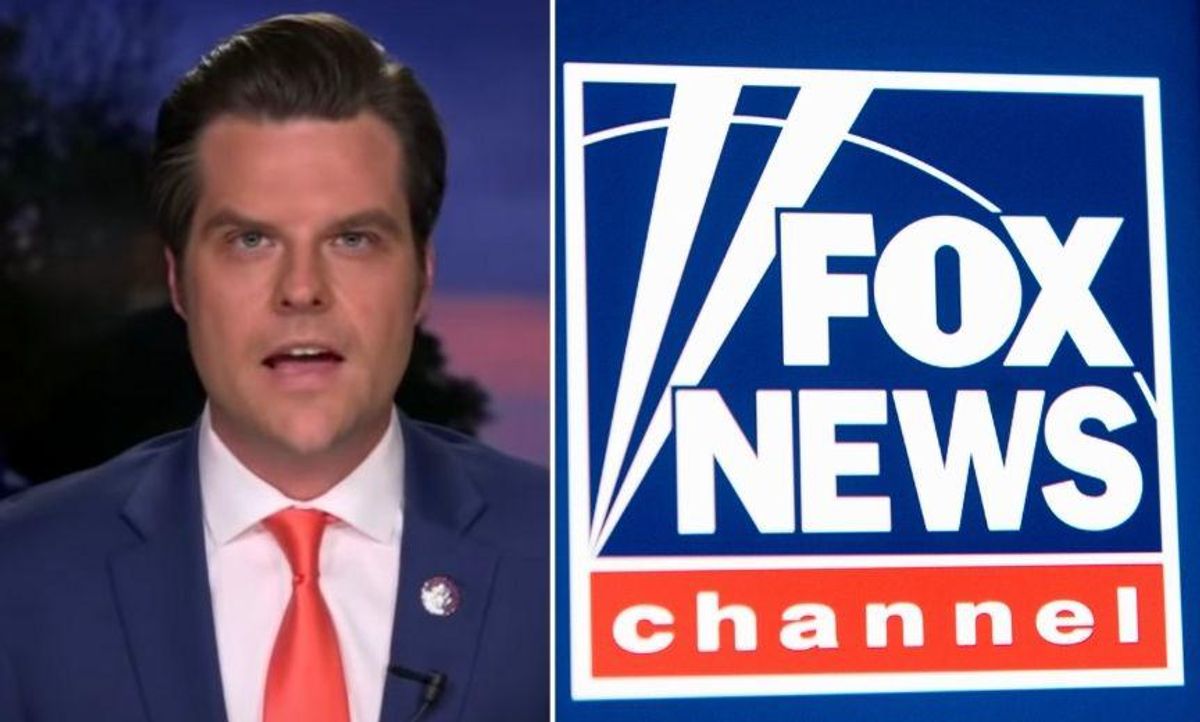 Fox News // Mateusz Slodkowski/SOPA Images/LightRocket via Getty Images
As one of the most far-right members of Congress, Representative Matt Gaetz (R-FL) became notable for his viral defenses of former President Donald Trump, whom he's hailed as one of the greatest Presidents in American history.
Earlier this week, the New York Times reported that Gaetz is under federal investigation for the sex trafficking of a minor, whom he may have paid to travel and lodge with him.
Since then, news has only gotten worse for Gaetz, with CNN reporting that he showed nude photos of his sexual conquests on the House floor and the Times reporting that Gaetz allegedly took ecstasy, an illegal drug, before having sex with the women he paid.
As more salacious and disturbing details continue to surface, Gaetz's future in Congress is being called into question.
Just before the initial report of the investigation broke, Axios reported that Gaetz was considering an early exit from Congress for a job at the ultra-right media outlet Newsmax.
In a Wednesday comment to the Daily Beast, Gaetz said he'd spoken with other right-wing networks as well, including the most famous one of all: Fox News.
"I've talked to either executives, producers or hosts at Newsmax, OAN, Fox, Fox Business, Real America's Voice and probably others I'm forgetting in this moment as I focus intently on refuting false accusations against me."
Gaetz has appeared on Fox News frequently, and even took to far-right Fox host Tucker Carlson's broadcast earlier this week in his first appearance after news of the investigation broke.
But with things looking bleaker for Gaetz, Fox News scrambled to distance itself in a statement:
"No one with any level of authority has had conversations with Matt Gaetz for any of our platforms, and we have no interest in hiring him."
For many, the network's cemented solidified the Congressman's fall from grace.
In addition to having "no interest" in hiring him, Gaetz's scandal has been conspicuously absent from Fox News' reporting, with only one mention of the Congressman since Wednesday morning.
The network's silence said a mouth full.

Gaetz continues to claim that the reporting on him is false, and that the Justice Department's investigation—which began in the Trump era—is part of an extortion effort.