Saul Loeb/AFP via Getty Images; Alex Edelman-Pool/Getty Images
The United States Senate has terms of office of six years, so every two years about 1/3 of the Senate faces retirement or reelection. In the 2018 midterm elections, the majority of Senate seats up for reelection belonged to Democrats.
But in 2020, the script is flipped.
Of the 35 Senate terms that end with this election cycle, 23 of those seats are currently held by Republicans. Three of those GOP Senators chose retirement over another campaign for Congress.
In 2018, control of the House of Representatives—where every member faces reelection every two years—shifted from red to blue. In order to avoid the same thing happening in the Senate in 2020, the GOP needs to hold onto every seat it can.
But President Donald Trump doesn't seem to have gotten the memo. On Friday morning, Trump attacked one of the more vulnerable Republican Senators facing reelection this cycle.
The POTUS tweeted:
"There is a nasty rumor out there that [Senator Susan Collins] of Maine will not be supporting our great United States Supreme Court Nominee. Well, she didn't support Healthcare or my opening up 5000 square miles of Ocean to Maine, so why should this be any different."
"Not worth the work!"
There is a nasty rumor out there that @SenatorCollins of Maine will not be supporting our great United States Supreme Court Nominee. Well, she didn't support Healthcare or my opening up 5000 square miles of Ocean to Maine, so why should this be any different. Not worth the work!
— Donald J. Trump (@realDonaldTrump) October 16, 2020
Collins faces stiff competition from Maine Speaker of the House Sara Gideon. Her once virtually guaranteed Senate seat is now classified as a toss up.
Collins first began to hemorrhage approval rating points after voting to confirm another of Trump's SCOTUS picks, Brett Kavanaugh. That was followed by voting to acquit Trump in his Senate impeachment trial.
At the time, Collins justified her vote by claiming Trump learned his lesson after being impeached by the House. But when the President's comments to the press soon after disproved her claim, Collins tried to walk back her earlier statement.
But the damage was done, courtesy of the President she repeatedly showed blind faith in.
If Susan Collins had voted for impeachment, she might have lost her seat, but she would've retained her dignity. Instead, she threw away her dignity and her seat won't be far behind. https://t.co/RbbmRlvkNY
— Matthew Miller (@matthewamiller) October 16, 2020
Correct. From Kavanaugh to impeachment Susan Collins has said one thing but voted the other. Her devotion to trump won't save her seat & she's embarrassed herself
— rory stone (@echinops420) October 16, 2020
In Maine, signs featuring Susan Collins dressed in a red hoodie emblazoned with "I'm with Stupid" are being placed next to signs in public areas for Trump/Pence.
The finger on Collins hoodie points toward the President who just threw her under the bus again despite her loyalty on every vote that counted.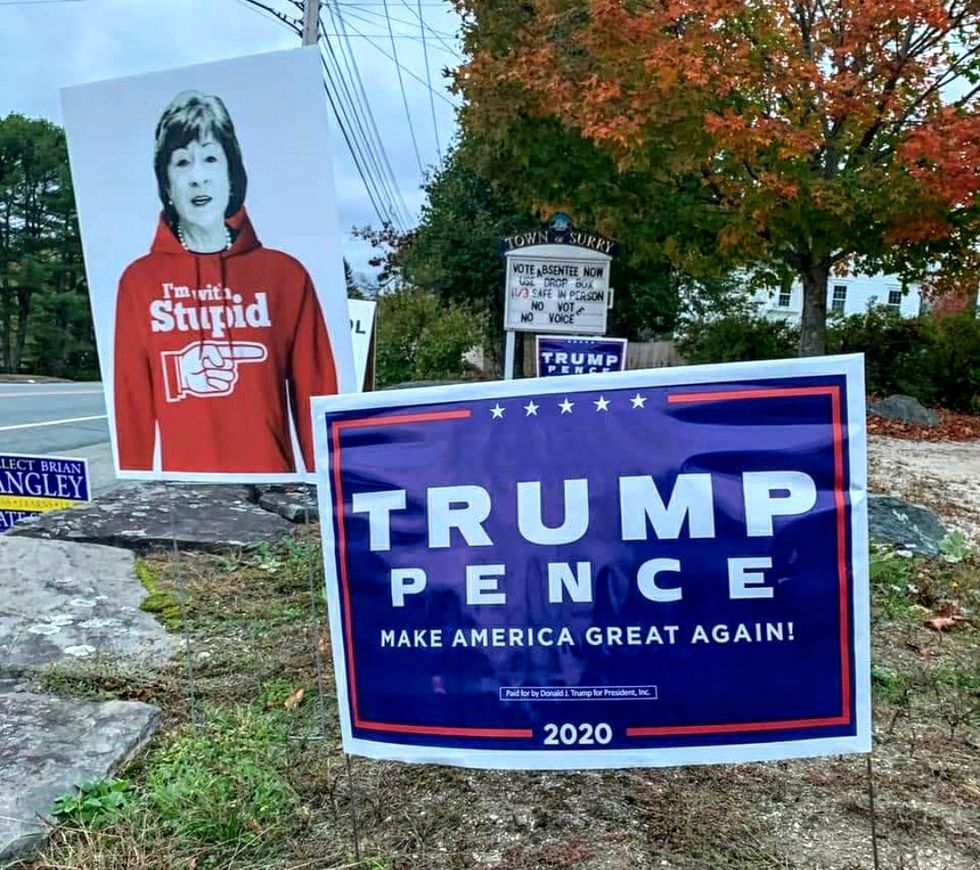 Maine Women for Biden-Harris 2020/Facebook
Critics of Collins' moderate Republican personna—a holdover from when she served as junior Senator to true moderate Olympia Snowe—point out Collins only votes against her party when measures will pass without her vote or when the GOP doesn't have the votes they need, even with hers.
Now with the President attacking her, the MAGA diehards Collins needed to retain her seat are no longer guaranteed.
Collins finds herself being criticized by both Trump's fans and foes.
There's no way to maintain dignity in relation to a malignant narcissist. He will elevate and then degrade everyone he encounters. Predictable as sunrise.
— In The Dolomites (@QEDmostly) October 16, 2020
Any Republican that does not support Judge Barrett should switch parties immediately.
— Dawn Michael, PhD💗 (@SexCounseling) October 16, 2020
Her name is on the amicus brief to be presented at the Supreme Court to invalidate the ACÁ ON 11/10!She just never knows when to hit bottom.
— Obama Politics (@CuomoElia) October 16, 2020
When Republicans stop electing people like Ben Sasse, Mitt Romney, Lisa Murkowski, and Susan Collins we'll be in a much more unified place. The weak links in the chain GOT TO GO! #NoMoreRinos
— 𝕞𝕖𝕝𝕚𝕤𝕤𝕒 🙈🙉🙊 (@my3monkees) October 16, 2020
She aided and abetted a criminal president on every significant issue. She lost her dignity when she voted to confirm Brett Kavanaugh while women protested at her offices. She also voted not to remove a criminal president and we've all suffered as a result . Bye-bye Susan !!!
— Richard Freeman (@Richard111550) October 16, 2020
Seriously, Susan?!

After Polling For Amy Coney Barrett Surges – Susan Collins Turns On Her Own Party, Will Vote Against Amyhttps://t.co/pribm4N4XA
— Judge Jeanine Pirro Fans (@JudgeJeaninefan) October 16, 2020
There is also a strong rumor that Susan Collins is going to lose her senate seat to @SaraGideon and one of the main reasons for that is because Collins has been too unwilling to go against her crazed boss, Trump! Maine is not impressed.
— MURRAY 🇺🇸🗽 (@murray_nyc) October 16, 2020
Uh oh. Collins just moved from moderately concerned to disappointed.
— Paul 👻 (@pablo_honey1) October 16, 2020
Democrats need gain just 3-4 seats to take control of the Senate in 2021.

In addition to Susan Collins, the following Republican Senators will fight to keep their seats in November:
Dan Sullivan (AK), Tom Cotton (AR), Martha McSally (AZ), Cory Gardner (CO), Kelly Loeffler (GA), David Perdue (GA), Joni Ernst (IA), James Risch (ID), Mitch McConnell (KY), Bill Cassidy (LA), Cindy Hyde-Smith (MI), Steve Daines (MT), Thom Tillis (NC), Ben Sasse (NE), Jim Inhofe (OK), Lindsey Graham (SC), Mike Rounds (SD), John Cornyn (TX) and Shelley Moore Capito (WV).