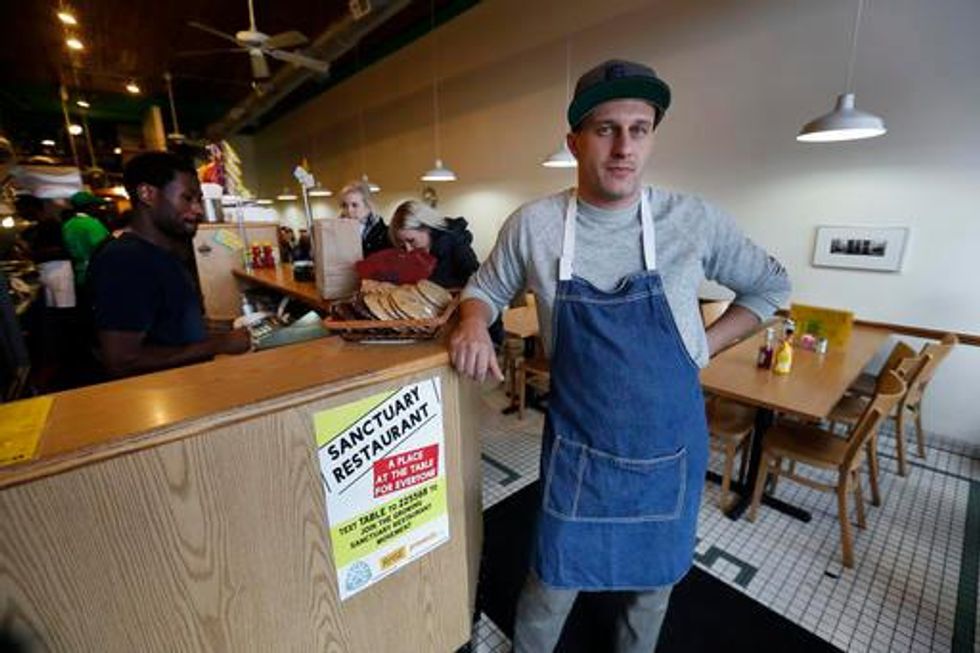 In this Wednesday, Jan. 18, 2017 photo, Ben Hall, owner of the Russell Street Deli, poses with a sanctuary restaurant sign in Detroit. Dozens of restaurants are seeking "sanctuary" status, a designation owners hope will help protect employees in an immigrant-heavy industry and tone down fiery rhetoric sparked by the presidential campaign. (AP Photo/Paul Sancya)
Almost 300 cities and counties refuse to varying degrees to cooperate with deportation orders. Trump ordered the Homeland Security Department to release a list of these sanctuary cities, noting crimes such as murder and robbery committed by immigrants that have been sheltered by their policies.
Under Trump's new order, cities continuing to offer protection to immigrants will be denied up to 25 percent their federal funding.
---
"We are going to get the bad ones out: the criminals and the drug dealers and gangs and gang members and cartel leaders."
Trump's definition of "the bad ones" is far more broad than President Obama's. Obama prioritized deportation of immigrants convicted of serious crimes; under Trump, immigrants suspected of committing a crime, or who might pose a risk to public safety, face deportation or detention.
"I think the guiding principle for the president is keeping this country safe," said White House press secretary Sean Spicer. "His priority with respect to immigration is first and foremost making sure that people who are in this country that are seeking to do us harm or have committed a crime are at the forefront of that."
The restaurant industry, which relies on immigrants for up to 70 percent of its labor force, had a mixed reaction to the new policies.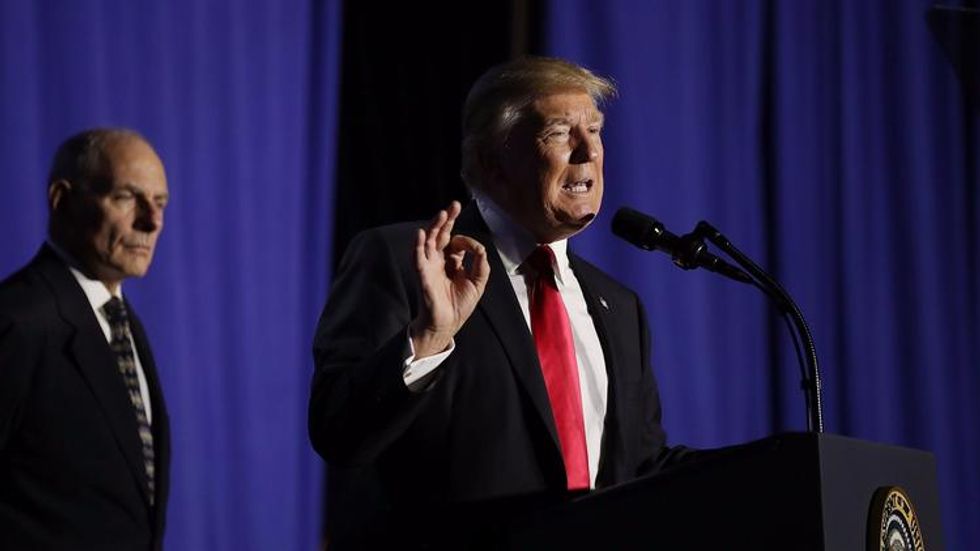 Credit: Source.
The National Restaurant Association supports an immigration overhaul and says it will cooperate with Trump to find ways to confirm that employees are legally eligible to work in the country.
But a grassroots movement launched by Restaurant Opportunities Centers United has other ideas. More than 80 restaurants nationwide are declaring themselves "sanctuary restaurants" to provide a safe haven for their workers and customers.
"Restaurants are part of embracing other cultures," said Todd Feinberg, general manager at Campagne Bistro in Chicago. "We are all an immigrant culture. The idea that we might not accept that disturbs me a bit."
A sanctuary restaurant is designated as a safe zone, where harassment of any individual based on immigrant/refugee status, race, religion, gender, or sexual orientation is prohibited. Restaurants who join the movement prominently display the ROC-approved sign saying "SANCTUARY RESTAURANT: a place at the table for everyone." They also receive support and information from ROC United, such as training about how to handle potential raids.
"This is not about a restaurant harboring people in a closet. This is about creating a safe space," said Saru Jayaraman, a co-founder of ROC United. "Employers have a responsibility to protect their workers."
"The stakes have never been higher and wherever others normalize white supremacy and hate, we will organize and resist," said Matt Nelson, Executive Director of Presente.org. "The Sanctuary Restaurant Movement will provide protections for targeted workers and elevate and celebrate restaurants that commit to resist the draconian, anti-immigration efforts of the incoming administration."
The sanctuary restaurant movement doesn't offer any legal protections, but it provides a way for restaurants to show their support for employees and customers.
"We like the meaning of 'sanctuary,' which is a safe place for everyone," said Zingerman's co-founder Paul Saginaw. "This has nothing to do with harboring undocumented workers … it's symbolic, but the only thing necessary for evil to succeed is for good people to do nothing."
---
Keep reading...Show less