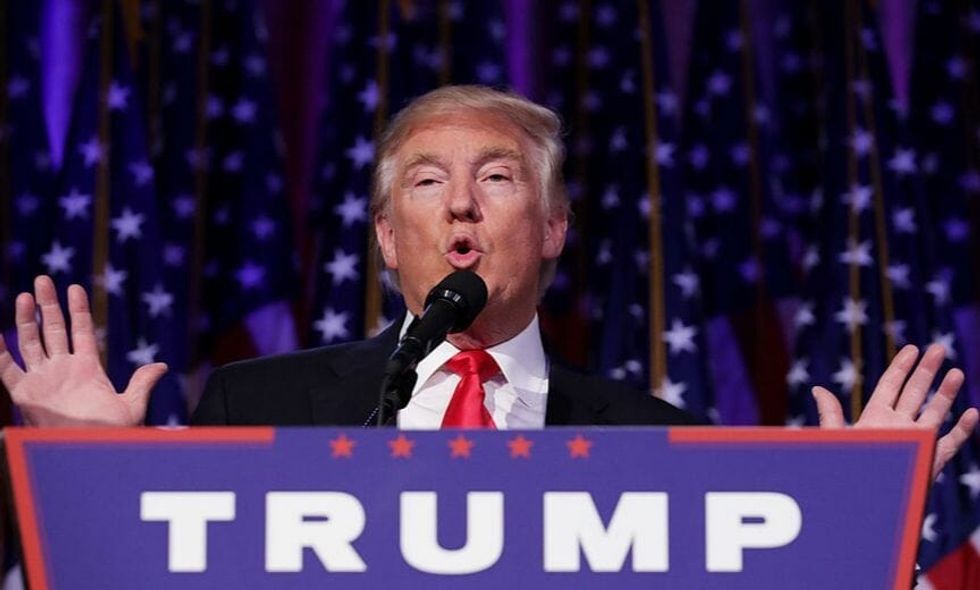 Chip Somodevilla/Getty Images
As U.S. intelligence agencies determined and the Mueller Report confirmed, Russian agents attacked American elections in a "sweeping and systematic fashion" to help now-President Donald Trump and weaken his 2016 opponent, former Secretary of State Hillary Clinton.
Now, the Republican-dominated Senate Intelligence Committee report is confirming the same. The committee—headed by Trump-supporting Senator Richard Burr (R-NC)—not only corroborated the findings of intelligence officials, but urged the White House to take action.
With the possible exception of Trump, nearly all Americans have accepted the fact that Russia meddled in the 2016 election. What's up for debate is whether or not Trump would've pulled off his upset 2016 victory without Russian assistance or if Russia's efforts actually tipped the scales and successfully changed the outcome of a presidential election.
According to the Intelligence Committee report, Kremlin-backed agents believed it was their efforts that led to Trump's victory—and they celebrated with a chilling toast on election night.
One agent described the scene:
"We uncorked a tiny bottle of champagne...took one gulp each and looked into each other's eyes...We uttered almost in unison: 'We made America great.'"
The Republican-dominated Intelligence Committee's report is two years in the making and urged the White House to prepare for similar actions in 2020:
"The committee recommends that the executive branch should, in the run-up to the 2020 election, reinforce with the public the danger of attempted foreign interference in the 2020 election."
The toast to Trump's victory reflected a disturbing reality.
@StevenTDennis @jonfavs Long after Trump is gone we will have to live with the fact that we got historically owned… https://t.co/IwLiPIhcYS

— Ponytail Nights (@Ponytail Nights) 1570571312.0
@StevenTDennis They wanted to make us look ridiculous. Look at the state we are in. They achieved that. We've lost… https://t.co/89NrAPzSkA

— starbuck (@starbuck) 1570572011.0
@StevenTDennis @Susan_Hennessey This is sickening

— Luke Zaleski (@Luke Zaleski) 1570566295.0
@StevenTDennis https://t.co/zTTzimtZw4

— Im🍑 Now! (@Im🍑 Now!) 1570569374.0
Concerns are growing that similar foreign interference efforts will pay off in 2020—possibly with help from the Oval Office.
Facebook already helped elect Donald Trump once because they were asleep at the wheel while Russia attacked our dem… https://t.co/SiG4KnVnNI

— Elizabeth Warren (@Elizabeth Warren) 1570490497.0
Russia didn't just hack Hillary Clinton's emails, it targeted voter registration systems in 21 states Trump isn't… https://t.co/sg8uIgjBD5

— Ari Berman (@Ari Berman) 1570207380.0
Dear @SecPompeo: Remember when you were @CIA Director and you, your agency & every other U.S. Intelligence agency f… https://t.co/dU5WtaZBr8

— Ted Lieu (@Ted Lieu) 1570326330.0
I miss being a sovereign nation with free and fair elections. I miss having president who hasn't hired operatives i… https://t.co/vYIN2EsS8k

— David Carroll 🦅 (@David Carroll 🦅) 1570138667.0
Trump gave Putin 2 birthday presents today. He invites Turkey to crush Kurdish allies and US is going to pull out o… https://t.co/kXoczSmKfH

— Wajahat "Abu Khadija" Ali (@Wajahat "Abu Khadija" Ali) 1570500760.0
.@realDonaldTrump won't acknowledge this, but Russia is still attacking the US via social media, according to the n… https://t.co/T7tJxiz1Zj

— David Corn (@David Corn) 1570554693.0
Nevertheless, Senate Majority Leader Mitch McConnell (R-KY) has yet to bring to the floor any of the election security measures passed by the House of Representatives.
Keep reading...Show less