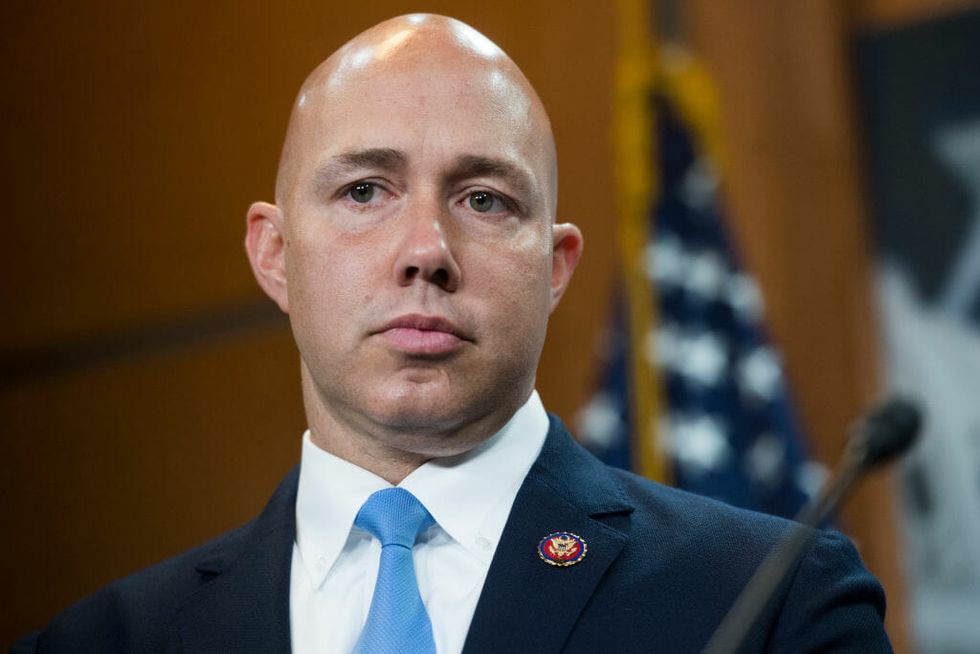 UNITED STATES - SEPTEMBER 20: Rep. Brian Mast, R-Fla., conducts a news conference in the Capitol Visitor Center on the eviction of Congressional offices from Veterans Affairs Department facilities on Friday, September 20, 2019. (Photo By Tom Williams/CQ-Roll Call, Inc via Getty Images)
The United States Navy celebrated its 244th birthday on Sunday, and while lawmakers on both sides of the aisle sent their well-wishes, one tweet from Congressman Brian Mast (R-FL) stood out for all the wrong reasons.
Mast tweeted his birthday wishes, but promptly deleted the tweet after Politico's Dave Brown noticed something was off.
That's the Russian battlecruiser Pyotr Velikiy https://t.co/FJKsRYU1g0

— Dave Brown (@Dave Brown) 1570989396.0
Yup. The ship tweeted by Mast was actually a Russian battlecruiser Pyotr Velikiy, which still remains in active service.
Mast soon replaced the tweet, opting to simply retweet the U.S. Navy's official account instead.
Happy birthday to the US Navy! To the men and women who serve to keep our waters safe, we thank you. https://t.co/yYUilgIh7v

— Brian Mast (@Brian Mast) 1570991960.0
Predictably, it was too late.
@BrianMastFL Cпасибо товарищ! [Thank you, Comrade!) https://t.co/M6grt91yXh https://t.co/t2VvUAC0n3

— Shannon (@Shannon) 1571000661.0
@BrianMastFL Good job finding the right navy this time!

— Eric Sandeen (@Eric Sandeen) 1570998704.0
@BrianMastFL Nice try comrade..... https://t.co/lp7LS5nY6T

— John Bolton's Mustache (@John Bolton's Mustache) 1570996438.0
@BrianMastFL Where the first ship go👀🤦🏾‍♂️😂

— Marcus Tomlinson (@Marcus Tomlinson) 1570998515.0
@BrianMastFL Always safer to just RT someone who knows what they're talking about, isn't it?

— Kathy Castro (@Kathy Castro) 1570996208.0
However, naval warfare journalist Chris Cavas soon assured that the gaffe is more common than some may think.
Great to see so many US #Navy #birthday wishes on Twitter today. I've seen pics of Dutch, Australian and French shi… https://t.co/0Lu18tdcEe

— Chris Cavas (@Chris Cavas) 1570991719.0
Awkward.
Keep reading... Show less