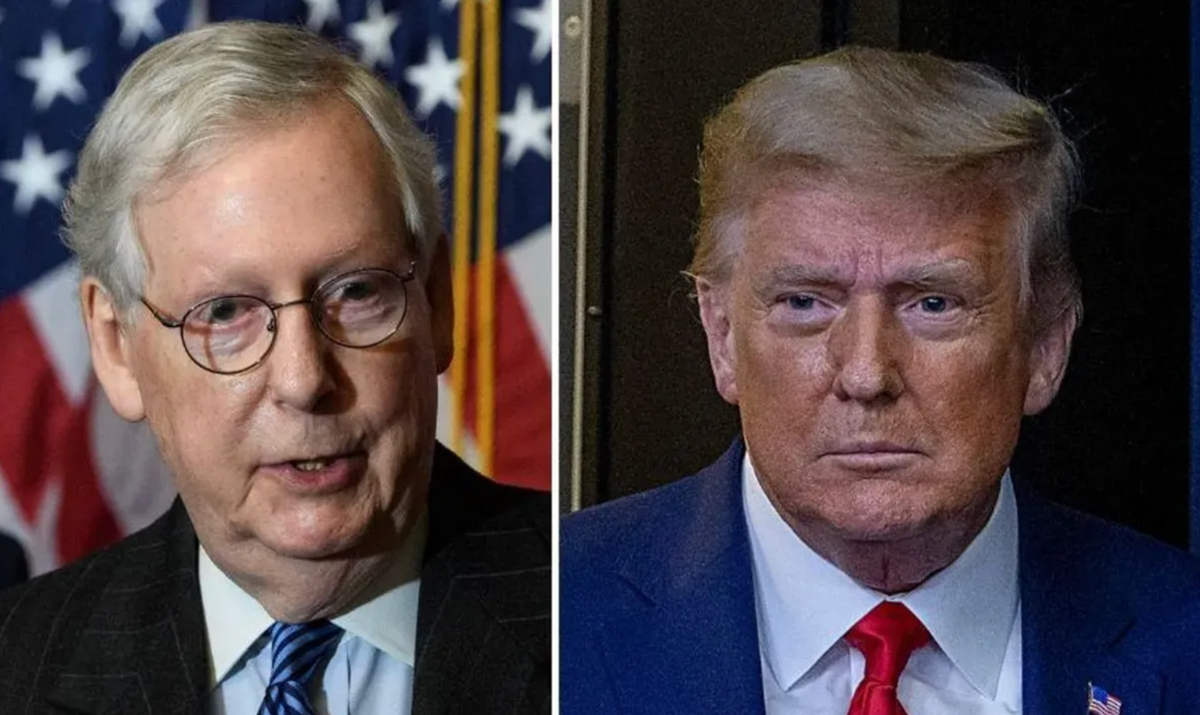 Nicholas Kamm-Pool/Getty Images // Tasos Katopodis/Getty Images
Earlier this week, Senate Minority Leader Mitch McConnell made a curious statement. He said that the Senate Leadership Fund, an "outside" group with which he is nevertheless closely affiliated, would consider stepping into the primaries to stop "unelectable" candidates from facing the Democrats in November of 2022.
McConnell's warning is an early acknowledgment of a problem within the GOP that I call the "Roy Moore" dilemma. Ever since the GOP turned hard toward Trumpism, some of the boldest, worst candidates have stepped forward to represent it. Roy Moore was a former Alabama Supreme Court Chief Justice who was also a multiple-accused sexual assaulter and pedophile. When a special Senate election was held in the state in 2017 and the allegations of sexual crimes emerged, Mitch McConnell and the RNC flatly told Moore to drop out of the race.
Then-Senator Cory Gardner of Colorado, who once headed up the GOP's 2018 election efforts, even promised to expel Moore if he were elected. But Donald Trump nonetheless supported Moore against Democratic candidate Doug Jones despite (or some would argue, because of) Moore's horrific history. Moore held a call with Trump, who he claimed was very supportive of his race. "Go get 'em, Roy!" Trump crowed, according to Moore's tweet following the call. (The tweet was later deleted.)
Moore went on to lose to Doug Jones by nearly 2 percent in a state that was among the deepest of the deep red states. While this loss was in a special election that also served as a barometer of sentiment about Trump (who was and remained very unpopular and polarizing among a large swath of voters, even in Alabama), it was also a lesson McConnell would not forget. If the GOP could lose in Alabama with a bad candidate, it could lose anywhere.
Moore is but one example of a long list of worrisome contenders. After all, politically-ambitious but morally-problematic GOP candidates, from Lauren Boebert in the House to Josh Hawley in the Senate, might look at that race and conclude that if someone like Moore can win the primary and almost win the election, then they have nothing to fear from their own troubling records. In fact, the more horrific and Trumpy the candidate acts, the more likely they will win the backing of the hard core base, along with its many small donors.
Trump has already weighed in on at least one sensitive primary battle: the race in North Carolina for the open Senate seat in 2022. His surprise endorsement of Rep. Ted Budd, who was trailing his opponents badly in the polls, set off alarm bells among party operatives. "He picked a losing horse," said one North Carolina Republican strategist. "He's going to have a problem in the general."
That's because Budd was among the House members who objected to the certification of Biden's electoral victory, meaning it will become a relitigated issue in 2022 if he is the nominee. Budd's more centrist opponents, former Gov. Pat McCrory and Washington insider Rep. Mark Walker, were edged out of the endorsement, and the effect of a Trump endorsement is difficult to measure. An internal survey released by Budd's campaign signaled, however, that it might be significant. It initially showed McCrory leading with 45 percent, with Budd at 19 percent and Walker at 12 percent. But when respondents were told Budd had Trump's endorsement, Budd surged to 46 percent, while McCrory's share shrank to 27 percent and Walker's to 8 percent.
Another example of this "race to the base" is now playing out in Ohio, where there is an open Senate seat being vacated by Sen. Rob Portman. All of the five declared candidates have sworn fealty to Trump, and all of them made the pilgrimage to Mar-a-Lago hoping for an endorsement from him. This included even J.D. Vance, a Tucker Carlson acolyte, who five years ago had blasted the very idea of a Trump presidency and said he might have to hold his nose and vote for Hillary Clinton. Asked to comment, Senator Sherrod Brown (D-OH) humorously observed, "The five Republican candidates for Senate are like kids on a playground sticking their tongue out and saying Donald Trump loves me more than he loves you."
The most divisive among these GOP contenders in Ohio is Josh Mandel, an unapologetic backer of the Big Lie about a stolen election in 2020. Mandel delights in "owning the libs" and fanning culture war issues (he held a Dr. Seuss book drive, for example, in March). Mandel has called Rep. Anthony Gonzales (R-OH) a "traitor" for voting to impeach Trump, and he famously filmed himself burning a mask in an apartment stairwell, a video he then posted on Twitter with the caption "FREEDOM." While these antics all play well to the Trump base, they may turn off centrist Ohioans who do not want more Marjorie Taylor Greene-type politicians in Congress.
Josh Mandel is currently leading the crowded field of candidates in Ohio, and Ted Budd now has Trump's support in North Carolina, so the probability that there might be extremists as the party's nominees in two key Senate races is uncomfortably high. Mitch McConnell is watching closely, no doubt weighing the advantages on the one hand of having a politically popular yet deplorable candidate who can motivate the base, while weighting on the other hand the risks of fielding a zealot in the general election.
McConnell's consternation is a mirror image of Democratic anxiety, where Democrats might rather face a radical Trumper they believe they can beat yet are legitimately afraid such a person might actually win. After all, many Democrats had secretly hoped in 2016 that Trump would become the GOP's presidential nominee and go down to easy defeat. After that election, the GOP take away was that it was politically suicidal to oppose Trump, a lesson still being hammered home today as traditional Republicans who stand up to him are censored by local parties and booted from leadership positions.
So will the GOP swing too hard right in 2022 for voters to stomach? McConnell hopes not, but in the face of Trump's support for these hardline candidates, he may be powerless to stop it.