The Internet doesn't forget.
02 July 2018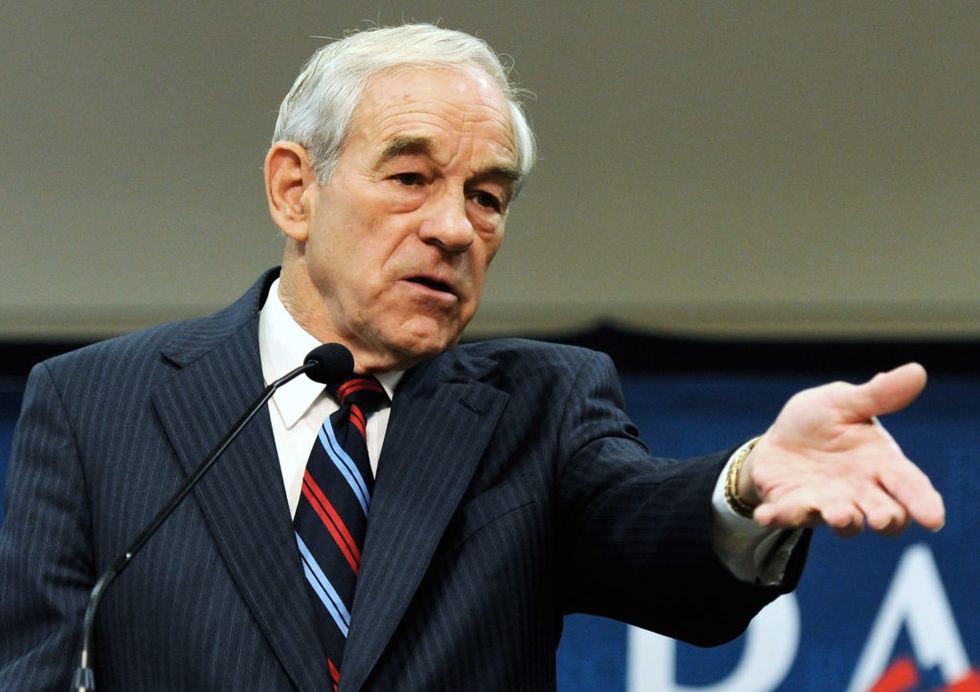 Former Rep. Ron Paul (Photo by Ethan Miller/Getty Images)
Former Texas Representative Ron Paul tweeted a wildly racist image of minority groups uniting to punch Uncle Sam.
The three-time presidential candidate deleted the tweet, but by then Twitter had already immortalized it.
jesus fucking christ man https://t.co/eaLMve87Ex

— Patrick Blanchfield (@Patrick Blanchfield) 1530545853.0
The tweet read: "Are you stunned by what has become of American culture?" Paul said in the tweet. "Well, it's not an accident. You've probably heard of 'cultural Marxism,' but do you know what it means?"
The image covered most of the bases as far as horrendous racial tropes go: The African-American man has hugely inflated lips, the Asian man's eyes are slits while his teeth are exaggerated, and the Jewish man's nose is elongated and hooked.
Ron Paul later replaced the image of the tweet with an image of "Political Correctness" obscured by a "No" sign. Americans have been quick to remind him that his vigilance against what he perceives to be a society obsessed with political correctness is just what got him into this mess.
@edgedestroys @CaseyExplosion @RonPaul Oh he replaced the deleted tweet with the horrific racial stereotypes in the image?

— Jordan ⚧(She/Her) Is Trans and YOU CAN'T STOP HER (@Jordan ⚧(She/Her) Is Trans and YOU CAN'T STOP HER) 1530550197.0
@RonPaul Where's you first image, Nazi boy? The one with all the racist images? Chickened out?

— MKupperman (@MKupperman) 1530548241.0
@RonPaul Boasting about not being politically correct is a politically correct way of saying you're an asshole.

— Miranda Yaver (@Miranda Yaver) 1530547952.0
@RonPaul Yes, you made pretty clear with your first (now deleted) tweet that it's a dog whistle for your "very fine… https://t.co/MAgiXlpUnI

— Euqinomist (@Euqinomist) 1530549191.0
@KrangTNelson @RonPaul I wonder who called him up and was like, "hey Ron buddy that last tweet was pretty racist an… https://t.co/h1Fd0Nuzos

— Goose for Smash (@Goose for Smash) 1530550487.0
Paul's deleted tweet echoes with something far more insidious than can be deleted with the swipe of a finger. 
Many Americans have compared the actions of the current administration and those acting under its umbrella to the rise of Nazi Germany. While this argument is not new for any administration, it used to be far more easily dismissed. Suddenly, for many Americans, dismissing this argument has never been so difficult.
From President Donald Trump referring to neo-Nazis and white supremacists as "very fine people" after the catastrophic Unite the Right Rally last year to the recent victory of Trump's travel ban in the Supreme Court to the murders of five journalists at the Capital Gazette (which many attribute to Trump's constant vilification of the press) to Ron Paul's tweet with propaganda not unlike the kind used to vilify the so-called undesirables of 1940s Germany, Americans are sensing historical reverberations with nearly every new development.
@GOP On the contrary, it is entirely appropriate. You have neo-Nazi candidates and Nazi supporters and you don't re… https://t.co/LQKNuoHoOY

— Jack Schofield (@Jack Schofield) 1530400153.0
Not everything is about Trump. And I don't do Nazi comparisons.

— Benjamin Wittes (@Benjamin Wittes) 1530539379.0
It's very clear that there have been many similarities to what trump is doing and what Hitler did. Anyone who says… https://t.co/GJ9rDovg7F

— Amor (@Amor) 1530292661.0
#Trump is a #fascistleader and it is okay to say so. We are seeing right in our eyes, the emergency of brutal leade… https://t.co/L8x1xX7K94

— Host #AngelicTroublemaker Podcast (@Host #AngelicTroublemaker Podcast) 1530434598.0
Ron Paul's tweet is just another example of how emboldened these sentiments have become in just the past three years. It's telling of how far things have devolved when a seasoned politician like Ron Paul can see racist propaganda and believe it acceptable with the masses to spread an agenda.
But unlike Germans of the 1940's, we should be able to see it coming.
Keep reading...Show less