The future is now.
06 February 2019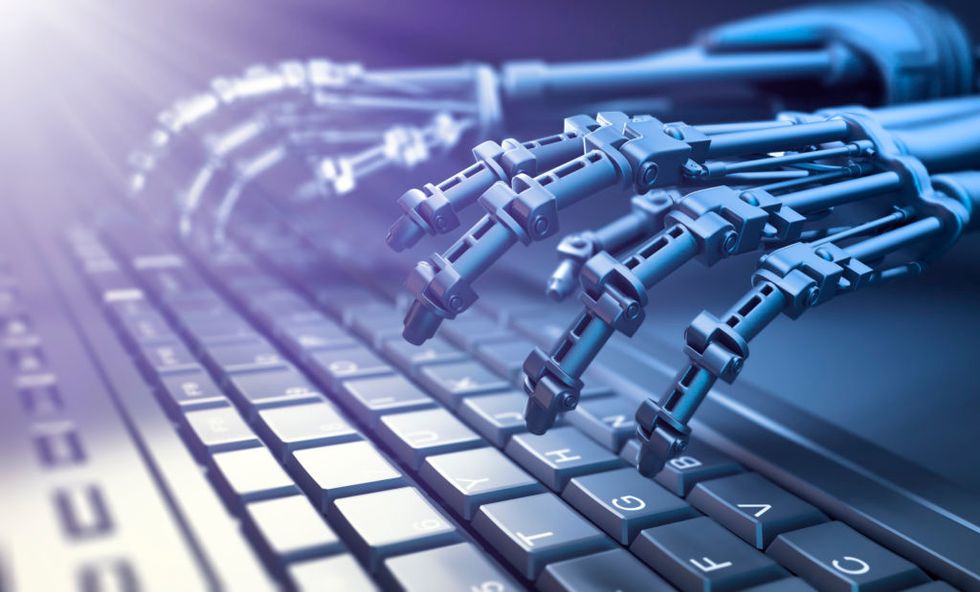 Credit: ANDRZEJ WOJCICKI/SCIENCE PHOTO LIBRARY/GETTY IMAGES
Last week, the Australian edition of The Guardian posted an article with no byline. The data-driven report was the first of its kind for the publication for one intriguing reason: It was written by a robot.
The article stated at the end:
"This story was generated by ReporterMate, an experimental automated news reporting system."
Robot reporters are becoming more and more ubiquitous in another instance of technology transforming the landscape of journalism.
The reports—like the one in The Guardian, which reported on donations to political parties—are data-driven. They can analyze large amounts of numbers and information, distilling these with greater ease and accuracy than a human reporter. Considering the interference of Russian "bots" in the 2016 election, it's understandable that robot reports carry a negative connotation to some, but news executives insist that the development isn't a negative one and that distinctly human skills are now being put to greater use.
Lisa Gibbs, the director of news partnerships for the Associated Press, told the New York Times:
"The work of journalism is creative, it's about curiosity, it's about storytelling, it's about digging and holding governments accountable, it's critical thinking, it's judgment — and that is where we want our journalists spending their energy."
In what may come as a surprise, a growing number of journalists and media workers are getting on board.
Sweden/Finland are utilizing robots to write articles over sports, weather, etc Robots can't replace ambitious and… https://t.co/p81T6wGefY

— khue (@khue) 1520993433.0
Why are journalists often talking about robots when it comes to the use of AI in newsrooms? Maybe because it's easi… https://t.co/zXV1EsL6c4

— Colin Porlezza (@Colin Porlezza) 1549387568.0
Don't worry about that robot taking your job, it's just doing the stuff you didn't really want to. And with no typo… https://t.co/tUbRBJvMyv

— Hasani Gittens (@Hasani Gittens) 1549371206.0
I've noticed most articles on automation & AI put workers on the defensive. ie: "How to prevent robots from takin… https://t.co/YxTqYkjf3B

— Brianne Kimmel (@Brianne Kimmel) 1547449864.0
But as journalistic institutions resort to massive layoffs at an alarming rate, some think the technology could pose a threat in a news cycle that's moving faster than ever before.
People still remain wary of the technology.
I reckon the first journalism job to be lost to robots will be the guy who has to turn unhinged Trump tweets into articles in like 20 mins

— Eamonn Faller (@Eamonn Faller) 1499692776.0
"As the use of artificial intelligence has become a part of the industry's toolbox, journalism executives say it is… https://t.co/VFlphPpt9p

— Shahar Brukner (@Shahar Brukner) 1549408848.0
And I've got a bridge to sell ya. "the use of artificial intelligence...is not a threat to human employees. Rather,… https://t.co/OK0DXQFgFz

— Bill Scanlan (@Bill Scanlan) 1549368831.0
Though it's certainly growing, automated reporting has been in use for nearly a decade and is quickly becoming more of an asset than a threat to the news industry.
Journalists' jobs seem to be safe for now.
Keep reading...Show less