Gregory Rec/Portland Portland Press Herald via Getty Images; Official Rick Astley/YouTube
According to pop culture reference Urban Dictionary, to be Rick Rolled involves a specific song from English crooner Rick Astley.
Since Rick Rolling became a thing, you never know where the ubiquitous lyrics will pop up—like maybe a pandemic briefing by the head of the Maine Centers for Disease Control, Dr. Nirav Shah.
During an update Thursday, September 3, Dr. Shah used the 80s pop hit to reassure citizens on the Pine Tree State.
With a stoic expression, Dr. Shah said:

"The bottom line here is that Maine CDC contact tracers are never gonna give you up..."
"...they're never gonna let you down..."
"...they're never gonna run around and desert you."
"Maine CDC contact tracers are never gonna make you cry..."
"...they're never gonna say goodbye..."
"...and they're never gonna tell a lie and hurt you."
Well played, Dr. Shah, well played.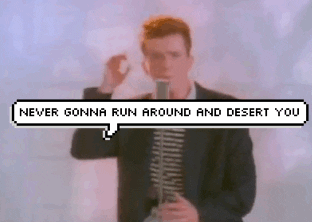 Giphy
You can watch the full briefing here:

Since the beginning of the pandemic's spread to the United States, Dr. Shah has been the face of the crisis in Maine.
Fan clubs, t-shirts and even candy bars have spawned for the popular public official.
What was it Dr. Shah said?
I'm in Maine where we have crushed the curve and formed an actual fan club for our state CDC Director, @nirav_mainecdc - now to keep it going now that we are into tourism season.
— Laura (@laurarinck) June 25, 2020
Being from Maine, that's awesome ... not to mention cool to have the head of CDC in the whitest state in the USA be Indian-American. Seems he's much beloved, even has his own candy bar https://t.co/T8gQckJC6G
— Steve Mushero (@stevemushero) September 4, 2020
I love Maine CDC's Dr. Nivah Shaw. So down to earth and straight forward in his twice a week pandemic updates. Then he pulls things like this yesterday (go to 17:00 or so if it doesn't link right to that point): https://t.co/8a5R074IvR
— Squirrel snug at home 🌻 (@AldinBusheytail) September 4, 2020
Is that CDC in general? I don't trust trump's CDC as it has been gagged. Our CDC in Maine, Dr. Nirav Shah is a superstar, Wilbur's Confections in Freeport has named a candy bar after him. He advocates for mask wearing!
— dwondoowa (@stitchns) June 28, 2020
Until an ill-advised wedding reception in rural central Maine, the state also had one of the best records for containment of the virus.
1/Good Labor Day afternoon, everyone. Right now in #Maine, there are 4701 total cases of #COVID19. Of those, 4230 are confirmed and 471 are probable.

134 individuals have passed away w/COVID and 4076 have recovered.
— Nirav D. Shah (@nirav_mainecdc) September 7, 2020
As of Tuesday, Maine CDC reported 158 total cases and three deaths linked to the Millinocket wedding on Aug. 7. Included in the 158 are the cases at the York County Jail and the Maplecrest Rehabilitation Center. https://t.co/cxBMiTBB16
— NEWS CENTER Maine (@newscentermaine) September 9, 2020
At least 147 Covid-19 cases are now linked to an August wedding reception in Maine, a state CDC spokesman said Saturday.
Three people connected to the outbreak have died of the virus, the state CDC spokesman added. https://t.co/9db0kh4fW2
— CNN (@CNN) September 5, 2020
But even though the nuptials lead to a number of new cases in the state, the total infections sit at 4,713 and deaths are at 134.
And Dr. Shah has assured that his agency's contact tracers are on the case.
The Maine CDC is reporting daily updates for COVID-19 outbreaks in the state, including those associated with the Aug. 7 wedding reception in Millinocket https://t.co/S6Hh3AJVcY
— TJB207 (@tjb207) September 8, 2020
"The outbreaks are spread among the York County Jail, which has identified 72 cases after an employee attended the wedding, according to Long and Maine CDC Director Dr. Nirav Shah."

a jail employee attended this wedding then infected those incarcerated at the jail. that's .. https://t.co/412NCoHenb
— Nhada (@koshari_) September 6, 2020
Hence the Rick Rolling briefing.

Sometimes your job as a Townsquare DJ is to watch closely for news your community needs to know about. And sometimes when you watch as closely as Jeff Parsons from @Q979 in our Portland market, you get a nice surprise. https://t.co/zwidXzVcR5
— Townsquare Media (@townsquaremedia) September 5, 2020
The global pandemic has people around the world on edge, but Dr. Shah's approach has put minds at ease in the state of Maine.
Oh, and this:
Rickrolling In Real Life WITH RICK ASTLEY youtu.be
Maybe Dr. Shah can get in touch with Mr. Astley for his next briefing...