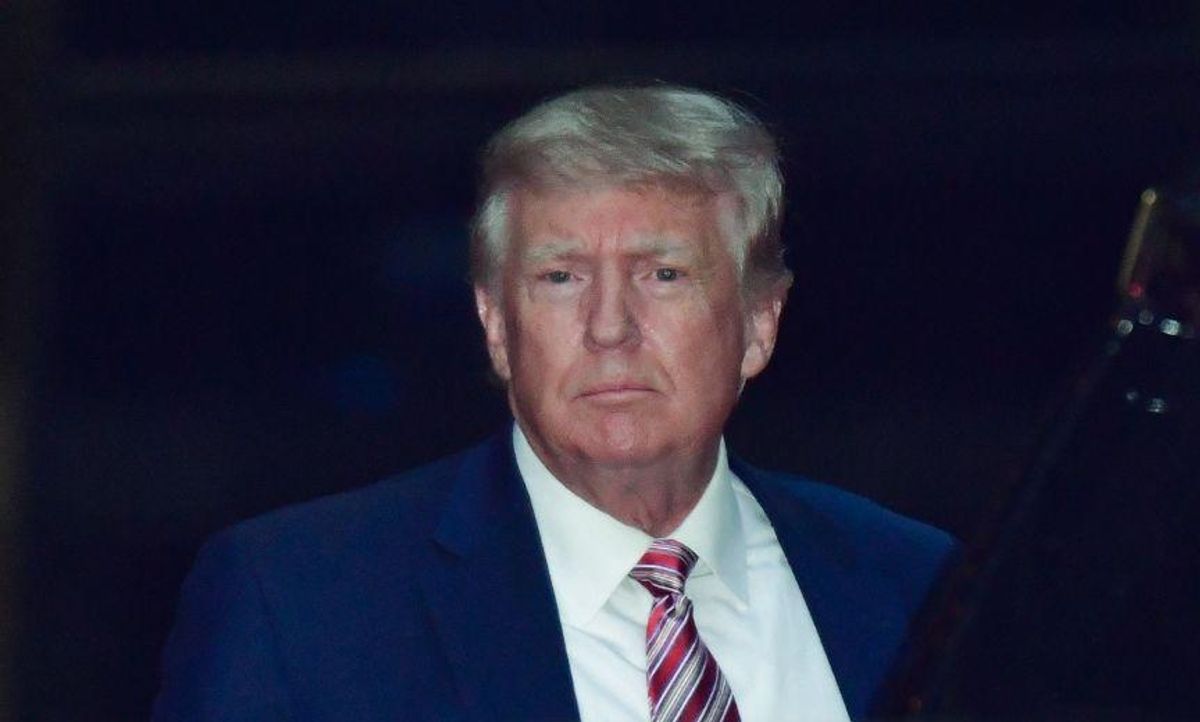 James Devaney/GC Images
From the lies that the 2020 election was "stolen" from him to the ridiculous assertion that he still has executive privilege, former President Donald Trump appears to be struggling to accept that he's no longer President.
That perception was further validated in a recent statement from Trump regarding the conflict between Kosovo and Serbia, where Trump revealed he'd sent his former Acting Director of National Intelligence, Ric Grenell, as an "Envoy Ambassador" to encourage the implementation of agreements Trump's administration brokered.
Trump spokeswoman Liz Harrington released the statement on her Twitter account.
NEW!\n\nPresident Trump:\n\n"The great people of Serbia and Kosovo have overcome tremendous obstacles...The agreements my administration brokered are historic and should not be abandoned...Peace is possible, don\u2019t give up\u2014long term prosperity for those two nations is at stake!"pic.twitter.com/6znul33n1N

— Liz Harrington (@Liz Harrington) 1636644613
The ex-President wrote:

"The agreements my administration brokered are historic and should not be abandoned, many lives are at stake. The region is too important and the people have waited too long for this work to be cast aside. Today, my Envoy Ambassador Ric Grenell visited the Kosovo-Serbia border to highlight this important agreement. Just like we proved in the Middle East with the Abraham Accords, peace and economic normalization is possible, but it takes a sincere effort and unwavering leadership."
Trump long ago abandoned the tradition of former President's being reticent in commenting on the decisions of their successors, but his apparent efforts to use his time in the White House to conduct shadow foreign policy as a private citizen flies in the face of norms and potentially even the law.
In commenting on the development, a White House official told Reuters correspondent Jonathan Landay:

"Outside of his very active imagination, Donald Trump is no longer President and doesn't have any 'envoy ambassadors' representing the United States."
At a press conference at the Kosovo-Serbia border, Grenell emphasized that he was not a representative of the U.S. government, which still didn't mollify concerns that he was there on behalf of a man who was President this time last year and who continues to claim the current Executive Branch was illegitimately installed.
Several social media users applauded the White House official's comment.
Others think the Biden administration should stop mocking Trump's antics and begin enforcing the law.
Shouldn\u2019t they be arresting him for breaking the Logan Act? I guess it\u2019s only a felony if any non republikkkan does it.https://twitter.com/kylegriffin1/status/1459143952335097859\u00a0\u2026

— @eva (@@eva) 1636729768
People mocked him before, and he became president, and it cost 750,000 American lives!
Take this seriously, and prosecute him. The Logan Act is real, and it should be used. Stop being so gd weak. Ugh. @WhiteHousehttps://t.co/8dwqbE7BXQ
— Em🇵🇷 (@EmWankenobi) November 12, 2021
People are astounded at Trump's latest low.

This is pretty bad, and possibly illegal. What makes it exponentially worse is the \u201cenvoy\u201d is Ric Grenell.https://twitter.com/freedlander/status/1458820015394861060\u00a0\u2026

— Mark Hertling (@Mark Hertling) 1636649671
It's unclear what, if any, consequences or oversight Trump and Grenell will face.