representative devin nunes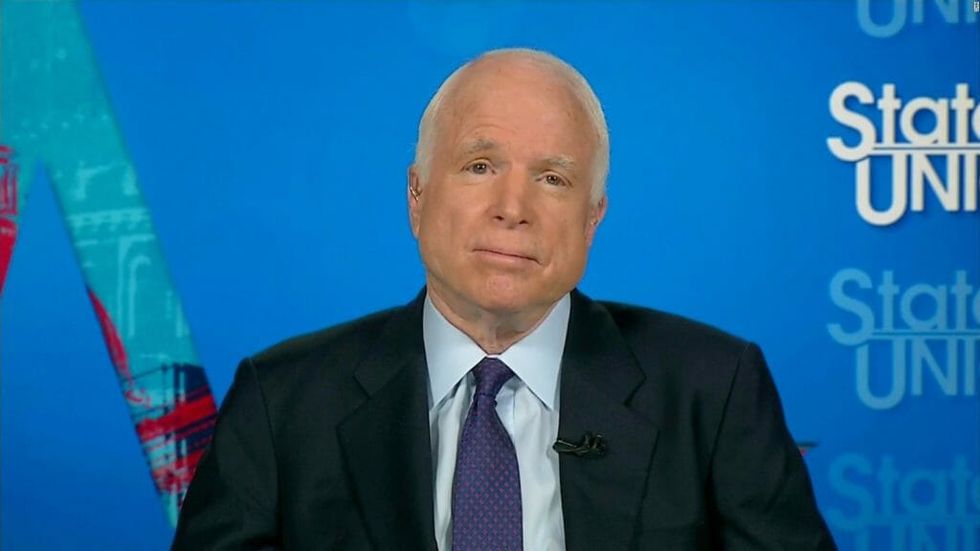 Senator John McCain (R-AZ) called for President Donald Trump to substantiate his claims that former President Barack Obama wiretapped his phones. "I think the president has one of two choices, either retract or to provide the information that the American people deserve," the veteran senator said during an appearance yesterday on CNN's State of the Union.
"I have no reason to believe that the charge is true," McCain continued. "But I also believe that the president of the United States could clear this up in a minute. All he has to do is pick up the phone, call the director of the CIA, director of national intelligence, and say, OK, what happened? Because they certainly should know whether the former president of the United States was wiretapping Trump Tower."
Terrible! Just found out that Obama had my "wires tapped" in Trump Tower just before the victory. Nothing found. This is McCarthyism!

— Donald J. Trump (@Donald J. Trump) 1488627320.0
McCain argued that Trump, who leveled his accusations without any evidence, should withdraw them because persisting would only damage confidence in government. "I do believe that...accusing a former president of the United States of doing something which is not only illegal, but just unheard of, then that requires corroboration. If true, or the allegation is left out there, it undermines the confidence the American people have in the entire way that the government does business," he said.
The House Intelligence Committee has requested that the Department of Justice turn over by Monday any evidence Trump Tower was wiretapped during last year's presidential race. Devin Nunes (R-CA), the committee chairman, who served on the executive committee of Trump's transition team, has said he has not yet seen evidence to support Trump's claim. "The president is a neophyte to politics," Nunes said last week. "He's been doing this a little over a year. I think a lot of the things he says, I think you guys sometimes take literally."
Representative Adam Schiff (D-California), the top Democrat on the House Intelligence Committee, also weighed in, telling ABC's This Week that he doesn't believe the DOJ has any evidence to turn over.
"There are one of two possibilities here. Either the president quite deliberately, for some reason, made up this charge. Or perhaps, more disturbing, the president really believes this," Schiff said.
Schiff warned viewers that the president's penchant for embracing conspiracy theories––Trump counts Alex Jones, the public director of conspiracy website Infowars.com, among his inner circle––has real-world consequences. If Trump said, for example, that Iran is cheating on the nuclear agreement, if he's making that up, it's a real problem. If he's not making it up and it's true, it's an even bigger problem. Because the question is, would people believe him? Would American people believe him?"
Senator Tom Cotton (R-AR), who serves on the Senate Intelligence Committee and was also interviewed on This Week, agrees with Schiff's suggestion that the veracity of Trump's claim should be aired in an open hearing. "I hope that we get to the bottom of all these matters and that we make all those conclusions public to the American people," he said.
In an appearance yesterday on CBS's Face the Nation, House Speaker Paul Ryan was also asked if he could substantiate the president's claim.
"Have you seen anything to suggest there are wiretaps?" interviewer John Dickerson asked.
"No," Ryan replied."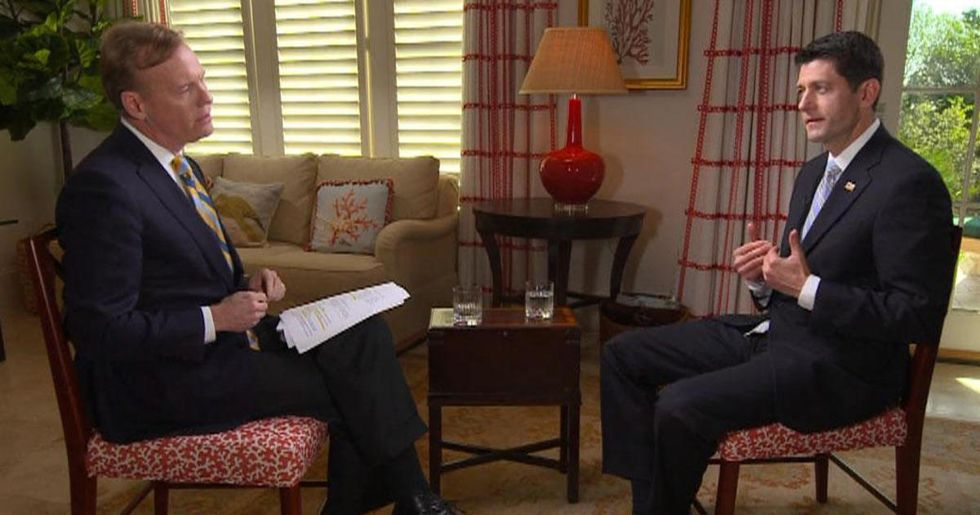 Speaker Paul Ryan appears on Face the Nation. (Credit: Source.)
"That's outside of my control, what is tweeted or what isn't tweeted. We're focused on health care. The president's focused on health care," Ryan continued. "I think he's frustrated with this whole thing about Russia. I think he's frustrated with selective leaks coming from parts of government that malign his campaign."
Ryan did stress that both the House Intelligence Committee and the Senate Intelligence Committee need to "get to the bottom" of the wiretapping claims. "Make sure the intelligence committee investigates these things," he said. "And I think if -- when we get through all of this investigation, I think we will discover that they didn't do those things, but Russia did try to meddle with our elections."
Keep reading...Show less