Rep. Tony Gonzales told Dana Bash on CNN that 'we have to get off the abortion conversation' after she pressed him on Judge Matthew Kacsmaryk's mifepristone ruling.
10 April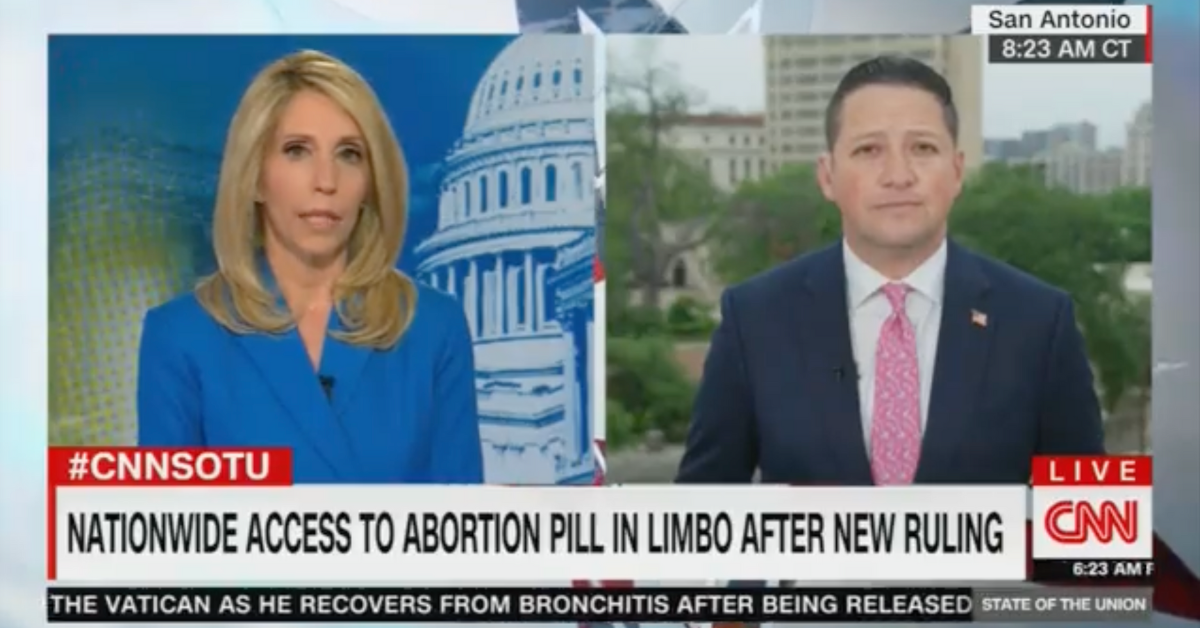 CNN
Since the US Supreme Court reversed its ruling on Roe v. Wade last year, an incredibly rare occurrence—less than 0.6% of the Court's rulings have ever been overturned, the topic of abortion access has been on many people's minds and a frequent subject in the news.
Conversations about abortion access have been common and politically charged for decades, even when the Court's original ruling on Roe v. Wade seemed to protect the choice of whether to continue a pregnancy to term or not as an issue of personal privacy between a pregnant person and their doctor.
After a recent ruling by Texas US District Court Judge Matthew J. Kacsmaryk to reverse the FDA's approval of the abortion drug Mifepristone (also known by the brand name Mifeprex) as safe and effective, which would eliminate access to the drug even in states where the right to an abortion is still protected, it makes perfect sense that people are talking about abortion again.
Texas Representative Tony Gonzales thinks that everyone just needs to stop talking about abortion, now that the self-professed "prolific pro-lifer's" side seems to have won.
When asked about his opinion on Judge Kacsmaryk's ruling by CNN's Dana Bash on-air, Gonzales tried to make the "states' rights" argument, but Bash quickly pointed out that a federal court ruling to remove access to a drug for all states was the exact opposite of letting the states decide.
Bash asked Gonzales:
"You said that you want this to be states' rights, but isn't a federal judge saying that on a national level that a pill cannot be administered the opposite of states' rights?"
Gonzales replied without actually answering Bash's question at all.
"Well, the states started this. The states had their ruling and now the federal government is coming in and dictating theirs."
"I think it's important that we have to get back and allow our institutions to lead. We can't undermine them when we don't agree with things that are there."
When Bash went on to point out that Mifepristone isn't only prescribed for abortions, but also to people who miscarry, and asked Gonzales if those people would just be "on their own" if the ruling was upheld, Gonzales completely dodged the question.
"No, I think it's important that we take care of women, and it's important that we have real discussions on women's healthcare and get off the abortion conversation."
"Women have a whole lot more other issues than just abortion, let's have those real conversations and let's talk about the other things that are happening in this world."
You can view clips of their conversation below:
The reaction to Gonzales' insistence that we just need to talk about anything other than abortion was largely incredulous and generally disapproving.

While Gonzales seems confident that Judge Kacsmaryk's ruling will be upheld by higher courts, his isn't the only ruling regarding the continued availability of Mifepristone.
Washington's U.S. District Judge Thomas O. Rice issued a competing opinion on Friday that ordered the FDA to "maintain the status quo" in regards to Mifepristone, ensuring continued access to the drug for residents of the 17 states and Washington D.C. who were the plaintiffs in a suit to maintain access to the drug.
Rice stopped short of ordering the preliminary injunction sought by the plaintiffs, citing the difference in abortion access laws from state to state.
Judge Kacsmaryk had already decided to stay his own ruling for a week to allow the Biden administration to seek review in the Fifth Circuit, which was no doubt complicated by the entrance of Judge Rice's contrary ruling.
For the moment, at least, nothing will change in regards to access to Mifepristone.