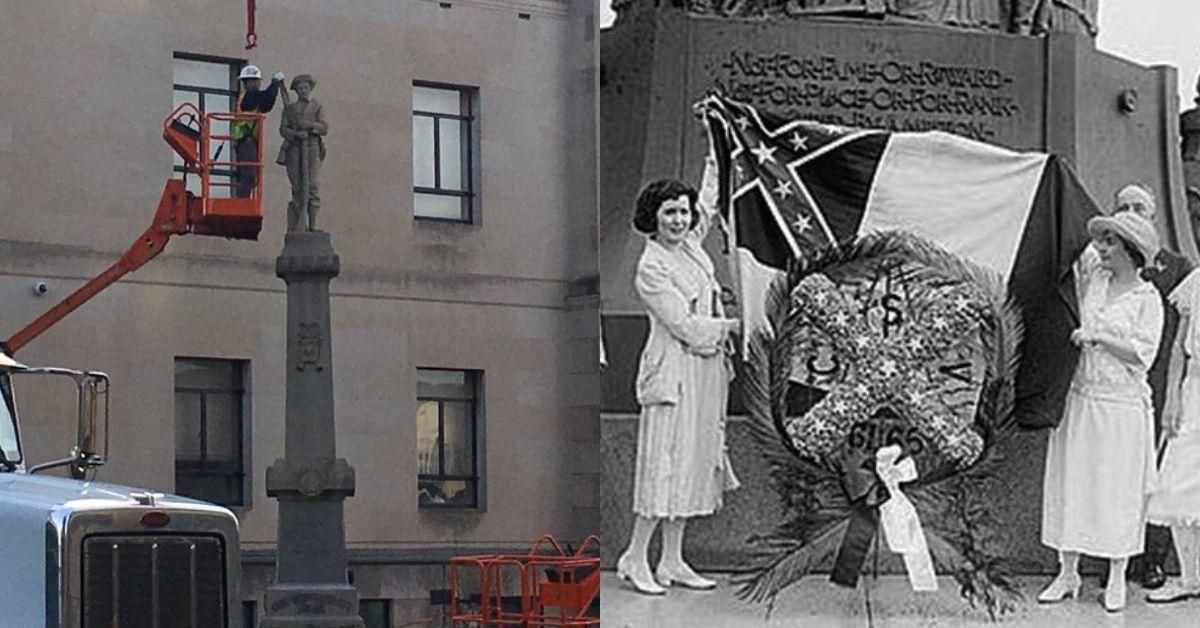 @BBCJamieCoo/Twitter; @CivilWarHumor/Twitter
The United Daughters of the Confederacy, a club for proud descendants of soldiers who fought for the pro-slavery Confederate states during the Civil War, is hoppin' mad the Confederate soldier memorial in Winston-Salem, North Carolina is no more.
So it went before the state's Supreme Court to demand "reparations"—their word, not ours—for what they say was an improper removal of the monument in 2019.
The United Daughters of the Confederacy have already lost several legal challenges over the statue's removal and are now attempting to prove their ownership over the statue and hence their rights were violated by its removal.
Their demand for "reparations" was not well received in the courtroom Monday.

In court, the UDC's attorney James Davis argued that the group was owed "reparation rights."
"If the court finds, in its wisdom, that the monument is owned by the UDC, then they have reparation rights."
In strictly legal terms, "reparations" simply means "the redress of an injury," but of course, given the context of a pro-Confederacy group suing for the right to reinstate a pro-slavery statue, the use of the term has struck many as calculated.
Nowadays, the word is mostly used to denote monetary redress sought by Black activists to make amends for the abuses and generational economic inequality inflicted on Black people by the American system of African chattel slavery the Civil War was fought to retain in the 1800s.
Clearly skeptical of Davis' intent, a member of the Court's Democratic majority, Sam Ervin IV, asked Davis to clarify what he meant by the word.
"What kind of reparation rights?"
"I mean, is there any evidence in — any allegation in the complaint, that the monument itself has sustained any physical damage?"
Davis responded that he didn't know, and simply reiterated that the monument has been removed and "placed into storage in an unknown location."

On Twitter, the UDC's case elicited a lot of eyerolls and no shortage of anger.

For its part, the city of Winston-Salem has said it is happy to turn the statue over to any private group like the UDC that wishes to put the monument on private land where it will not cause safety liabilities for the city.
Repeated acts of vandalism in the wake of the 2017 "Unite the Right" rally in Charlottesville, Virginia was the city's stated reason for removing the monument in the first place.

It is expected to be many months before the Court issues any rulings on the case.