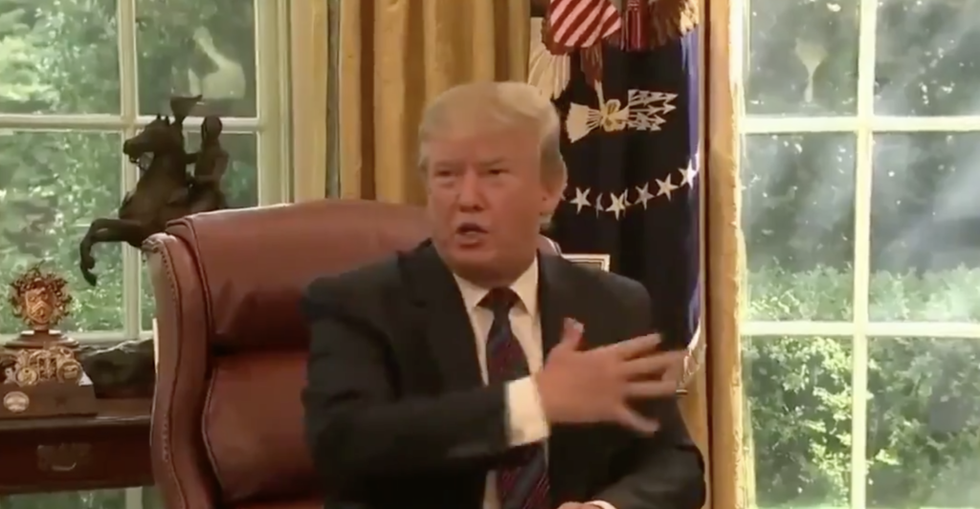 @cbouzy/Twitter
President Donald Trump found a new complaint to lodge against former President Barack Obama—and this time the pettiness has reached sub-zero temperatures.
Over two years after the former president's tenure, Trump routinely blames Obama to deflect from criticisms of his own presidency.
This past Friday was no different as Trump complained about the White House air conditioning system, blaming—you guessed it—Barack Obama.
Watch below:
Trump claims the air conditioning system for the west wing was better before Obama changed it; how would he know? https://t.co/MVB7xAOVwj

— Christopher Bouzy (@Christopher Bouzy) 1564178973.0
Trump griped:
"The Obama administration worked out a brand new air conditioning system for the West Wing. It was so good before they did the system. Now that they did this system, it's freezing or hot."
The complaint came as Trump explained why he'd be spending an extended period of time at his resort in New Jersey. Trump has spent a combined 278 days at Trump properties in the 920 days he's been president.
People were over it.
@cbouzy @rhapsodynbloom Because now there's a ton of hot air coming from an old orange bag in the White House, maybe?

— Throwyourdreamsintospace (@Throwyourdreamsintospace) 1564180283.0
@cbouzy It wasn't a change in the AC. The difference is Obama was naturally, freakin' cool.

— Shanna (@Shanna) 1564187955.0
@cbouzy How pathetic is this old man???😳

— #votedemocratic2020 (@#votedemocratic2020) 1564179092.0
@cbouzy Our country was better before Putin changed it.

— MILO (@MILO) 1564184046.0
@cbouzy Could he be any more obsessed with Obama?

— Dawn Elizabeth (@Dawn Elizabeth) 1564193731.0
What's more, the White House AC system underwent some drastic changes in 2017—the first year of Trump's presidency.
@cbouzy Donny changed it in 2017 - he spent 17 days at his Bedminster Grift, er I mean golf club, while they redid… https://t.co/YHLFYiNqiI

— shorewife (@shorewife) 1564180125.0
@cbouzy Check out this link. Scroll to the end. The budget to CHANGE the HVAC system was approved under Obama.… https://t.co/2vYhXcVxjb

— Ann Spadafora (@Ann Spadafora) 1564226610.0
@cbouzy It was changed in 2017 by Trump administration. Before that during first Bush administration. Also, he woul… https://t.co/ZCWqNjVkQv

— Hallelujah (@Hallelujah) 1564179749.0
Cool it, Mr. President.
Keep reading...Show less