Transportation Secretary Pete Buttigieg used his visit to East Palestine, Ohio to urge the former president to support new regulation to improve rail safety.
24 February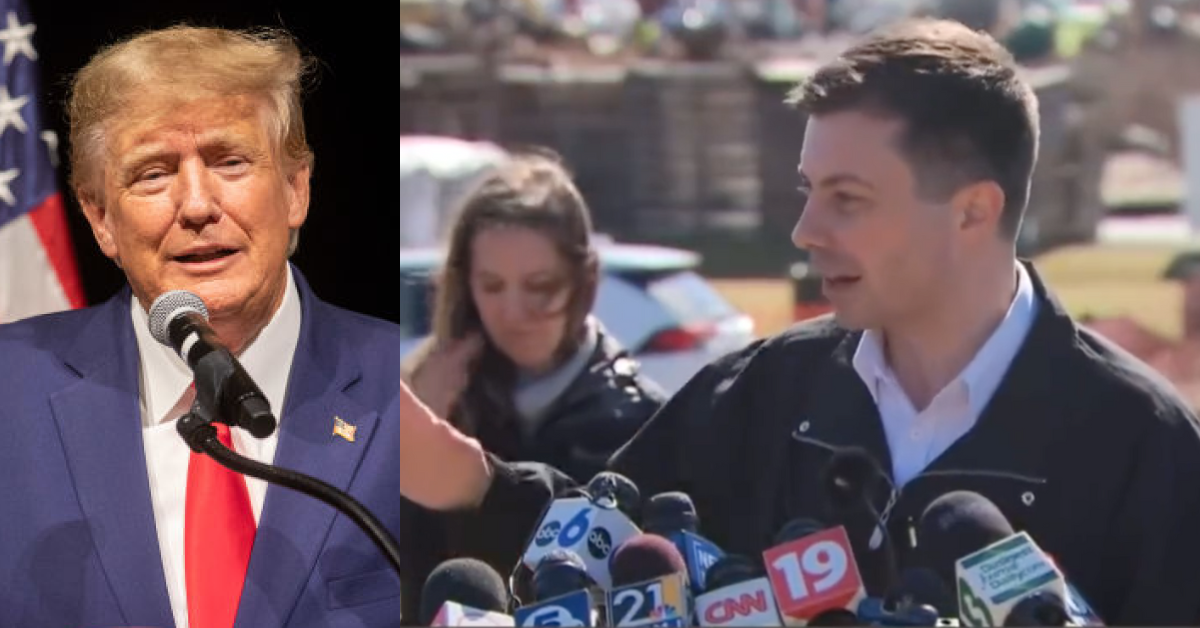 Scott Eisen/Getty Images; @Acyn/Twitter
Transportation Secretary Pete Buttigieg used his visit to East Palestine, Ohio to urge former Republican President Donald Trump to support new regulations to improve rail safety following a highly publicized train derailment.
The chemical spill and subsequent controlled burn from the disaster prompted residents within a 1-mile radius of the accident to be evacuated and kicked off emergency responses from teams in Ohio and West Virginia as well as the Environmental Protection Agency (EPA).
Buttigieg's remarks came after Politicoreported the Trump administration "withdrew an Obama-era proposal to require faster brakes on trains carrying highly flammable materials, ended regular rail safety audits of railroads, and mothballed a pending rule requiring freight trains to have at least two crew members."
He called on Trump to support the Biden administration's efforts to reverse these deregulations in the wake of the derailment.
You can hear what Buttigieg said in the video below.

Referring to what Trump can do to back the Biden administration's response to the disaster, Buttigieg said:

"One thing he can do is express support for reversing the deregulation that happened on his watch. I heard him say he had nothing to do with it, even though it was in his administration."
"So, if he had nothing to do with it and they did it in his administration against his will, maybe he can come out and say that he supports us moving in a different direction. ... We're not afraid to own our policies when it comes to raising the bar on regulation."
"I've got to think that him indicating that this is something that everybody, no matter how much you disagree on politics and presidential campaigns, can get behind — higher fines, tougher regulations on safety, Congress untying our hands on breaking rules, all the other things that go with that — that would be a nice thing for him to do."
Buttigieg issued his remarks after Trump visited East Palestine and brought water, which he'd promised to do earlier this month, and accused the Biden administration of abandoning the town amid the ongoing crisis.
Additionally, Trump specifically called on Norfolk Southern—the transportation company responsible for the accident—to "fulfill its responsibilities and obligations" to the citizens of the area who have been forced to evacuate and have been critical of the local and federal government's response.
Buttigieg's remarks were praised for effectively putting Trump on the spot as the Biden administration works to shore up support for reversing lax railway and environmental regulations.
Buttigieg has been criticized by Republicans who have attempted to blame him for the derailment.

Earlier this week, he sparred with Florida Republican Senator Marco Rubio after the latter called him "an incompetent who is focused solely on his fantasies about his political future [and] needs to be fired."
Not long afterward, Buttigieg responded and pointed to Rubio's 2021 letter about track inspections that was "obviously drafted by railroad industry lobbyists."
Rubio was among a group of 22 Senators who signed onto a letter requesting the Federal Railroad Administration (FRA) to waive testing on the grounds that the agency should allow more automation.
The letter states that "automated test systems improve the nature of railroad track inspections and can increase track safety" which is a priority of railroad industry lobbyists even though the FRA has said automated inspections should not replace physical inspections because they still fail to detect structural defects.