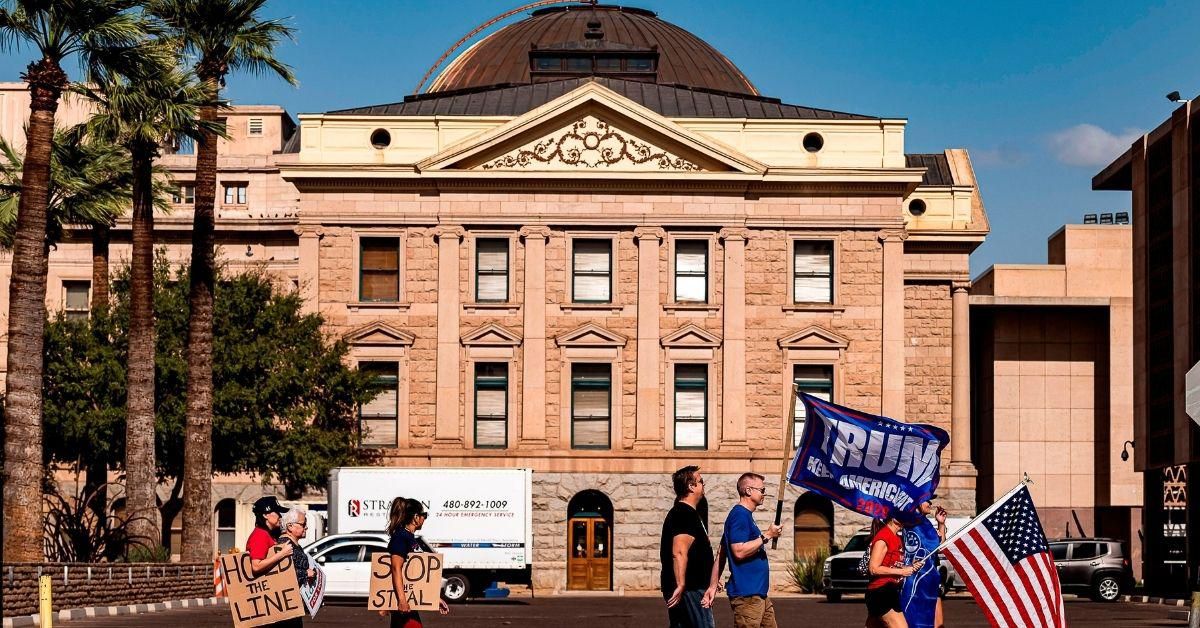 OLIVIER TOURON/AFP via Getty Images
One thing you have to give the Republicans credit for: They never stop standing up for what they believe in, even to the point of absurdity.
Case in point: Arizona Republicans in the state's Senate have threatened to arrest officials in Maricopa County if they don't turn over ballots for yet another recount of the state's 2020 election results, where Republican former President Donald Trump lost to Democratic President Joe Biden.
The Maricopa Board of Supervisors is predominantly held by Republicans.
The state Senators are threatening to hold the Board of Supervisors in contempt for not responding to multiple subpoenas demanding copies of mail-in ballots and access to voting machines in Maricopa County, which would result in their arrest.
The county's Latinx and Native American votes were instrumental in delivering the state to Democratic President Joe Biden, a stunning defeat for Trump in a state that, with the exception of the 1996 re-election of President Bill Clinton, had been a reliable stronghold for Republicans since 1952.
That record and Biden's narrow win led to a recount and audit of the results in Maricopa County, the state's most populous and home to the Phoenix metro area, by its heavily Republican Board of Supervisors. The Board determined the vote had been tallied with 100% accuracy and that its voting machines functioned properly.
Despite those outcomes, the Trump campaign filed seven lawsuits against the Board of Supervisors alleging fraud. All seven were either withdrawn or dismissed by the courts for lack of evidence.
Nevertheless, state Senate Republicans have been calling for a second hand recount ever since--a recount the state Senate wants to be performed by a hand-chosen team or by the Senate itself. Either arrangement would be unprecedented in the state's history.
To that end, the state Senate last month issued two subpoenas to the Board of Supervisors for copies of every mail-in ballot, access to voting machines and software, and voter records. Rather than comply, the Board of Supervisors instead sued on the basis that the subpoenas' requests violate Arizona state election laws related to ballot privacy and security.
Hence, the state Senators will vote today whether to hold the Board of Supervisors in contempt, which would result in their arrest and jailing.
On Twitter, many found the state Senate's efforts absurd.
While others were unnerved and outraged by the Republicans' audacity.

While the move to arrest the Supervisors would be unprecedented, the state Senate's underlying resolution to hold the Board of Supervisors in contempt has overwhelming support.
The State Senate's entire Republican majority, which has swung much farther to the right in recent years, voted unanimously last week in favor of the contempt resolution upon which it will deliberate today.