Sean Hannity expressed dismay that Republicans 'for some reason' don't like to vote early or vote by mail as Georgia Senate votes came in.
07 December 2022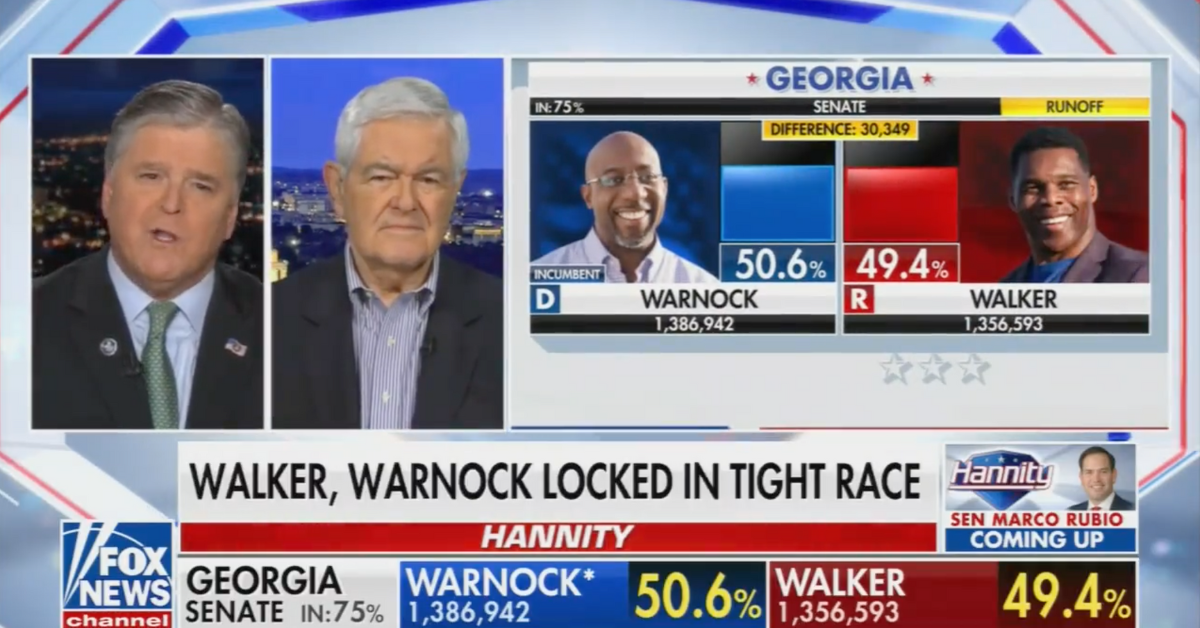 Fox News
Fox News personality Sean Hannity was widely mocked after he expressed dismay that Republicans "for whatever reason" don't like to vote early or vote by mail as the results in Georgia's Senate runoff came in.
Incumbent Democratic Senator Raphael Warnock emerged victorious, ultimately defeating Herschel Walker, a former pro football player with no political experience whose entire campaign was marred by his numerous off-the-wall statements and personal scandals.
Much of Warnock's success can certainly be attributed to heavy Democratic turnout, particularly during early voting, when many Warnock voters chose to vote by mail, in order to overcome a controversial law Georgia Republicans passed after the 2020 general election that narrowed the window for mail-in voters and reduced the number of days to vote early in-person.
But Hannity appeared to have conveniently forgotten all the times Republican lawmakers and pundits spread conspiracies about mail-in voting and undermining the electoral process, a factor that no doubt hurt GOP turnout, both in last year's Senate run-off and yesterday.
You can hear what Hannity said in the video below.
During a conversation with former Republican House Speaker Newt Gingrich, Hannity said:

"I think Republicans have been unwilling for whatever reason, reluctant, resistant, to voting early and voting by mail."
When asked by Hannity whether Republicans have to "get over that resistance" if the GOP wants to win future elections, Gingrich responded that Republicans "have to play the game by the rules that existing."
Gingrich added that the best way to win over Generation Z voters would be to campaign on the popular social media site TikTok, though he suggested "in the long run [Republicans] may abolish TikTok as a Chinese Communist device."
But neither man took responsibility for the distrust they've sowed in the electoral process as a result of endorsing former Republican President Donald Trump's falsehoods about the integrity of the 2020 general election, when the GOP's opposition to mail-in voting ultimately cost Trump a second term.
Indeed, that electon cycle was largely defined by conspiracies surrounding mail-in voting that Trump and Republicans disseminated. Even as Trump himself voted absentee.
For instance, Trump generated controversy ahead of the 2020 election when he attacked the process of mail-in voting by suggesting that people should instead send in their ballots before going to their polling places to see if their vote had been counted and then vote in person if their vote had not been tabulated.
However, no polling place works this way and in many states, the process of counting votes does not begin until polling places are officially closed on Election Day. Additionally, many states also have an online system that allows voters to check the status of their mail-in ballot and see if it's been received.
Voter fraud conspiracies also played a major role during this election cycle, impacting races across the country, particularly in Arizona, where GOP gubernatorial nominee Kari Lake launched a failed bid to stop the certification of the results after she lost the race to Katie Hobbs, the Arizona Secretary of State she called to imprison on baseless and unspecified allegations of criminality related to the 2020 election.
Hannity was swiftly mocked for his clueless statement.
Although Democrats had already secured control of the Senate following last month's midterm elections, the Georgia runoff was crucial to deciding whether Democrats will enjoy a true majority rather than a 50-50 split that would require Vice President Kamala Harris to serve as the tiebreaker on proposed legislation.

Warnock's victory means Democrats now have 51 seats to the GOP's 49, ending the power-sharing agreement that has been in place over the last two years in an evenly divided Senate, and making it easier for Democrats to implement President Joe Biden's legislative agenda and push through Biden judges.
It also ensures that Georgia will remain a crucial swing state in future election cycles, erasing doubts that persisted after Biden defeated Trump in 2020.