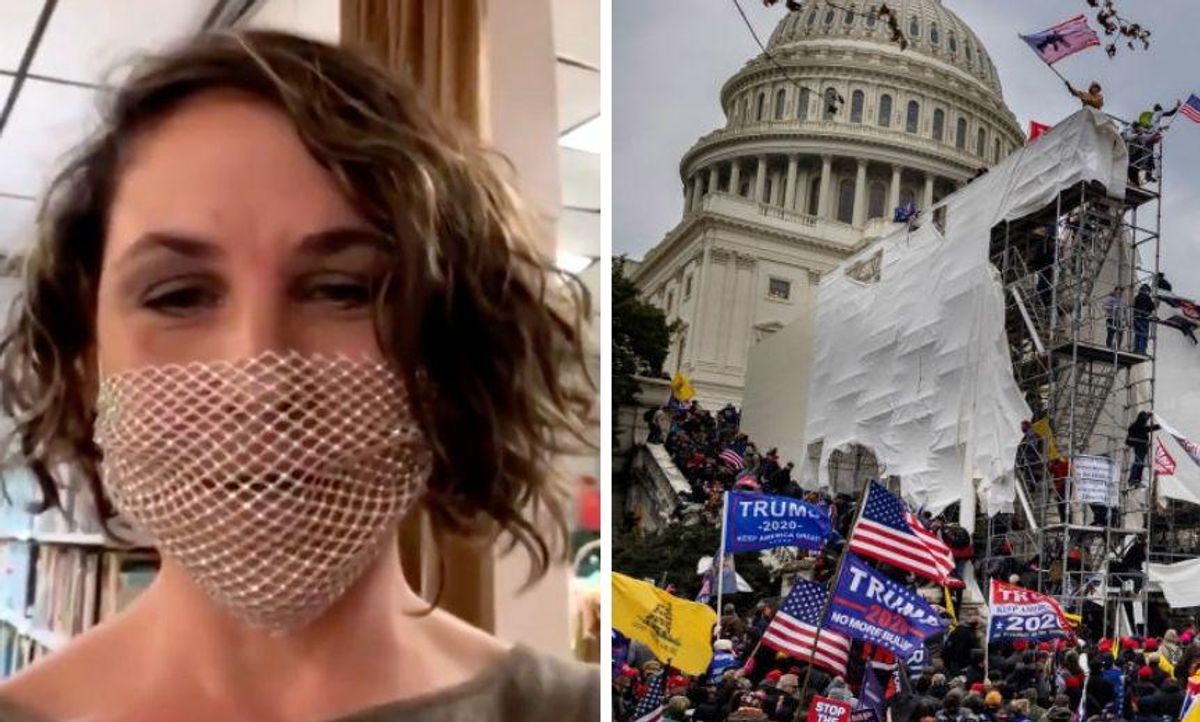 @ryanjreilly/Twitter // Brent Stirton/Getty Images
Arrests continue to be made for the Capitol Riots on January 6, where a mob of pro-Trump extremists stormed the United States Capitol, prompted by former President Donald Trump's lies that the 2020 election was "stolen" from him by Democrats through widespread election fraud.
Rioters shattered windows, smeared excrement across the walls, called for the murder of American lawmakers, and attacked police officers during the deadly failed insurrection, which upended the joint congressional session to nationally acknowledge then-President-elect Joe Biden's victory.
Hundreds have been arrested in the aftermath, including Rachel Powell, who used a bullhorn to shout directions at the rioters during the chaos.
Powell was released on bail last month ahead of her trial, with the condition that she wear a mask outside of her home to reduce the chance of spreading the viral pathogen that's killed nearly 600 thousand Americans.
Like many of Trump's supporters, Powell dismissed the need for facial coverings when interacting with others, and soon a video surfaced of Powell at her workplace wearing an ineffective mesh mask.
Watch below.
Upon the video's circulation, the court demanded Powell show cause for why she shouldn't be detained for the remainder of her trial or held in contempt of court for her failure to use an effective mask.
U.S. District Judge Royce Lamberth wrote that Powell's mesh mask was effectively mocking the court's order, and went on to say:
"No reasonable person could think that defendant's 'mask' complied with that condition, which Chief Judge Beryl Howell imposed to ensure that defendant 'would not pose a risk to the health and safety of the community when she left her house.'"
Now, Powell has written a groveling apology in hopes of not getting her release revoked—an apology which cited singer Lana Del Rey's use of a mesh mask on social media.
Capitol riot defendant Rachel Powell, who was ordered by a judge to wear a mask as part of her release conditions,… https://t.co/g7FNErsg3z

— Zoe Tillman (@Zoe Tillman) 1619445977.0
Michael Engle, Powell's attorney, wrote in a court document:

"The Defendant wishes to apologize to this Honorable Court, and to Pre-Trial Services, for her poor choice and her unwise conduct in this matter. It was not Ms. Powell's intention to mock compliance with her condition of release or to flout the Court's Order."
It's unclear how Judge Lamberth will react, but the court of public opinion isn't showing much sympathy.
Lock her up https://t.co/a3ThYfNyu0

— ✏️Pencil of the Court✏️ (@✏️Pencil of the Court✏️) 1619456167.0
Someone just realized she could go back to jail #bullhornlady https://t.co/4Njq4nlGIw

— Tracie Fully Vaccinated Mac (@Tracie Fully Vaccinated Mac) 1619446105.0
That judge better throw her ass in jail! https://t.co/td2lJezvZz

— Semi-pro Snarkist 🆘 (@Semi-pro Snarkist 🆘) 1619453053.0
Is this continued threat to society behind bars? https://t.co/h4cV8PZUXL

— kay quinn (@kay quinn) 1619450451.0
She's only sorry she's being held accountable I hope they revoke her bail she's an arrogant insurrectionist Traitor https://t.co/A4QtiSDR3B

— Tracey Taylor London 🇺🇸 (@Tracey Taylor London 🇺🇸) 1619449849.0
Don't believe her https://t.co/CVxMFIdNTs

— Mike Ward (@Mike Ward) 1619446033.0
They mocked Powell's mention of Lana Del Rey.
Old conservatism: personal responsibility is the cure for government dependence. New conservatism: LANA DEL REY MA… https://t.co/wicLGuTVFM

— Mike Rothschild (@Mike Rothschild) 1619458649.0
Lana Del Rey got dragged into this? https://t.co/LnlWeDo07E

— Bulgur Display of Power (@Bulgur Display of Power) 1619446245.0
Oh, God, there's a Lana Del "Ray" defense. https://t.co/OPluN8fFzU

— Brawi Clarkson-Thurman (@Brawi Clarkson-Thurman) 1619446231.0
Officials say there are still around 100 arrests to be made for participation in the insurrection.