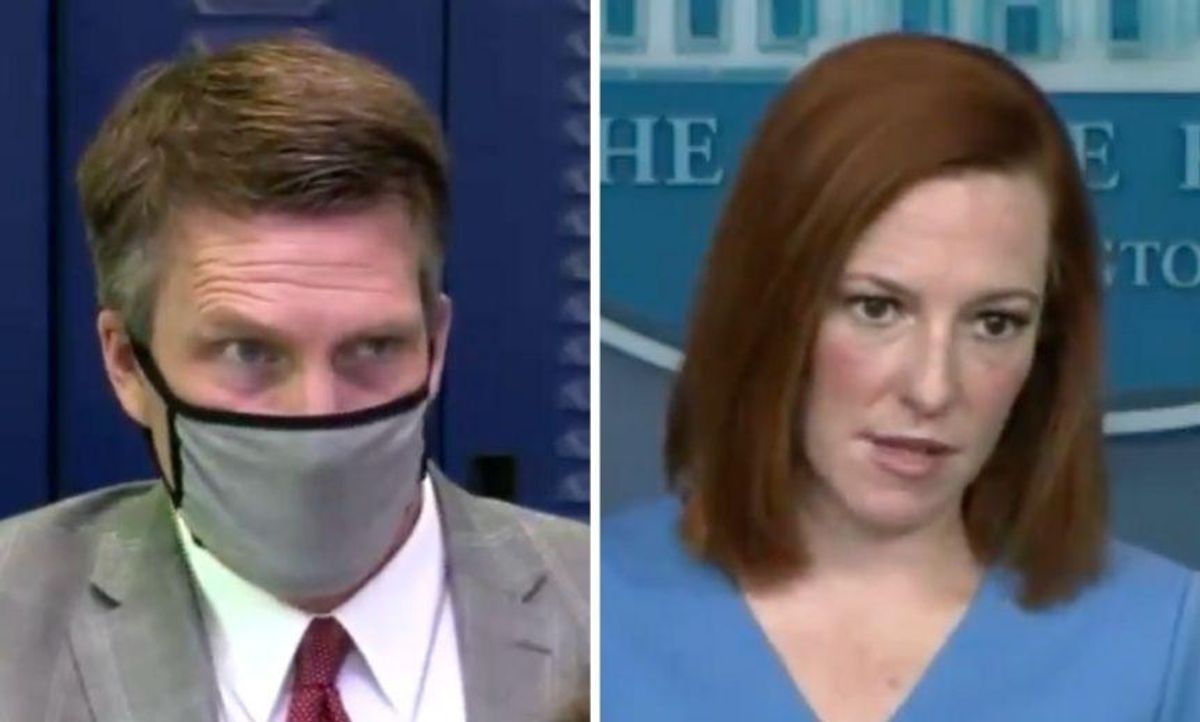 C-SPAN
In a daily White House press briefing on Wednesday, Press Secretary Jen Psaki answered a question from White House correspondent Owen Jensen of the Eternal World Television Network (EWTN).
Jensen asked about the Biden administration's reversal of President Donald Trump's ban on abortion referrals in Title X family planning facilities.
In 2019, the Trump administration forbid any federal funding for providers who refer patients for abortions or perform abortions themselves.
In its proposal for the reversal, the Health and Human Services Department said:
"As a result of the dramatic decline in Title X services provided, the 2019 Final Rule undermined the mission of the Title X program by helping fewer individuals in planning and spacing births, providing fewer preventive health services, and delivering fewer screenings."
While Title X funds allocate for STD testing and contraception, federal funding is almost entirely barred from being used for abortion.
Nevertheless, in a testy exchange with Psaki, Jensen claimed the rule reversal would fund abortions with taxpayer money.
Jensen asked:

"Why does the Biden administration insist that pro-life Americans pay for abortions and violate their conscience?"
Psaki said his characterization of the reversal was "not an accurate depiction of what happens."
She continued:

"None of the funds appropriated under this title shall be used in programs where abortion is a method of family planning. That is written into the Public Health Service Act and it specifically states that."
When Jensen went on to claim the reversal would indirectly fund abortions, Psaki responded:
"That is not how it works. That is the law, so I'm stating what the law is and how it is implemented legally by these organizations."
She went on to say President Biden implemented these steps to increase equitable access to healthcare, especially in underserved communities.
Jensen yet again claimed the reversal was in opposition to that goal, pointing out that abortion "disproportionately affects minority children," to which Psaki responded:
"Again, funding cannot be used from this for abortion, but access to healthcare. Access to healthcare in communities that have been marginalized, underserved, adversely affected by persistent poverty is always going to be something the president fights for."
Jensen once again attempted to dispute Psaki's answer before she curtly told him she'd already answered his question.
It wasn't a good look for Jensen.

Psaki's answer, however, was applauded.

While the Hyde Amendment prohibits federal funding for most abortions, Biden has previously expressed support for ending this ban.