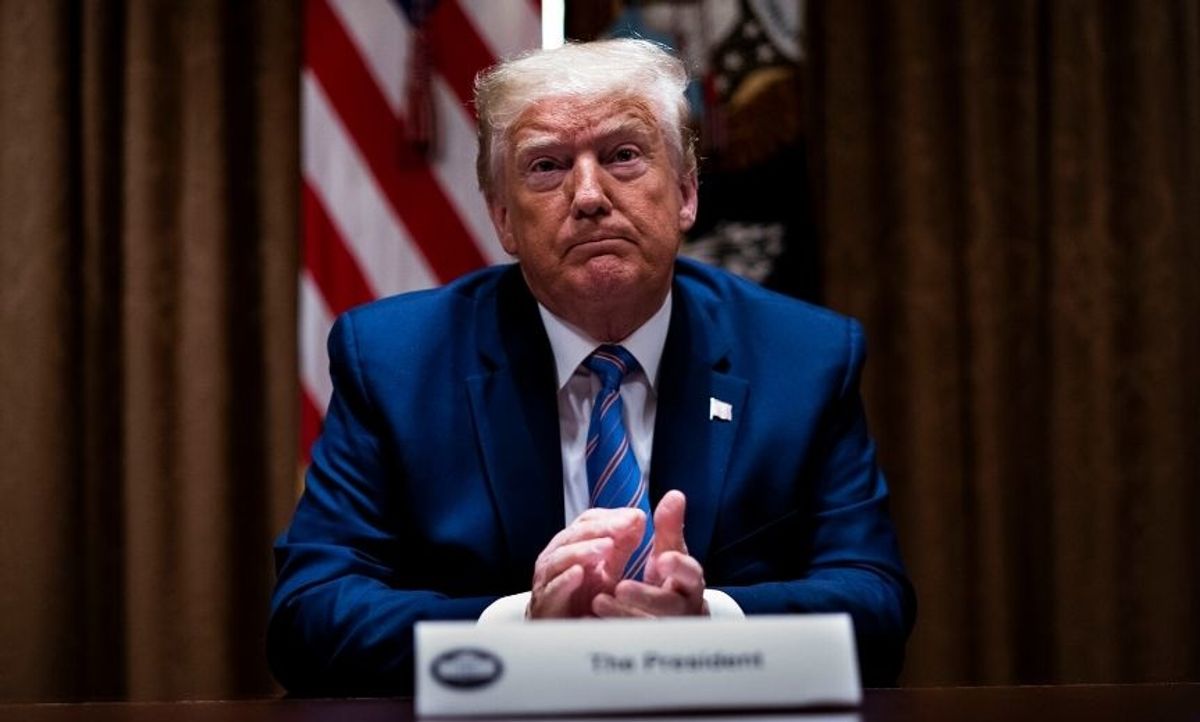 Doug Mills-Pool/Getty Images
President Donald Trump's campaign is stepping up its vendetta against a scathing ad from the largest Democratic political action committee in the United States.
Months ago, the campaign issued a cease and desist order against the super PAC, accusing its ad of deliberately misusing Trump's words in a deceptive manner. The campaign also sued a local television station in the swing state of Wisconsin for airing it.
The ad features the numerous times Trump dismissed the threat posed by the virus as a graph showing the number of cases continues to rise.
Watch below.
After the cease and desist went unheeded, the Trump campaign is now suing Priorities USA, with Trump campaign legal advisor Jenna Ellis saying:
"It is abundantly clear that Priorities USA supported fabricated digital content in a flagrant attempt to defame President Trump and a desperate attempt to save Joe Biden's sinking campaign. As a result of these intentionally deceitful actions, the Trump campaign is using the force of law to end circulation of these erroneous and defamatory ads."
Priorities USA's Guy Cecil responded to the suit in a statement:
"Priorities USA Action successfully intervened as a defendant in the lawsuit filed by the Trump campaign against a small Wisconsin TV station in a desperate attempt to prevent Americans from hearing the truth about Trump's failed response to the coronavirus pandemic which has cost over 120,000 American lives and millions of jobs. We stand by the facts in our ad that uses Trump's own words. We won't back down from holding Trump accountable for failing America."
The Trump campaign responded to criticisms of the suit by tweeting audio of Joe Biden which had actually been edited to sound like he called the virus a hoax.
Unlike Priorities USA's ad, which includes clips of Trump's own words, the Trump campaign spliced two separate pieces of audio together to construct a sound byte from Joe Biden. The campaign says the audio isn't meant to be taken seriously, but rather to show what they believe to be pro-Biden bias from Twitter. Twitter has yet to take the false audio from the Trump campaign.
The super PAC's communications director, Josh Scherwin, expressed hope that the suit would likely only increase the ad's views.

It appears that that is the case.
People agreed that the Priorities USA ad was only using Trump's actual statements.
They didn't hesitate to call out the Trump campaign for actually manipulating audio either.
With over 2.5 million cases of the virus in the United States now, people are hoping Priorities USA releases an updated version showing the numerous times Trump has continued to dismiss the virus.
The ad's views continue to climb.