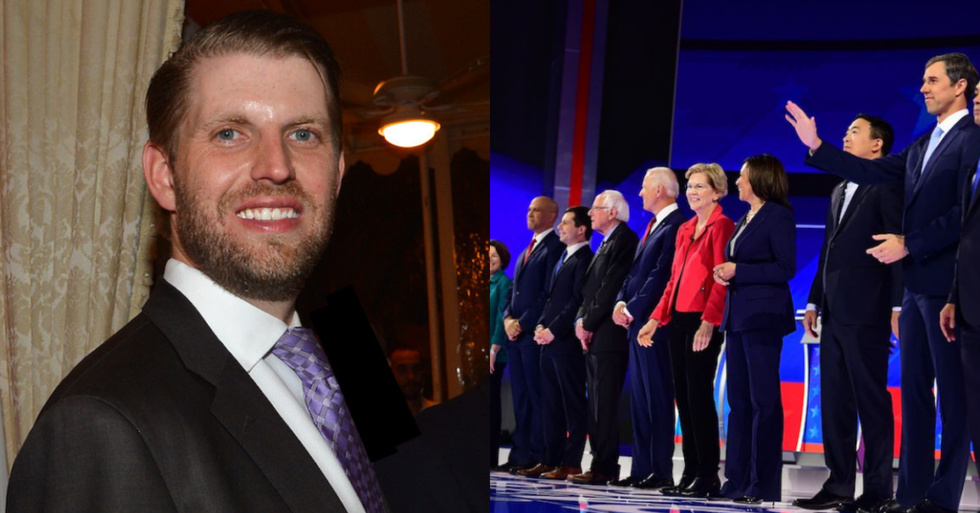 Patrick McMullan/Patrick McMullan via Getty Images; FREDERIC J. BROWN/AFP/Getty Images
Not having learned his lesson after weighing in on one of the Democrats' June presidential debates, President Donald Trump's third child with ex-wife Ivana—Eric Trump—decided to make another insightful Twitter post assessing the merits and deficiencies of the 2020 Democratic presidential field.
You may remember this piece of eloquence from June:
Regarding Thursday's Democratic debate, Eric was similarly articulate:
And the Internet wasted no time in pouncing.
While his elder brother's recent social media post selling Trump camo merchandise including a stained t-shirt earned Don Jr. the designation of king of the self-own, Jr. may need to pass over the crown to his younger bro.
Maybe it would be best for Eric to leave the debate commentary to others from now on.
The book It's Even Worse Than You Think: What the Trump Administration Is Doing to America is available here.
********
Listen to the first four episodes of George Takei's podcast, 'Oh Myyy Pod!' where we explore the racially charged videos that have taken the internet by storm.
Be sure to subscribe here and never miss an episode.
Keep reading...Show less