Chicago high school students will need to have a plan for life after graduation in order to receive their diplomas.
12 August 2017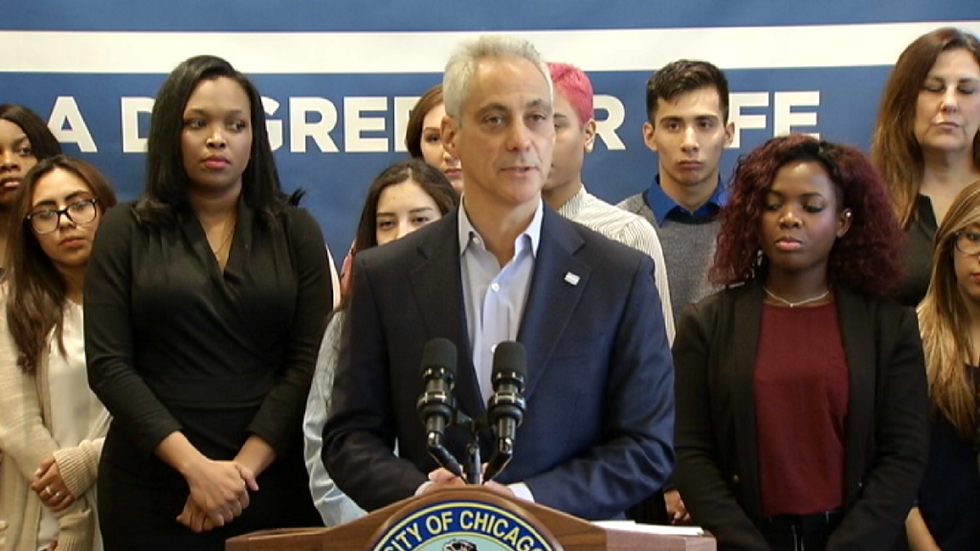 [DIGEST: CNN,  CS Monitor, USA Today, Chicago Tribune, Inside Higher Ed]
Beginning in 2020, high school seniors who hope to graduate from Chicago Public Schools will need to demonstrate that they have a plan for what comes next — whether that be a job, college, trade school, apprenticeship or the military. In other words, at around age 17, they'll need to know what they are going to do when they grow up.
The controversial new plan, known as "Learn. Plan. Succeed," is designed to move students from a K-12 mindset to a pre-K-college model. Promoted by Mayor Rahm Emanuel, the hope is to boost post-high school success and lead more Chicago kids to college. While 73 percent of Chicago public high school students earn their high school diploma, only 18 percent ultimately earn a bachelor's degree within ten years of starting high school, according to the University of Chicago Consortium on School Research. Chicago is the third-largest school system in the U.S.
"I guarantee you the kids in Chicago will be better prepared for the future than any other child," said Emanuel. "Every other school system today leaves it to chance."
While not every person needs to attend college to succeed in life, a college degree or post-secondary training leads to greater lifetime earnings potential. College graduates earned 56% more than high school grads in 2015, according to the Economic Policy Institute. That was up from 51% in 1999 and is the largest such gap in EPI's figures dating to 1973. At a time when economic disparity is widening, a college diploma is a major factor in determining what side of the economic divide a person will fall on. The gap continues to widen — people without college degrees have lost an additional three percent in earnings potential since the Great Recession ended in 2009.
"The post-Great Recession economy has divided the country along a fault line demarcated by college education," said Anthony Carnevale, director of Georgetown University's Center on Education and the Workforce.
Even so, some people question the value of an education. A recent study found that more than half of Republicans (ironically, the wealthier, more educated half) don't see value in higher education, with 83 percent saying that a college degree was "no longer any guarantee of success in America."
The alternative to post-secondary education too often is poverty and lack of opportunity. More than 80 percent of the students in Chicago's public school system come from economically disadvantaged backgrounds. The city's skyrocketing crime rate is placing more pressure on the school system to take a preventative role in crime reduction by directing vulnerable young people towards continuing education.
Critics of the Chicago initiative say it places too much of a burden on students, 80 percent of whom are from economically disadvantaged backgrounds, and many of whom have struggled to stay in school and already overcome significant roadblocks just to achieve a high school diploma. If a student has successfully earned the grade and attendance levels required to graduate, under this plan, they could still be denied their diploma if they are uncertain about their next step.
"There's the question of: Will this have a disproportionate impact on vulnerable students?" said Sherman Dorn, director of the Division of Educational Leadership and Innovation at Arizona State University's Mary Lou Fulton Teachers College. He says many are "students who do not have access to ... friends or neighbors or community mentors who say, 'This is how you apply to college,' or 'Here, I'll help you apply to a job.' " 
Others say that simply attaining a high school diploma is an accomplishment in itself, especially in a district that has improved its graduation rates by 16 percentage points in the past five years.
Other concerns are practical: Illinois has a shortage of guidance counselors, who will be needed to help students navigate their future options and devise a written plan describing their plans. The current student-to-counselor ratio is 701-to-1, one of the highest in the country. The American School Counselor Association recommends a 250-to-1 ratio. 
"Chicagoans aren't asking for new graduation requirements," said Ronnie Reese, spokesman for the Chicago Teachers Union. "They are asking for fully funded schools, an elected school board, transparent leadership and safe, well-resourced neighborhoods." 
Keep reading...Show less