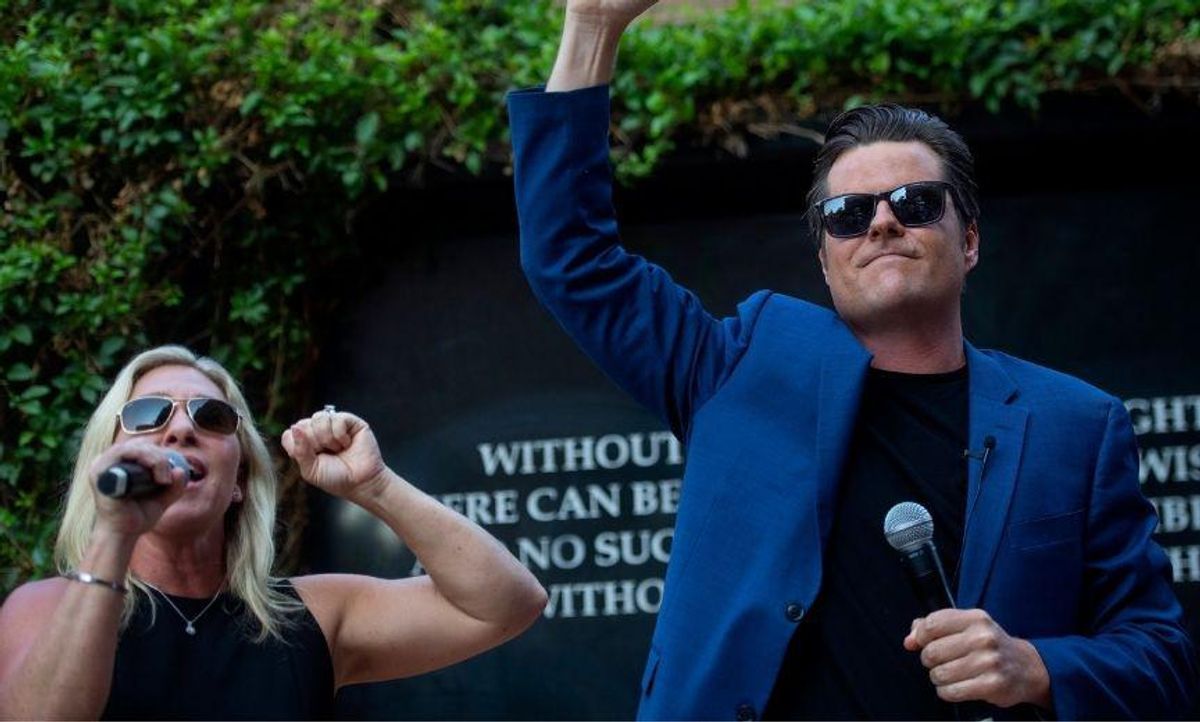 Cindy Yamanaka/MediaNews Group/The Riverside Press-Enterprise via Getty Images
Republican Representatives Marjorie Taylor Greene of Georgia and Matt Gaetz of Florida are two of the most far-right lawmakers in the United States, and they've both had their fair share of scandals.
Earlier this year, Greene was stripped of her congressional committee assignments after internet sleuths uncovered her prior support for deranged conspiracy theories, such as beliefs that high-level Democrats secretly coordinated school shootings to weaken support for the Second Amendment, and that devastating California wildfires were caused by Rothschild-owned space lasers. Not to mention, she liked a Facebook comment calling for the execution of her now-colleagues.
Gaetz, known for his incendiary questions during committee hearings, is currently under federal investigation for child sex trafficking. The evidence reported so far has only increased public speculation of his guilt.
So, naturally, the pair is currently on a joint "America First" fundriaising tour, where they continue to spew conspiracy theories and violent rhetoric under the guise of patriotism.
But a new report from The Daily Beast indicates the joint fundraising tour isn't raising that much at all.
Roger Sollenberger reports:

"Since Gaetz and Greene kicked off their joint fundraising committee with a May 7 event at The Villages in central Florida, their campaigns and joint fundraising committee have posted a combined loss of $342,000. And according to recent filings with the Federal Election Commission, that joint fundraising effort, 'Put America First,' reported only $59,345.54 in contributions.

That sort of meager haul would be fine for a dinner or one-time event, but Gaetz and Greene have repeatedly held high-profile events and spent a whopping $287,036.19 to hold them—meaning they're in the hole by more than $225,000."
Both Representatives shelled out $150 thousand a piece from their own campaign funds, but their tour through the most pro-Trump areas in the nation has been almost completely small donor donations—with only four people donating more than $500 to their joint effort.
Notably, Greene's individual campaign only gained $300 thousand by the end of the second quarter—a steep drop from the $1.8 million gain with which she closed out the first quarter.
Given their actions in Congress, people were happy to see their efforts have been unsuccessful.
People were more divided on what the underwhelming haul could mean for the political landscape going forward.
Gaetz's PR firm, however, has made over a million dollars, according to the report.