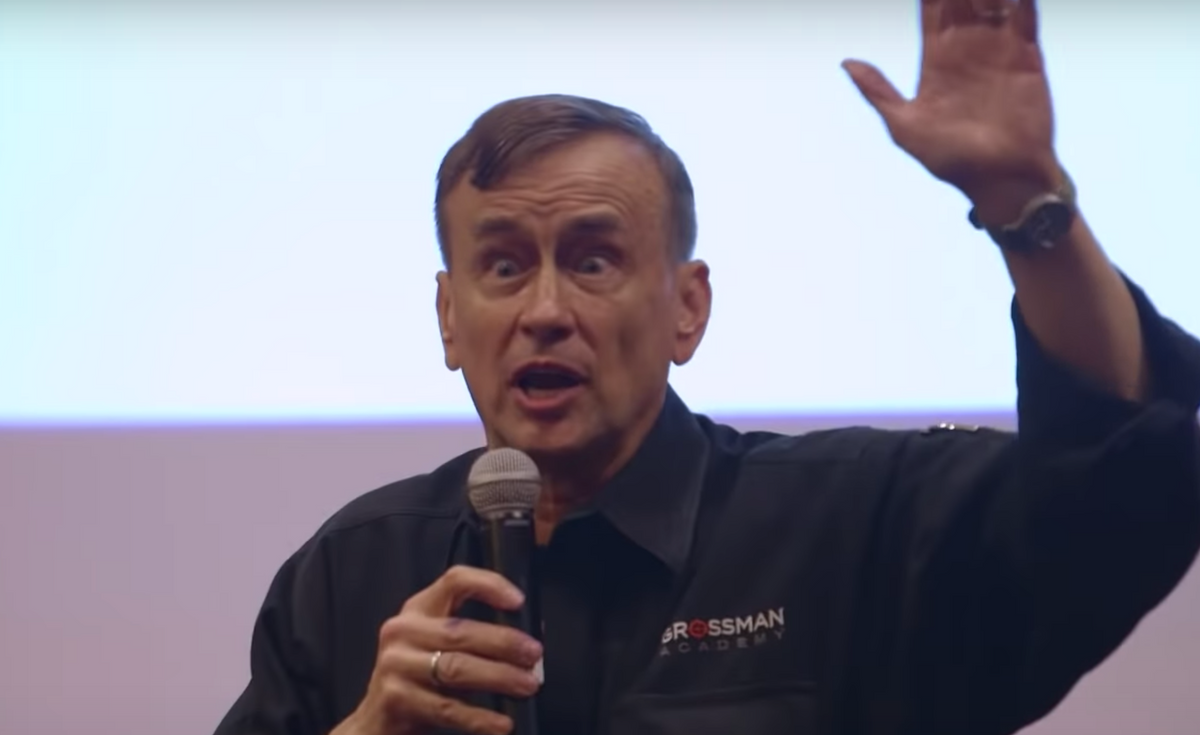 The New Yorker
In the wake of the murders of George Floyd, Breonna Taylor, Daunte Wright, and countless other Black Americans at the hands of police, people across the country continue to rethink the current system of public safety in the United States and reckon with the racist roots and implementation of American law enforcement.
While some argue that officers like Derek Chauvin—who was recently found guilty on all counts for the horrific murder of George Floyd—are simply "bad apples," a growing number of Americans are concluding that the whole tree, roots and all, is compromised.
That perspective was only validated with recently resurfaced video from 2017 of a lecture from David Grossman—the nation's self-described top police trainer whose method, called "killology," teaches officers to kill people with less hesitation and guilt.
The disturbing video, taken from an Ohio police training seminar, features Grossman making the case to police officers to think of killing others as "not that big a deal."
In one moment, Grossman even says killing another human can make for better sex in the aftermath.
America's #1 police trainer tells cops that sex after killing another human "is the best sex," a "very intense sex," and one of the "perks that come with the job." pic.twitter.com/uWTyKL7eCL
— Resist Programming 🛰 (@RzstProgramming) April 22, 2021
Grossman says in the video:

"Cop says, 'gun fight, bad guy's down, I'm alive, finally get home at the end of the incident and...' They all say 'the best sex I've had in months.' Both partners are very invested in some very intense sex. There's not a whole lot of perks that come with this job. You find one, relax and enjoy it."
Throughout the full video, which you can watch here, Grossman encourages police to think of themselves as "predators," and the "man of the city," who can "fight violence" with "superior violence, righteous violence," which he describes as their "tool" which they must "master."
The video concludes with Grossman receiving a standing ovation from the officers in training, many of whom are now policing America's streets, possibly with Grossman's case for more killing still ringing in their ears.
People were disgusted by the trainer's words and the way they were gleefully received.
@RzstProgramming @darasja09 Psychopaths & sexual sadists feel this way too. But having them train cops is not a goo… https://t.co/AWVzBNFjZq

— Dr.Aditi (@Dr.Aditi) 1619112629.0
@RzstProgramming A psychopath turning men into future psychopaths. This is the most disgusting thing I've seen in a… https://t.co/82LvhnKjbx

— Steph⁷- Support my son, stand up for trans rights! (@Steph⁷- Support my son, stand up for trans rights!) 1619113645.0
@RzstProgramming @shaunking This "man" should be banned from training any Police anywhere. This is very disturbin… https://t.co/ckTi60ZcPs

— Kevin D (@Kevin D) 1619112938.0
@RzstProgramming This is deeply disturbing. Why would he feel comfortable promoting such depravity in an open forum?

— Appollognia, Ed.D (Defund & Abolish Police) (@Appollognia, Ed.D (Defund & Abolish Police)) 1619111171.0
Um... this thread is so deeply distressing I don't know what to say. This is apparently America's #1 police trainer… https://t.co/GAa9RD8Vi5

— PoliticsGirl (@PoliticsGirl) 1619115374.0
@RzstProgramming David Grossman is a vile, repulsive man and should NEVER train anyone especially a police officer.

— Linda S. (@Linda S.) 1619119636.0
Some pointed to Grossman's prominence in police training circles as evidence that the modern policing system can't simply be reformed, but needs a complete overhaul that emphasizes community-based public safety.
Tell me again how you reform this?? https://t.co/QmN2z5vqq2

— Rex Chapman🏇🏼 (@Rex Chapman🏇🏼) 1619120206.0
@RzstProgramming Them: Police just need more training. Police training: Kill your way to better sex.

— Patrick S. Tomlinson (@Patrick S. Tomlinson) 1619115977.0
The police force is filled with people who were trained by this psychopath

Let that sink in
— Nick is a Fred Hampton Leftist 🥋 (@SocialistMMA) April 22, 2021
There is no reform to a system based on Dave Grossman's "Killology". Cops go on patrol like they are soldiers going to war. And then you guys wonder why we resent them.
— Chris Duesing (@cduesing74) April 24, 2021
Though Grossman travels the country and says he spends around 300 days per year training police to kill with as much ease as possible, he himself has never taken a human life.
The officer who shot and killed Philando Castile over brake lights in 2016 had attended one of Grossman's "Bulletproof Warrior" classes.