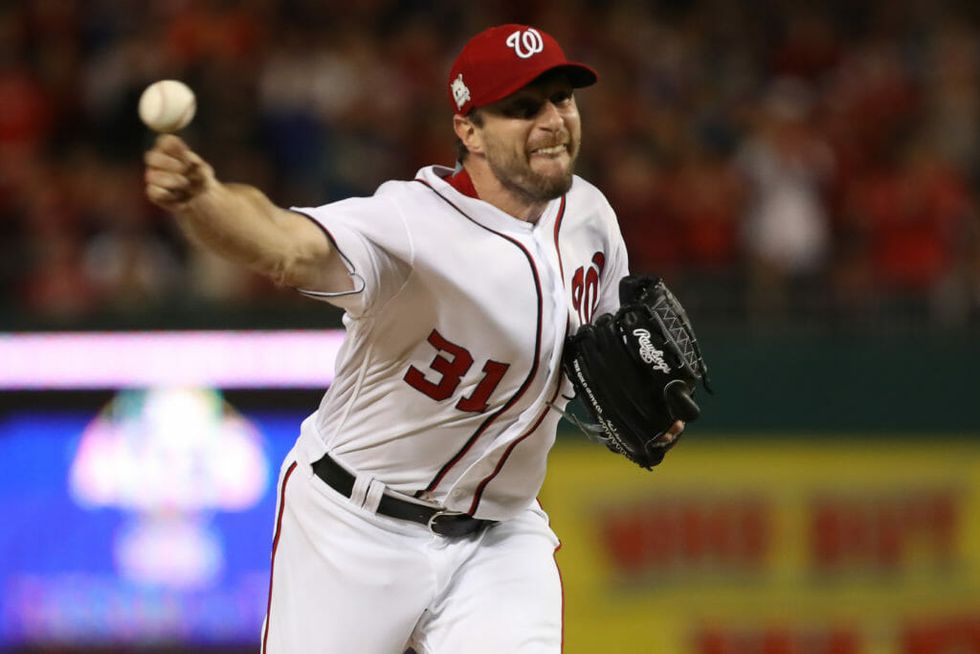 WASHINGTON, DC - OCTOBER 12: Max Scherzer delivers a pitch against the Chicago Cubs (Win McNamee/Getty Images)
MLB Network revealed the 2017 Cy Young Award-winners on Wednesday. This year, Corey Kluber of the Cleveland Indians and Max Scherzer took home the hardware for the AL and NL, respectively. The feat is impressive enough in and of itself, but each of this year's winners have also won the award in a previous season. Kluber took home his first Cy Young in 2014, while Scherzer won the AL Cy Young in 2013 and the NL Cy Young in 2016. With the addition of Kluber, there are now 19 legendary players who have won the award in multiple seasons. So which pitchers have won multiple Cy Young Awards? Here's the full list:
Pitchers With Multiple Cy Young Awards
Roger Clemens (7): 1986-87, 1991, 1997-98, 2001, 2004
Randy Johnson (5): 1994, 1999-2002
Steve Carlton (4): 1972, 1977, 1980, 1982
Greg Maddux (4): 1992-95
Sandy Koufax (3): 1963, 1965-66
Pedro Martinez (3): 1997, 1999-2000
Jim Palmer (3): 1973, 1975, 1976
Tom Seaver (3): 1969, 1973, 1975
Clayton Kershaw (3): 2011, 2013-2014
Max Scherzer (3): 2013, 2016-2017
Bob Gibson (2): 1968, 1970
Tom Glavine (2): 1991, 1998
Roy Halladay (2): 2003, 2010
Tim Lincecum (2): 2008-09
Denny McLain (2): 1968-69
Gaylord Perry (2): 1972, 1978
Bret Saberhagen (2): 1985, 1989
Johan Santana (2): 2004, 2006
Corey Kluber (2): 2014, 2017
Some Other Fun Facts About This Group...
As you can see, Scherzer now joins a truly elite list of pitchers who have won at least three Cy Young Awards. Scherzer is the tenth player to accomplish

LOS ANGELES, CA - NOVEMBER 01: Clayton Kershaw throws a pitch during the fourth inning against the Houston Astros (Kevork Djansezian/Getty Images)

this feat, joining fellow 2017 Cy Young finalist Kershaw.

Only six pitchers have managed to win the award in both the American League and the National League. That list is comprised of Clemens, Johnson, Martinez, Perry, Halladay and Scherzer.
Until 1967, only one Cy Young Award was given out to the best pitcher in all of Major League Baseball. Koufax was the only pitcher to win the award multiple times during that period.
Maddux and Johnson hold the record for most consecutive Cy Young Awards; each pitcher won four in a row at one point in his respective career.
Scherzer becomes just the ninth pitcher to win a Cy Young Award in consecutive years. Pitchers have accomplished this feat a total of ten times, as Clemens took home consecutive awards twice during his lengthy career.
Congratulations to Kluber and Scherzer on their victories, and for their place in history!
Keep reading...Show less