Good luck with that.
03 October 2019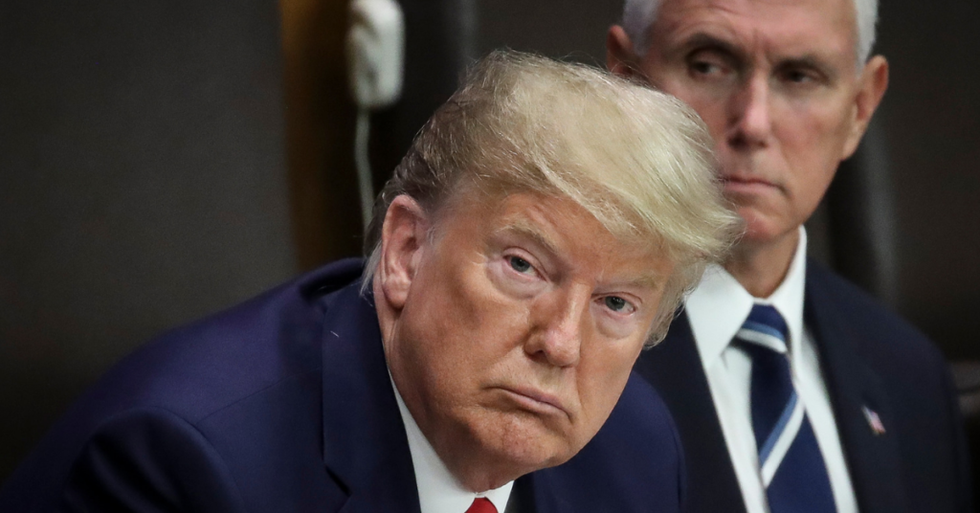 President Donald Trump and Vice President Mike Pence attend a meeting on religious freedom at United Nations headquarters on September 23, 2019 in New York City. (Photo by Drew Angerer/Getty Images)
Ever since Speaker of the House Nancy Pelosi announced the House of Representatives would go forward with their impeachment inquiry of the President, Donald Trump has sought to exonerate himself with all manner of false claims, threats and deflections. But his examples of others who had "beautiful conversations" with Ukrainian President Volodymyr Zelensky are not appreciated by the people Trump is implicating.
Among them, Vice President Mike Pence who must now scramble to cover himself from the potential fallout.
While speaking to the press at the United Nations on September 25, 2019, Trump told reporters they—whether he was referring to House Democrats or the press is unclear—needed to look at VP Pence's conversations with Zelensky too. This came after Trump stated the rough transcript memo was his second conversation with Zelensky and that Democrats should be asking for the first conversation.
The President said:
"...and I think you should ask for VP Pence's conversation because he had a couple conversations also. I can save you a lot of time. They're all perfect."
"Nothing was mentioned of any import other than congratulations. But the word is that they're going to ask for the first phone conversation. You can have it anytime you need it."
"And also Mike Pence's conversations, which were, I think, one or two of them. They were perfect. They were all perfect."
Watch the President's remarks here:
Trump just took an executive-privileged dump on Mike Pence. Will the @VP return the favor? https://t.co/kiyEJ1bIWN

— Tea Pain (@Tea Pain) 1570056223.0
However VP Pence's team is saying not so fast and throwing responsibility back onto President Trump.
In Fox News interviews and a piece in The Washington Post, Pence's team states the Vice President was not aware of Trump's attempts to push Zelensky for incriminating information about Biden even though a senior aide to Pence was also on the July 25 call at the center of the whistleblower complaint.
Pence was in on Trump's #UkraineExtortion scheme. Time to add him to the articles of impeachment and take them bot… https://t.co/T9BJqLQYZu

— Thom Hartmann (@Thom Hartmann) 1569338071.0
Since the aide was on the call, VP Pence would have been provided a transcript of it before he met with Zelensky in person to tell him the military aid to his country was withheld because President Trump did not feel Zelensky's government was doing enough to "combat corruption."
Once Zelensky got the message, Pence reported back to the President that the Ukrainian President had been receptive to the call for more attention on corruption as dictated by Trump, the aid money to the Ukraine was released. Pence's team acknowledged the sending of a veiled message by Pence during his meeting with Zelensky, but claimed Pence was unaware of Trump's machinations regarding Biden.
"Mike Pence is knee-deep in the Ukraine scandal. He is floating the absurd defense that, while he did participate i… https://t.co/oX3YEcDJbE

— Jon Cooper 🇺🇸 (@Jon Cooper 🇺🇸) 1570101437.0
Commander Pence, for aficionados of #TheHandsmaidsTale, is now fully implicated in Trump's most clearly impeachable… https://t.co/nDPBnpjNz1

— Laurence Tribe (@Laurence Tribe) 1570055925.0
People thought Trump's attempts to implicate Pence were to save himself, but would likely backfire.
Trump thinks loopin' Pence into his Ukraine debacle will ensure Republicans won't convict him. Trump doesn't see… https://t.co/2hO8ksmBdN

— Tea Pain (@Tea Pain) 1570068154.0
Pence is distancing himself from Trump on Ukraine. Rush is turning on Fox News. Rudy is throwing the State Departme… https://t.co/zhgYiSpq8N

— Peter Wehner (@Peter Wehner) 1570061169.0
Donald Trump's day so far: - Ukraine scandal worsens - #TrumpMeltdown all day long - House Republican throws Trump… https://t.co/lEofvznsLL

— Palmer Report (@Palmer Report) 1570060994.0
And many did not buy Pence's "I helped extort the Ukraine to help us win in 2020, but I didn't know it" defense.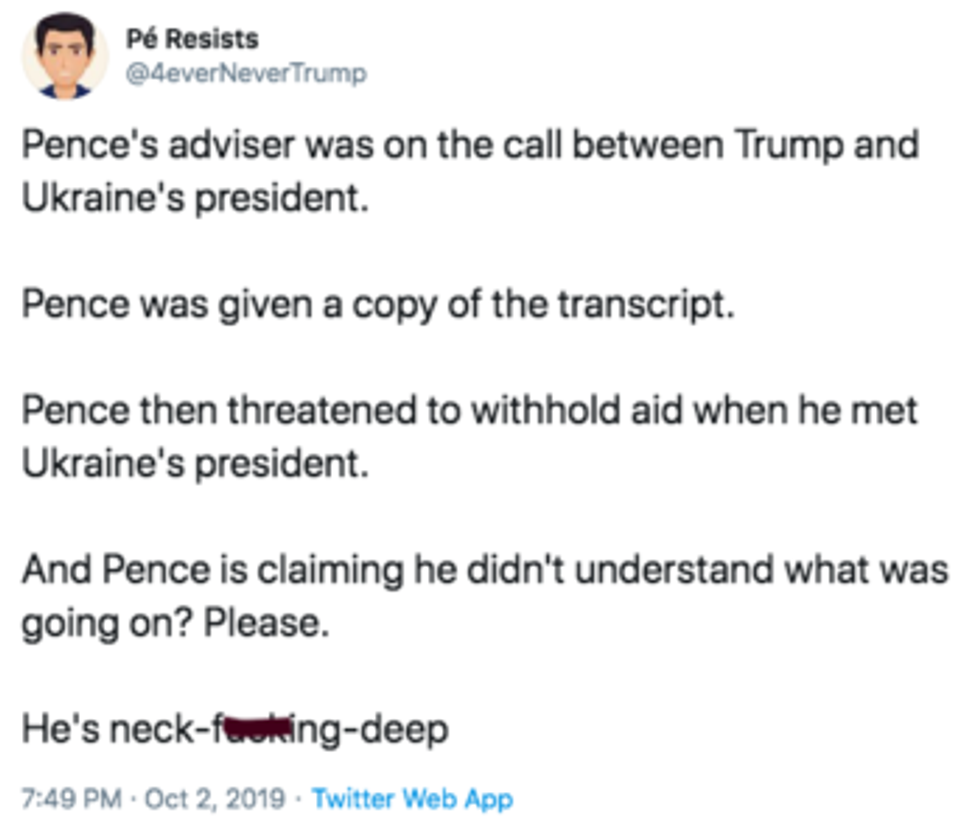 @4EverNeverTrump/Twitter

@4EverNeverTrump/Twitter
@4everNeverTrump They wouldn't be wrong. But not a defense. :)

— Liberal Atheist (@Liberal Atheist) 1570060357.0
@4everNeverTrump Which will probably be their *defense* for Pence's lack of action for a lot that has happened duri… https://t.co/nURTpoH5I3

— Alicia (@Alicia) 1570061078.0
@4everNeverTrump But that was going to be Trump's defense!

— tracey d and tobie (@tracey d and tobie) 1570061215.0
@4everNeverTrump Mueller used that as an excuse not to go after @DonaldJTrumpJr so ...🤷‍♂️

— Jacob (@Jacob) 1570064576.0
As finger pointing in the Trump administration intensifies, who will come out of the impeachment inquiry intact remains to be seen.
However this shirt is available here.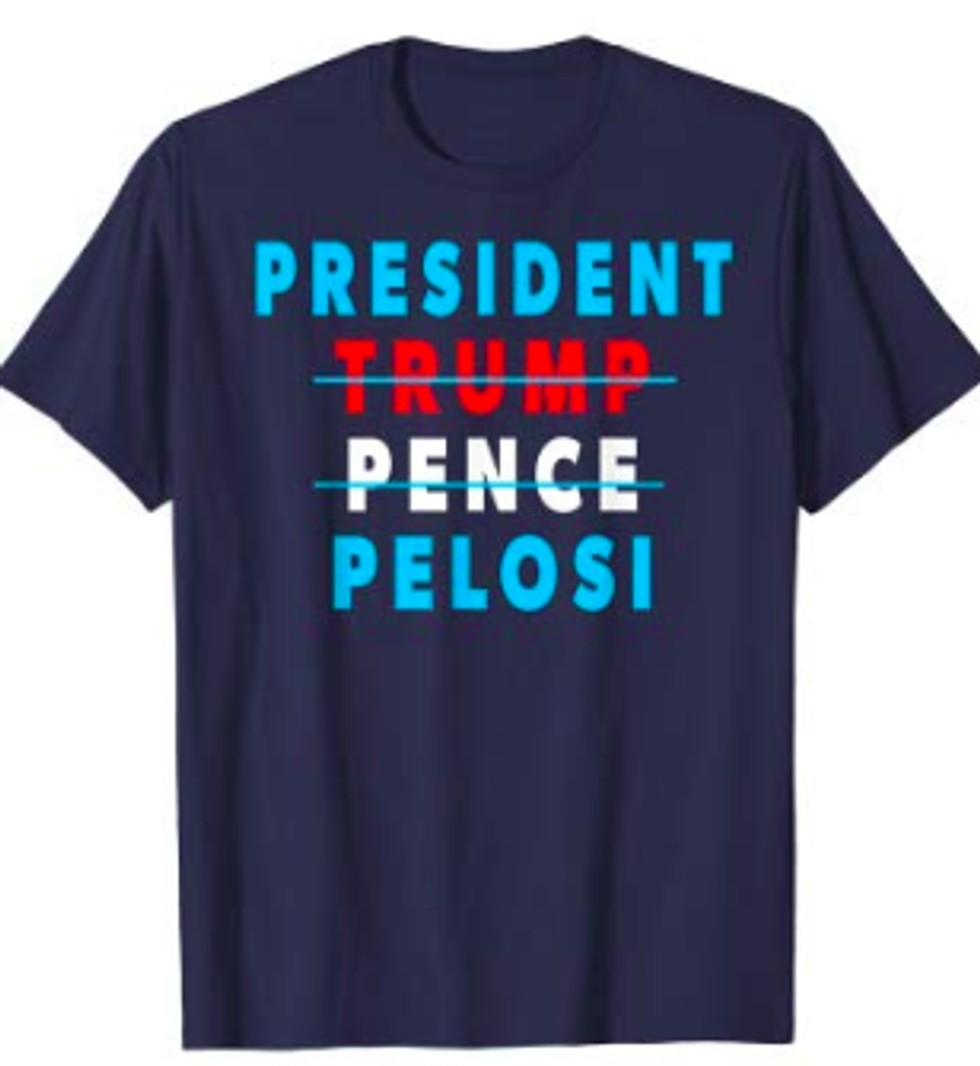 Amazon
Keep reading...Show less