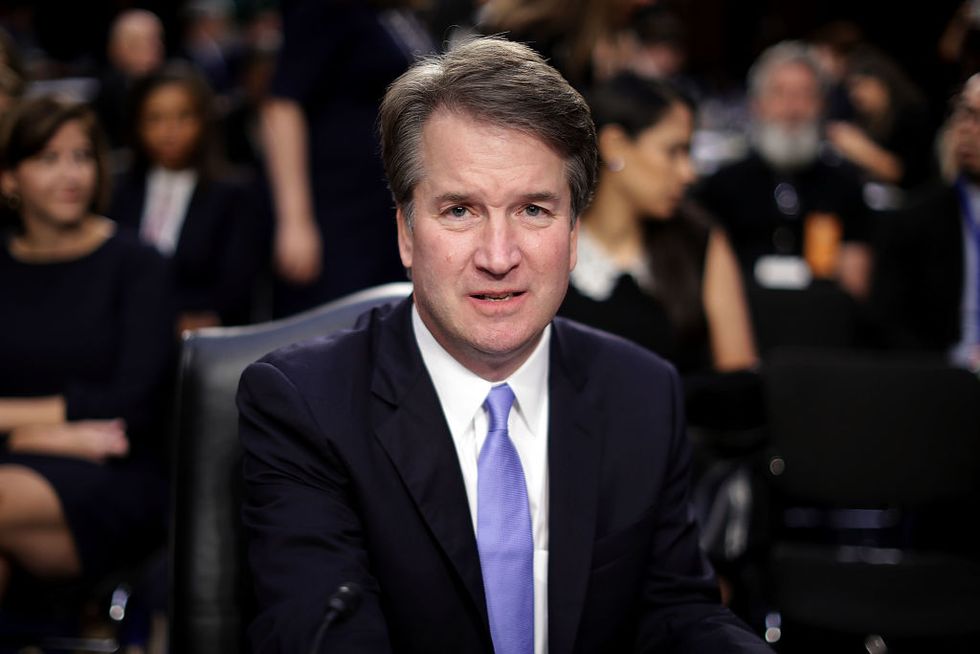 WASHINGTON, DC - SEPTEMBER 06: Supreme Court nominee Judge Brett Kavanaugh prepares to testify before the Senate Judiciary Committee on the third day of his Supreme Court confirmation hearing in the Hart Senate Office Building on Capitol Hill September 6, 2018 in Washington, DC. Kavanaugh was nominated by President Donald Trump to fill the vacancy on the court left by retiring Associate Justice Anthony Kennedy. (Photo by Chip Somodevilla/Getty Images)
Four Republican governors called on the Senate Judiciary Committee to delay their vote on confirming Brett Kavanaugh to the Supreme Court on Thursday following the testimony of Dr. Christine Blasey Ford. Dr. Ford alleged Kavanaugh attempted to rape her at a high school party in the 1980's.
However the committee called for a vote at 9:30am Friday morning. A little after 1:50pm, all 11 Republican men on the Senate Judiciary Committee voted to send Kavanaugh before the full Senate.
However, GOP Senator Jeff Flake of Arizona stated his "yes" vote hinged on an additional FBI background check focused on the allegations against Kavanaugh be conducted before the full Senate vote, but with a set timeline of one week.
The Senate will decide if Kavanaugh replaces Justice Anthony Kennedy with a lifetime appointment on the Supreme Court.
Governors John Kasich of Ohio, Charlie Baker of Massachusetts, Phil Scott of Vermont and Larry Hogan of Maryland all said they would like to see a postponement of the confirmation vote until the FBI conducts an investigation into the allegations against Kavanaugh.
Hogan—running for a second term this year in deep blue Maryland—wants Kavanaugh's accusers, now officially at three, to be heard. Hogan stated:
"There are credible charges and big concerns. They need to be heard. They ought to take whatever time it takes to make sure these accusers are heard and he has a chance to respond to them."
Ohio's Kasich—a frequent Trump critic and viewed within some political circles as a potential challenger to President Donald Trump in 2020—also called for an investigation into the charges against Kavanaugh Wednesday afternoon on Twitter.
"Given the questions and allegations surrounding Judge Kavanaugh's nomination—and the higher standards demanded for a lifetime appointment—the United States Senate should not rush to confirm him," the governor tweeted. "In the absence of a complete and thorough investigation, and hearing from all parties involved, moving this nomination forward would be a mistake."
He continued:
"In the best interest of our country and the integrity of the court, the Senate needs to hold on this confirmation," Kasich wrote. "Without an investigation, and with so many serious issues involved, I can't support this nomination if they choose to move forward."
Baker, currently running for re-election in blue Massachusetts, tweeted on Thursday:
"The accusations brought against Judge Kavanaugh are sickening and deserve an independent investigation. There should be no vote in the Senate."
Scott also urged the Senate to exercise caution on how they proceed with Kavanaugh, who if confirmed, would spend the rest of his life on the Supreme Court. In a statement to the Burlington Free Press, Scott said:
"I'm not taking a position on Judge Kavanaugh himself, but we owe it to Americans to make sure that they get it right. It's their obligation to do so. So take your time. Investigate."
Colorado Democratic gubernatorial candidate Jared Polis agreed with the Republicans calls for a delay on a final Senate Kavanaugh vote.
"There is now bipartisan agreement that Judge Kavanaugh's nomination should not proceed," Polis tweeted, "and it shouldn't."
So did the Democratic Coalition.
The vote in the full Senate has yet to be scheduled nor has a statement been made by Senate Majority Leader Mitch McConnell on whether he will honor Senator Flake's request.
This story has been updated with the latest information.
Keep reading...Show less