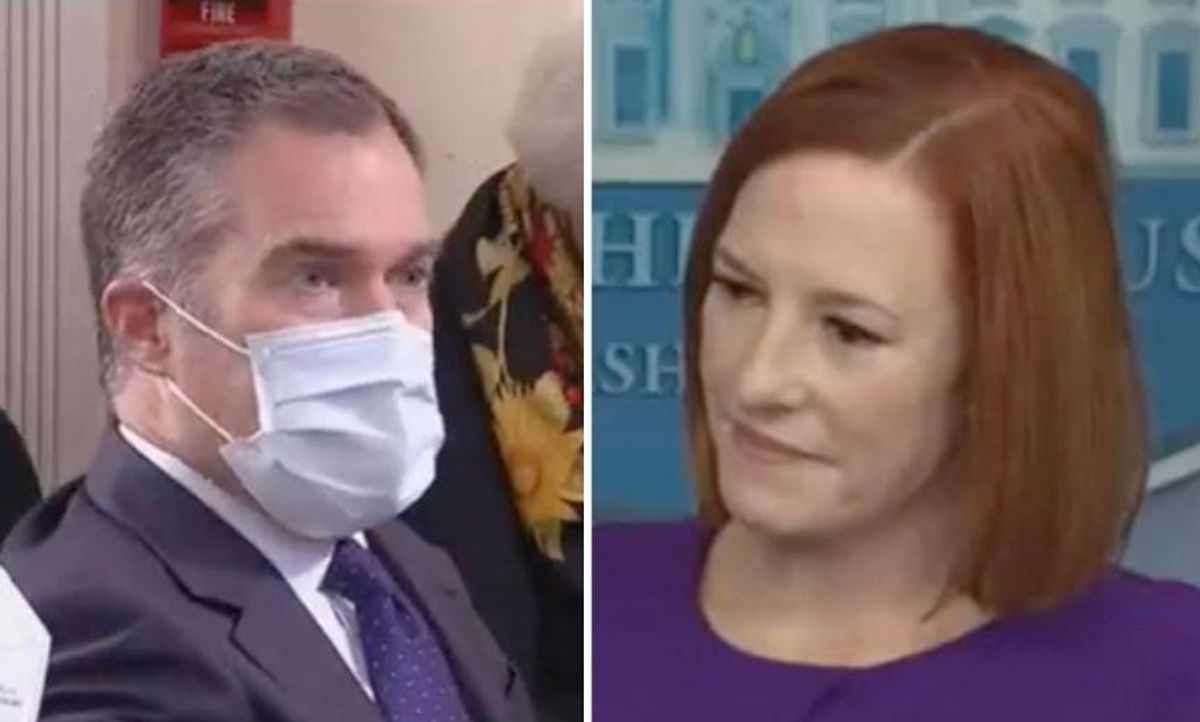 Fox News
This past September, sportscaster Kelli Stavast was covering a Nascar race when members of the crowd began chanting "F**k Joe Biden!", which Stavast mistakenly heard and reported as "Let's go Brandon!"
The right soon began mocking her and the use of "Let's go Brandon" skyrocketed among Trump supporters as an indirect expression of their disdain for the Biden administration.
The expression has even become popular among members of Congress. Far-right Representative Lauren Boebert of Colorado, in a nod to AOC's "Tax the Rich" Met gala look, put the sentiment on a dress. Her colleague in the House, prominent conspiracy theorist Marjorie Taylor Greene of Georgia, hung a "Let's go Brandon" sign outside of her office. Republican Congressman Bill Posey of Florida even said the phrase on the House floor.
In a Friday press briefing, White House Press Secretary Jen Psaki was asked by NBC News correspondent Peter Alexander what Biden thinks of the phrase—and even suggested Biden is somehow responsible for its popularization.
Watch below.
What an utterly bizarre line of questioning from @PeterAlexander\u00a0\u2014 the implication being *Biden* is somehow at fault for the \u201cLet\u2019s Go Brandon\u201d chantspic.twitter.com/j9AwURRzOG

— Aaron Rupar (@Aaron Rupar) 1636744552
After Psaki assured that President Biden isn't paying too much attention to the sentiment, Alexander asked if the emergence of the phrase signaled a failure of a Biden campaign promise, asking:
"The president said on inauguration day that he was going to help get rid of the 'uncivil war' in this country. So I guess through that lens right now, does the president think that there are things he could do differently? How does he react to the stuff he sees out there when it is one of his primary promises or desire to bring Americans together?"
Psaki noted that "it takes two" to come together before pointing to Biden's recent achievements in expanding broadband access and the removal of lead pipes across the nation through the recently passed bipartisan infrastructure bill, which Biden will sign into law on Monday.
Alexander's question wasn't well-received on social media.
Journalists are embarrassing themselves daily. Mind bogglingly stupid questionhttps://twitter.com/atrupar/status/1459238532917121027\u00a0\u2026

— Emily C. Singer (@Emily C. Singer) 1636744966
Some took the moment as an indictment of a broader problem in mainstream media.
Let's Go Brandon remains the dumbest meme the Right has come up with in ages and a big part of the reason it still has legs is because political media outlets and reporters are obsessed with it. https://t.co/DiscOpwqtO
— Melissa Ryan (@MelissaRyan) November 12, 2021
The victim blaming notwithstanding this is not just a bizarre question -- this is the mainstream media's ethos. It is NORMAL to them that Trump-GOP behave like the absolute WORST of humanity & it is all the Democrats' fault for not succeeding at bipartisanship. https://t.co/xoNGRf23GL
— HawaiiDelilah™ -- Vote Blue in 2022 -- (@HawaiiDelilah) November 12, 2021
The Biden administration remains unfazed.