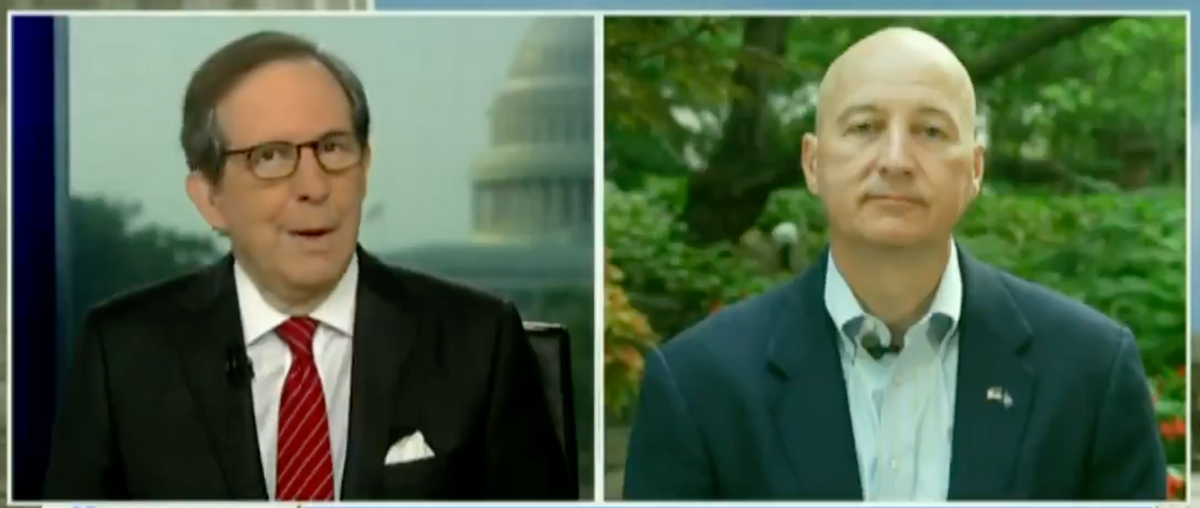 Fox News
Last week, President Joe Biden's administration unveiled a six-point plan to combat the latest phase of the pandemic that's killed over 600 thousand Americans and upended daily life in the United States for more than a year.
A key objective of the plan is encouraging vaccinations, which have lagged even as the stronger, more contagious Delta variant continues to spread. Sadly, a right-wing disinformation ecosystem has encouraged skepticism and outright delusions regarding the vaccines, claiming they're secretly magnetized or even that they're the "mark of the beast."
The latest Biden plan requires hospitals receiving Medicare and Medicaid funding to have an entirely vaccinated staff. Biden also called on the Occupational Safety and Health Administration (OSHA), a division of the Department of Labor, to mandate that businesses with 100 or more employees require vaccinations or weekly COVID-19 tests.
Though a majority of Americans support vaccine mandates, the move was met with hysteria from the right, especially from Republican governors, many of whom vowed to fight the new rules.
One of those governors—Pete Ricketts of Nebraska—appeared in an interview on the conservative Fox News network, where host Chris Wallace put him through the wringer for his hypocritical position.
Watch below.
Wallace played video from Ricketts' recent appearance on the far-right Ingraham Angle, where he accused Biden of conflating the U.S. with the Soviet Union. When Wallace asked why he found vaccine mandates so "objectionable," the governor assured that vaccines work, but emphasized that they should be a "personal choice."
Ricketts continued:

"This is not something that the government should mandate, and somebody shouldn't have to make the choice between keeping their job and getting a jab in their arm. I mean, it's just wrong."

That's when Wallace pointed out something awkward:
"You say it's a personal choice. In fact, to attend school in your state of Nebraska, children must be vaccinated against a number of diseases. ... They must be vaccinated against diptheria, tetanus, pertussis, polio, measles, mumps and rubella, hepatitis B and chickenpox. Why are those mandates that parents in your state must comply with—and do comply with routinely—why is it that they're not so objectionable and such a violation of personal freedom, but Biden's vaccine mandates are?"

Ricketts retorted that these vaccines had a long history of implementation, whereas the COVID vaccines—which have repeatedly proven to be safe and effective—aren't as trustworthy.
On social media, the scrutiny on Ricketts continued.
If we're not trusting our very best scientists over politicians and social media... we're broken as a society. Br… https://t.co/mcXsJsF6He

— Reed ZoHAP (@Reed ZoHAP) 1631457057.0
GOV. PETE RICKETTS: There's just a lot of people who don't know who to trust right now ME (HYPOTHETICALLY): So as… https://t.co/Zgkvji43oB

— Bodhipaksa (@Bodhipaksa) 1631469574.0
They blamed the hesitation on right-wing disinformation.
It would be really cool if Republicans could just, y'know, stop lying about life or death matters. Because it's bee… https://t.co/QmsYFbhe7H

— Shower Cap aka John Luzar (@Shower Cap aka John Luzar) 1631466261.0
Why SHOULD Covid vaccinations be different from other required vaccinations that have been required for decades, Chris Wallace asks Gov. Peter Ricketts?
That was before the MAGA anti-scientific revolution.
Leeches, anyone? https://t.co/FCVS5g0lzo
— Duty To Warn 🔉 (@duty2warn) September 12, 2021
Republicans no longer trust: FBI, CIA, FDA, CDC, POTUS, USPS, voting results, democratic politicians, moderate politicians, Twitter, other Republicans, their neighbors wearing masks in grocery stores, any media outlet left of OAN, Subaru & Prius owners, doctors & scientists. https://t.co/6Bv5SIrtyk
— Catherine ✏️📙🌷🐝 (@CatSkoor) September 12, 2021
The U.S. is falling to the G7 country with the lowest vaccination rates.