pentagon restricting access to journalists
Tensions are rising.
16 August 2018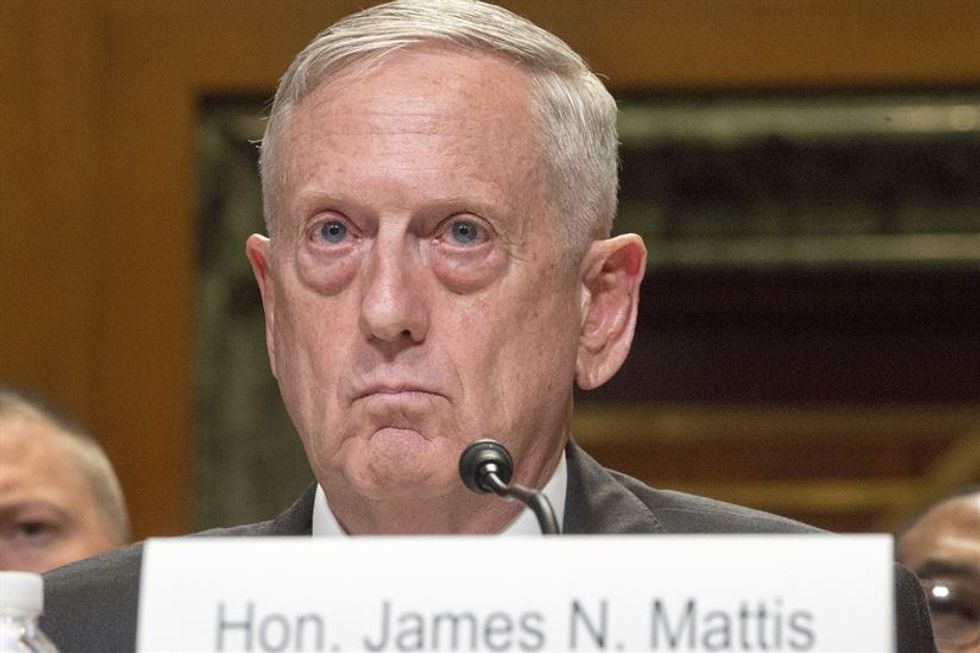 Defense Secretary Jim Mattis tells senators on the Senate Appropriations Committee's defense subcommittee that President Donald J. Trump has assigned responsibility for determining the number of U.S. troops in Afghanistan to him. DoD photo by Navy Petty Officer 2nd Class Dominique A. Pineiro
The Pentagon has been punishing reporters and restricting access to top Defense Department officials, Politico reported on Thursday. Journalists are becoming increasingly frustrated with the administration's lack of transparency and retaliatory behavior toward stories they don't like.
"Like war itself, [retaliation] should be the last option," a former Pentagon spokesperson said. https://t.co/4PqL40HETJ

— POLITICO (@POLITICO) 1534436108.0
Jason Schwartz detailed a "combative" interaction between members of the media and Pentagon spokesperson Dana White in which White said the Pentagon was "watching what they wrote and put on-air — with the implication that there would be repercussions for stories she and her staff did not like."
Schwartz said it has become increasingly difficult to access Defense Secretary Jim Mattis, noting that "several reporters said that they increasingly feel as though individual journalists are being retaliated against for stories they've written, losing yet more access."
One such example cited by Schwartz involved Defense One, a military news outlet that published a piece critical of President Donald Trump's proposed Space Force. Defense One was "left out of a media roundtable with the deputy secretary of defense earlier this month to help roll out President Donald Trump's proposed Space Force," Schwartz said.
"It seems Defense One was deliberately left out of a briefing in retaliation for our reporting," Defense One Executive Editor Kevin Baron said. Baron added that he received an apology from White and that his publication "would be included to all future, relevant briefings."
@ddale8 This is truly scary....my hard earned taxes pay for these people to run amuck...

— Camaville Adkins🇺🇸 (@Camaville Adkins🇺🇸) 1534425300.0
Baron also said the "climate" reeks of "retaliation."
"Because of the preexisting climate, people start to wonder if it's retaliation more than I think you would normally," he said. "I worry, because I've heard that it may be happening to other reporters, and I worry what kind of signal it sends to the rest of military bases around the world."
Baron added:
It's definitely a change of past practice from previous administrations and defense secretaries. It's not something that we're used to at the Pentagon. Things are just different at the Pentagon. These are veteran reporters who cover life and death and war and peace.
In a statement, Pentagon spokesman Charles Summers said the Defense Department was committed to "the accessibility of timely and accurate information to the media, the Congress, and the American people."
We are guided by the principles of information and committed to ensuring the accessibility of timely and accurate information to the media, the Congress and the American people. And we prioritize diversity of reporting during engagements and travel with Secretary Mattis and all of our senior leaders in the Department of Defense.
Summers later told Politico "there is no retaliation" against the media and that journalists who feel shut out of foreign trips should understand that the Pentagon is trying to use "regional media and bring non-traditional media."
@ddale8 Like I said...it starts at the top, if the boss says retaliate...that's how it works

— AV8 (@AV8) 1534424345.0
"The notion that someone doesn't have access or someone is shut out, that's absolutely not accurate," Summers added.
But Schwartz wrote that a number of Pentagon reporters feel growing frustration with their ability to deliver information to the American people about the Defense Department.
One reporter told Schwartz: "There is a climate of punitiveness here if you don't write what they like." And they weren't alone.
Another reporter said: "It's not unusual for an administration to monitor what reporters are doing and reporters produce. What's unusual now is it's being used to evaluate whether we'll be included in things or invited to things. ... It's never been so overt."
@ddale8 The rot starts at the top and slithers its way to the bottom.

— Asterix (@Asterix) 1534424513.0
Others told Politico that NBC's Courtney Kube "has not been invited to multiple briefings and has been left off emails alerting reporters about press opportunities." They believe this is due to a piece Kube wrote about contention between Trump and Mattis.
Two other reporters said the New York Times was missing from a briefing after the outlet published a story on the four American soldiers who were killed in Niger last year - ahead of the release of the  Pentagon's official report.
Schwartz noted that Times Washington Bureau Chief Elisabeth Bumiller declined to comment.
There have also been instances of the Pentagon quashing specific stories they don't like, reporters told Schwartz.
"There have been individual cases where people have been told we don't like your coverage," one reporter said. "You'll say to someone innocuously, 'Are you going to that briefing?' and that's how you'll discover they weren't invited. You don't know. You find out by accident you weren't invited."
In May, the Pentagon allegedly rescinded an offer to embed the Washington Post's Dan Lamothe with U.S. Special Forces in Afghanistan "after officials objected to an April story he wrote on Afghan commandos, according to reporters familiar with the situation."
Lamothe said in a statement to Politico:
During a reporting visit in April to cover U.S. troops in Afghanistan, I was offered a rare opportunity to embed with U.S. Special Forces fighting Islamic State militants in Afghanistan. While preparing for that assignment in May, I was told that the Special Forces embed offer was revoked. I traveled back to Afghanistan a short time later, and instead accepted offers to embed with the Army's new security force adviser brigade and U.S. military advisers who train the Afghan air force. I stand by my reporting, and thank the units that allowed me to spend time alongside them.
This is what autocracy looks like. Pentagon punishes reporters over tough coverage https://t.co/wC32ZKeUpc via @politico

— Barbara Malmet (@Barbara Malmet) 1534417713.0
Though Pentagon reporters generally shy away from politicizing Defense Department activities, Schwartz wrote that the overall political environment is inching toward making this impossible.
"Many believe Mattis has avoided the press in part to stay out of the president's crosshairs," Schwartz said.
Keep reading... Show less