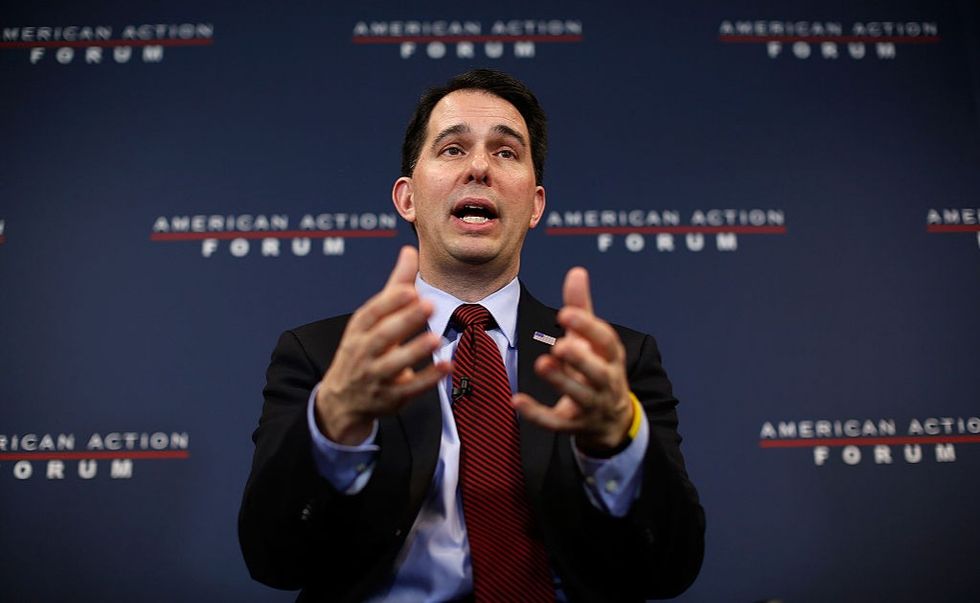 Wisconsin Governor Scott Walker. (Photo by Win McNamee/Getty Images)
Republican Governor of Wisconsin Scott Walker approval rating is one of the worst in the country and it doesn't look like he can count on recommendations from his former cabinet secretaries either.
The governor's Former secretary of the Department of Commerce Paul Jadin signed onto a scathing letter decrying Governor Walker for his fixation on self-advancement, his eagerness to bend the truth or outright lie, as well as blaming him for Wisconsin's crumbling infrastructure.
To make matters worse, the letter is signed by two other former secretaries in Walker's cabinet - Corrections Secretary Ed Wall and former Financial Institutions Secretary Peter Bildsten - all endorsing Walker's Democratic opponent, Democrat Tony Evers.
The letter pulls no punches, saying:
"Internally, Governor Walker has consistently eschewed sound management practices in favor of

schemes or coverup and has routinely put his future ahead of the state. The result is

micromanagement, manipulation and mischief. We have all been witness to more than our share of this. It's time to build a more open and transparent government to ensure the integrity of our public agencies and institutions."
Then, adding insult to injuries, Walker's former employees endorsed his opponent:
We have served our state and local governments in many capacities over our careers and have

voted for and supported Republicans. Therefore, we come to this next statement only after a

great deal of reflection and discernment. On November 6, 2018 please vote with us for Tony

Evers.
Another of Walker's employees - former Secretary of Transportation Mark Gottlieb - has also come out against the governor for lying about road funding, however he did not sign the letter nor has he endorsed Walker's opponent Tony Evers.
Many on Twitter weren't exactly surprised that even Walker's former employees were dismayed by his tenure as governor.
@scontorno I'm more surprised that four people he appointed weren't convicted of any crime in office and can still vote...

— NHolshouser (@NHolshouser) 1539879943.0
#scottwalker the truth hurts when it comes from the people who know #Scotthole best... Fourth former Scott Walker… https://t.co/srBbWco3KG

— Random (@Random) 1539880672.0
@politvidchannel Glad someones saying what we all knew. Wish it would make a difference.

— Jessie Flagg (@Jessie Flagg) 1539885303.0
@politvidchannel Well that's a big fat "no duh".

— Thomas Sallustio (@Thomas Sallustio) 1539888504.0
They hadn't forgotten about the secretaries who penned the letter either.
The former Walker staffers were widely commended across Twitter for their willingness to voice their true feelings about their one time boss.
@politvidchannel @_StandUpNow Awesome! Excellent news.

— Nana The Old Honey Badger (@Nana The Old Honey Badger) 1539886918.0
Despite Walker being a two-term incumbent, the race is growing exceedingly tight, with Real Clear Politics showing Tony Evers at an average of three points ahead.
Though the polls are still well within the margin of error, the tide appears to be turning against Walker, with four of his former allies leading the charge.
Keep reading...Show less