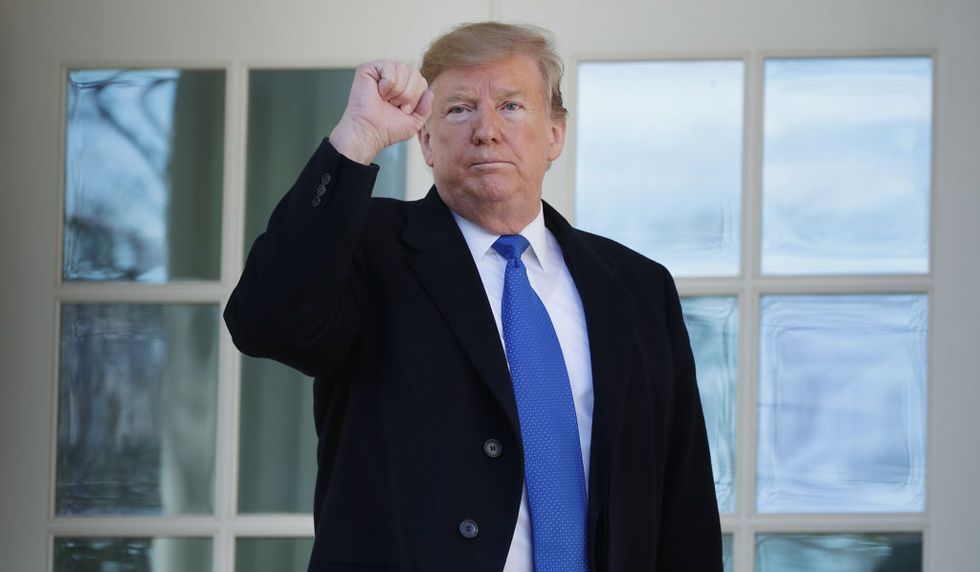 President Donald Trump heads back into the Oval Office after speaking on border security during a Rose Garden event at the White House February 15, 2019 in Washington, DC. (Photo by Chip Somodevilla/Getty Images)
With paintings described as somewhere between Thomas Kinkade and paint-by-numbers, devout Trump supporter Jon McNaughton is unlikely to be featured in any major museums or galleries soon.
Selling his wares on his personal website, McNaughton releases his latest "patriotic Americana" paintings with announcements on social media, and on Wednesday he announced his latest effort. The title?
National Emergency
The subject? A pious, prayerful President Trump and those who victimize him and the American flag on the border.
McNaughton captioned his announcement on Twitter:
"They hold the flags they cherish… And trample America's interests… And endanger millions of people… It is a national emergency." – Jon McNaughton
See his latest piece here.
My new painting – "National Emergency" "They hold the flags they cherish… And trample America's interests… And enda… https://t.co/ZoqaW1a1GV

— Jon McNaughton (@Jon McNaughton) 1551889798.0
McNaughton—whose Twitter bio reads "Internationally acclaimed for his patriotic paintings such as The Forgotten Man. #MAGA" even provided a making-of film for his 37.9k followers.
New McNaughton painting video of the painting "National Emergency." https://t.co/mkj80S9Fkj

— Jon McNaughton (@Jon McNaughton) 1551898280.0
And his latest certainly ticks all the MAGA boxes with bold flavors of White nationalism, xenophobia, and racism.
Hillary Clinton and President Barack Obama? Check. Democratic congressional leaders Representative Nancy Pelosi and Senator Chuck Schumer? Check.
Other Trump adversaries in Congress or potential opponents in 2020 plus newly elected women of color like Representative Alexandria Ocasio-Cortez plus targeting the first two Muslim women elected to Congress, Representatives Rashida Tlaib and Ilhan Omar? Check, check and check.
Implying they are all globalists, trampling the American flag and loyal to other countries while Trump alone supports the United States? Check.
On his website, McNaughton captions the piece:
"Every year hundreds of thousands of foreign nationals march to our southern border and cross into our country. Who are they? What right do they have to come..."
Prints sell for $29 up to $705 dollars, but what price is there to claiming Bernie Sanders favors China over the United States? Senator Sanders is depicted holding the flag of China is no small amount of irony given the Trump Organization's deals and patents with the foreign power.
And Sanders flag is not the end of the irony.
The other flags depicted in the painting, in addition to Sanders with the Chinese national flag include Tlaib holding the Palestinian flag, Pelosi and Schumer the Mexican, Senator Elizabeth Warren the EU, Obama the UN, Representative Maxine Waters and Ocasio-Cortez hold the flags of their home states while Clinton holds the flag of Iran.
Conspicuously absent are the flags of Trump allies North Korea, Saudi Arabia and Russia, unless Omar and Representative Adam Schiff hold them in the back row.
On his YouTube page promoting his painting sales, McNaughton repeats some of the false rhetoric regarding immigrants from the President and the Trump administration. His video description states:
"Dangerous drug smugglers, human traffickers, and other criminals enter our country without permission, while many more wait in line legally hoping for the American dream. These law breakers cost the American taxpayer over 100 billion dollars a year and have a disproportionate level of crime in our population."
MAGA rally rhetoric makes appearances in other paintings as well. One of McNaughton's other works depicted Trump crossing the swamp a la Washington crossing the Delaware.
@McNaughtonArt Thank you Jon. You do great work, your paintings are a reflection of who you are and what you belie… https://t.co/l7bdRMrseN

— 🅰️mericanGirl🇺🇸 (@🅰️mericanGirl🇺🇸) 1543461403.0
Unfortunately at least one person has fallen out of the boat since the painting was created, but McNaughton claims to have predicted that.
In my painting "Crossing the Swamp" I had Sessions sitting beneath Trump with his flashlight off. I figured he woul… https://t.co/rnTXQ0DkBX

— Jon McNaughton (@Jon McNaughton) 1541796565.0
In addition to depicting Trump with messianic leanings, McNaughton also shows him as a tough guy and an athlete.
I painted "Expose the Truth" looking forward to the day... its coming. Today Trump tweeted: "Now that Russia Collus… https://t.co/CJWuQ4hOdW

— Jon McNaughton (@Jon McNaughton) 1543457302.0
No one can stop our President! My new painting, see a list of who's in the painting here: https://t.co/DWQWjjoUQN https://t.co/UYGiKY8VuC

— Jon McNaughton (@Jon McNaughton) 1542736149.0
While the audience/customers his work panders to rave about McNaughton's work, some have asked him when he will depict the President engaging in some of his more realistic activities.
@Dedona51 @McNaughtonArt Jon, when do you turn your talent to depicting Donald watching television and tweeting, wh… https://t.co/5oEKAaOJeU

— Cioran Sellars (@Cioran Sellars) 1543506406.0
Unsurprisingly, in addition to his MAGA paintings, McNaughton's "devout Christian" artwork also includes tributes to the 2nd Amendment.
"STAND YOUR GROUND" America is about freedom. We believe in strong families, patriotism, God, and justice. We won'… https://t.co/plZaIlujq7

— Jon McNaughton (@Jon McNaughton) 1541476852.0
My painting, "Take a Stand – the Secrets" Full video at: https://t.co/Tfu2F0yTdw https://t.co/9zYBI47FUl

— Jon McNaughton (@Jon McNaughton) 1541520671.0
Back in 2012, all McNaughton had to supplement his paintings of Jesus making the touchdowns and protecting the flag were pieces that attacked President Barack Obama.
Politics can be dirty, but the Democrats in some parts of the country have the balloting down to a science.… https://t.co/XmoO9nVIL0

— Jon McNaughton (@Jon McNaughton) 1542070856.0
The election of a like-minded individual like President Trump has been very profitable to the relatively unknown printmaker. McNaughton, like others, can now exploit the pockets of Evangelical Christians and MAGA supporters alike.
Keep reading...Show less