Matt Gaetz sends 'Architect of the House' letter suggesting Kevin McCarthy is a 'squatter' in the Speaker's office having failed to win the votes in three rounds of voting.
04 January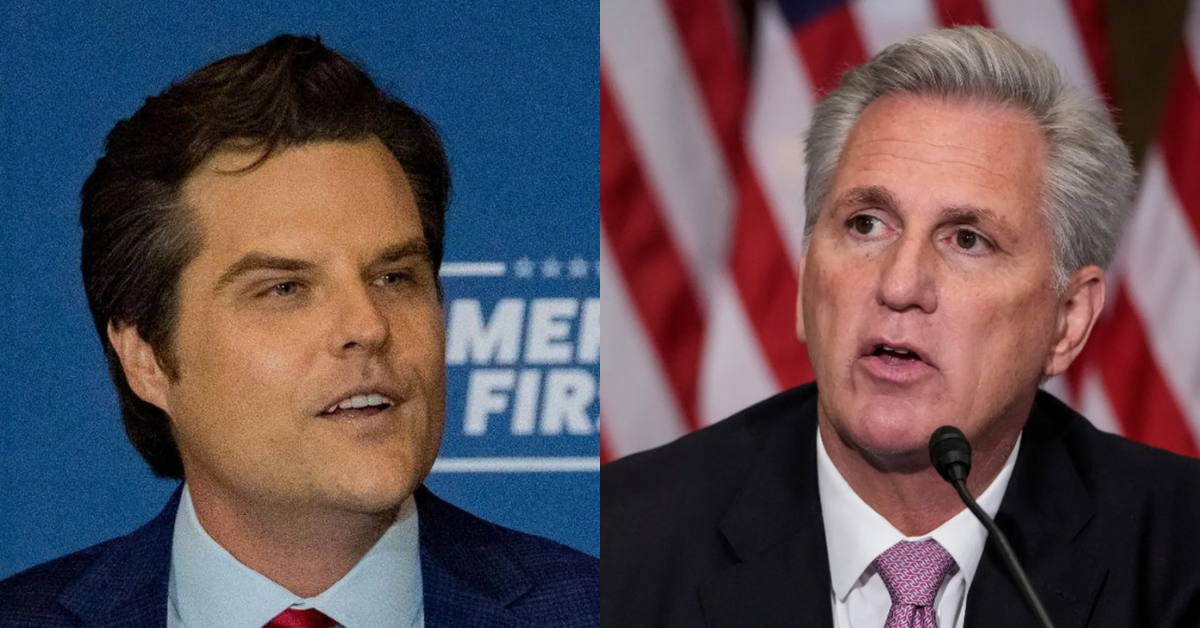 Megan Varner/Getty Images; Drew Angerer/Getty Images
Florida Republican Representative Matt Gaetz suggested former House Minority Leader Kevin McCarthy is a "squatter" in the Speaker's office after having failed to secure the coveted position after three rounds of voting.
The chamber was forced to adjourn Tuesday after McCarthy lost three separate rounds of voting for Speaker of the House due to what The New York Times referred to as a "right-wing rebellion" designed to block him from the speakership.
Gaetz emerged as one of the rebellion's leaders, particularly after calling McCarthy a "squatter" in a letter to Brett Blanton, the Architect of the Capitol, who leads the federal agency responsible for the maintenance, operation, development and preservation of the United States Capitol Complex.
You can see Gaetz's letter below.
In his letter to Blanton, Gaetz wrote:

"I am writing to inform you that the Speaker of the House office located in the U.S. Capitol Building is currently occupied by Rep. Kevin McCarthy. As of this morning, the 117th Congress adjourned sine die, and a Speaker from the 118th Congress has not been elected."
"After three undeciding votes, no member can lay claim to this office."
"What is the basis in law, House rule, or precedent to allow someone who has placed second in three successive speaker elections to occupy the Speaker of the House Office? How long will he remain there before he is considered a squatter?"
"Please write back promptly as it seems Mr. McCarthy can no longer be considered Speaker-Designate following today's balloting."
The House will reconvene at noon today, Wednesday, January 4, to try again to agree on who will serve as the GOP's party leader.
McCarthy has vowed not to drop his bid for the speakership, signaling his opposition to the nomination of Ohio Representative Jim Jordan, a founding member of the House Freedom Caucus behind whom far-right Republicans have coalesced.
McCarthy has said he will force multiple votes if necessary in order to secure the speakership and Jordan himself has urged his colleagues to throw their support behind McCarthy, saying Republicans need to "rally and come together" rather than give in to partisan infighting.
But Gaetz's letter signals a further escalation of the infighting between Republicans—and people can't help but comment on the growing dysfunction that threatens to define GOP leadership for the next two years.
Gaetz's attacks against McCarthy earned him the criticism of Georgia Republican Representative Marjorie Taylor Greene, with whom he's often rallied and considered a longtime ally.
A "furious" Greene assailed Gaetz and their colleagues on the ultra-conservative House Freedom Caucus for opposing McCarthy's bid for House Speaker, noting that many of them had been positioning themselves for cushy committee assignments during negotiations designed to expedite McCarthy's path to the speakership.
McCarthy himself criticized Gaetz for reportedly saying he did not care if Hakeem Jeffries—the incoming Democratic leader—was elected in place of McCarthy, referring to Gaetz as one of "a few individuals that want something for themselves" instead of leading in the interest of Republicans and the American people at large.