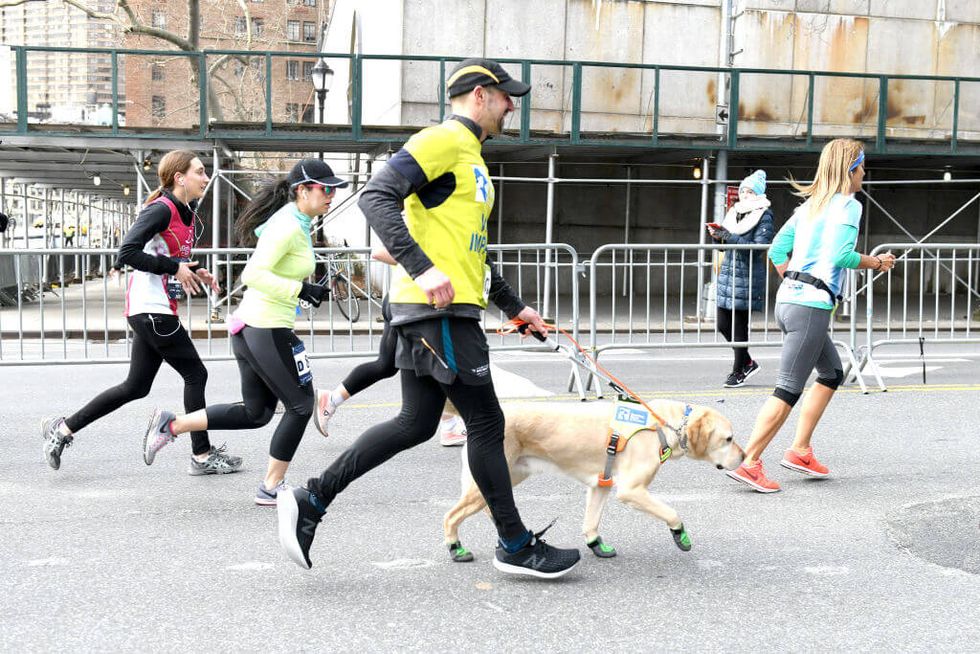 NEW YORK, NEW YORK - MARCH 17: EDITORIAL USE ONLY Guiding Eyes for the Blind President and CEO, Thomas Panek, runs the first ever 2019 United Airlines NYC Half Led Completely by Guide Dogs, with Gus on March 17, 2019 in New York City. (Photo by Craig Barritt/Getty Images for Guiding Eyes For The Blind)
Thomas Panek became the first blind runner to complete the Delta Airlines Half-Marathon in New York City using only the help of guide dogs, rather than other human runners.
A longtime runner, Panek enlisted the guidance of Labradors Waffles, Westley, and Gus to accompany him through different phases of the race.
While Panek's finishing of the marathon is inspiring itself, his cause for doing it makes his effort even greater. The runner was raising money to increase access to service dogs for vision-impaired people with limited means.
The good boys who accompanied Panek love the exercise just as much as he does. The runner told WABC:
"It's a long race, but dogs are running creatures and they love to move and run. A lot of times, when we're walking our dogs, we are holding them back. They want to get out and have fun, and they love it."
The internet applauded Panek and his pooches.
@ABC You are so inspiring Thomas. Congratulations to you and your pack.

— Kerlgirl60 (@Kerlgirl60) 1552858617.0
@ABC Great job!! Congratulations 🎉

— Angela (@Angela) 1552858561.0
@ABC Simply amazing! Congratulations, this is quite an achievement!

— Nathalie (@Nathalie) 1552875282.0
As inspiring as the feat was, many noticed how adorable the footwear for Panek's dog was.
@ABC are those running shoes on the dog? that is adorable.

— Kyle (@Kyle) 1552858584.0
@TIME OMG THE LITTLE DOGGIE NIKES 🤣💖

— ASongA✂️Wires (@ASongA✂️Wires) 1552747502.0
@ajplus Just look at those little green booties OMG my heart can't handle this 😭😭😭

— MIRAnda Ker? (@MIRAnda Ker?) 1552924467.0
@EntirelyAmelia Bestest puppers ever!! 🐶🐾

— Christina 🦋💫 (@Christina 🦋💫) 1552930186.0
While a brisk run may be a fun activity, for Panek, it also requires extra attention to coordination and teamwork.
"The biggest obstacle is getting it done at a faster pace, moving with the dog and keeping our footwork together. Like everybody else, one step at a time."
A good perspective for us all.
Keep reading...Show less