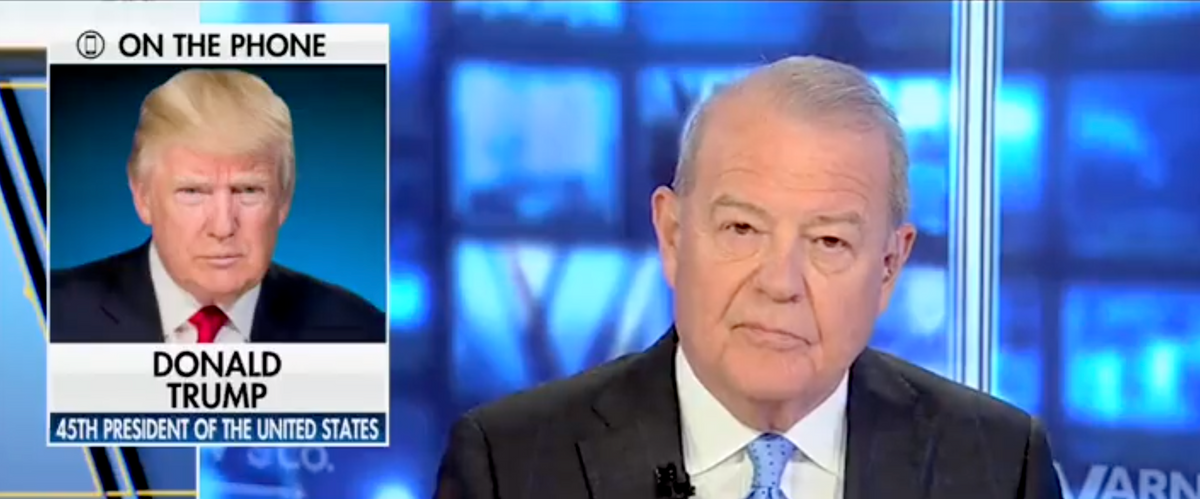 Fox Business
On Monday, former President Donald Trump called into Fox Business for an interview with host Stuart Varney, where much of the focus was on Russian President Vladimir Putin's invasion of Ukraine, and President Joe Biden's response to it.
Just ahead of the invasion, which occurred late last month, Trump praised Putin's strategy as "smart" and even "genius," a continuation of Trump's penchant for praising authoritarian leaders. Trump also predictably insisted that Putin never would've invaded the fledgling democratic nation that formed from the collapse of the U.S.S.R. in 1991 if Trump had been in the White House.
Things took a turn when Trump noted Putin's use of the "N-word."
Watch below.

After a shocked look from Varney, it soon became clear that the "N-word" Trump was referring to meant "nuclear," and not the racist slur he's been frequently accused of using himself.
Trump said to Varney:

"I listen to [Putin] constantly using the N-word. That's the N-word. And he's constantly using it, that nuclear word. And we never talk about—we say, 'oh he's a nuclear power,' but we're a greater nuclear power."
One of the primary reasons for western allies' hesitation to intervene in Ukraine with troops is concern that the conflict would escalate further, potentially even resulting in nuclear strikes, as Putin has threatened to carry out.
Trump's bizarre description of "nuclear" as the "N-word" generated a wealth of reactions.
Some couldn't help but laugh at Trump's inadvertent humor.
Wow.