Alina Habba told Matt Gaetz that racketeering laws 'are what they do for mobs' without a hint of self-awareness.
25 July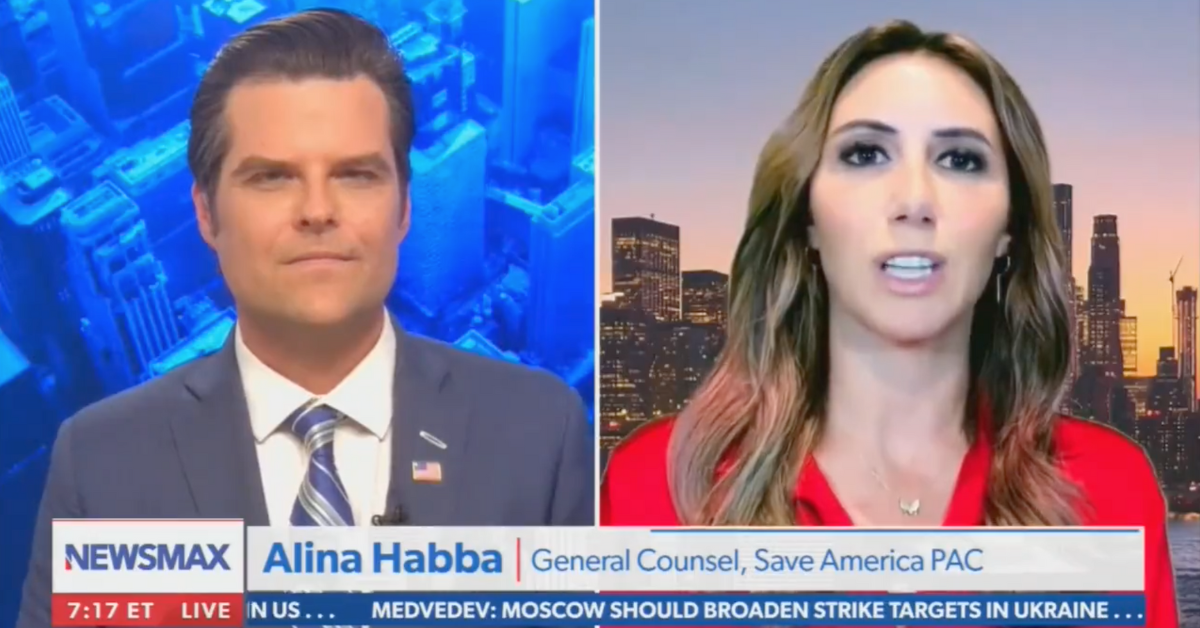 Newsmax
Former Republican President Donald Trump's attorney and spokesperson Alina Habba was widely mocked after she, with no sense of irony whatsoever, complained laws used "for mobs" are being used against her client.
During an appearance on right-wing network Newsmax, Habba was asked to comment on a Daily Beast report revealing former New York City Police Commissioner Bernie Kerik's cooperation with special counsel Jack Smith in the investigation of Trump's efforts to overturn the 2020 election.
Habba claimed unfavorable news about the former President amounts to "election interference."
She insisted—when asked by Florida Republican Representative Matt Gaetz to comment on potential racketeering charges Trump could potentially face regarding his attempts to overturn election results in Georgia—racketeering is not what one would associate with a former President.
You can hear what she said in the video below.

Habba replied:

"I don't know because when I think of racketeering, and it's funny, somebody mentioned this to me the other day, they said racketeering is what they do for mobs."
"You know that racketeering is an old school, old world thing. You don't associate that with the President. You don't associate that with something where he had a phone call with lawyers where he didn't do anything wrong."
"But what you have again is election interference. They're going to tie him up in litigation. They're going to tie him up in depositions and trials."
Habba's remarks and defense of Trump were swiftly criticized.
This isn't the first time Habba has made headlines for self-owns.

Last month, she was criticized after she expressed her feelings of shame and embarrassment following the indictment of her client in the Mar-a-Lago classified documents case.
Speaking to Fox News personality Jesse Watters, Habba suggested that the indictment was a mere distraction—a "shiny ball"—from what she perceived as impropriety on the part of President Joe Biden.
The unsealed indictment includes 38 felony counts leveled against him and his valet encompassing the intentional retention of national defense secrets in violation of the Espionage Act, making false statements, and participating in a conspiracy to obstruct justice.
However, Habba suggested there is a coordinated "dance" between the government and the media that has allowed members of the Biden administration to evade charges for their alleged crimes and was mocked after she said she was "embarrassed to be a lawyer at this moment."