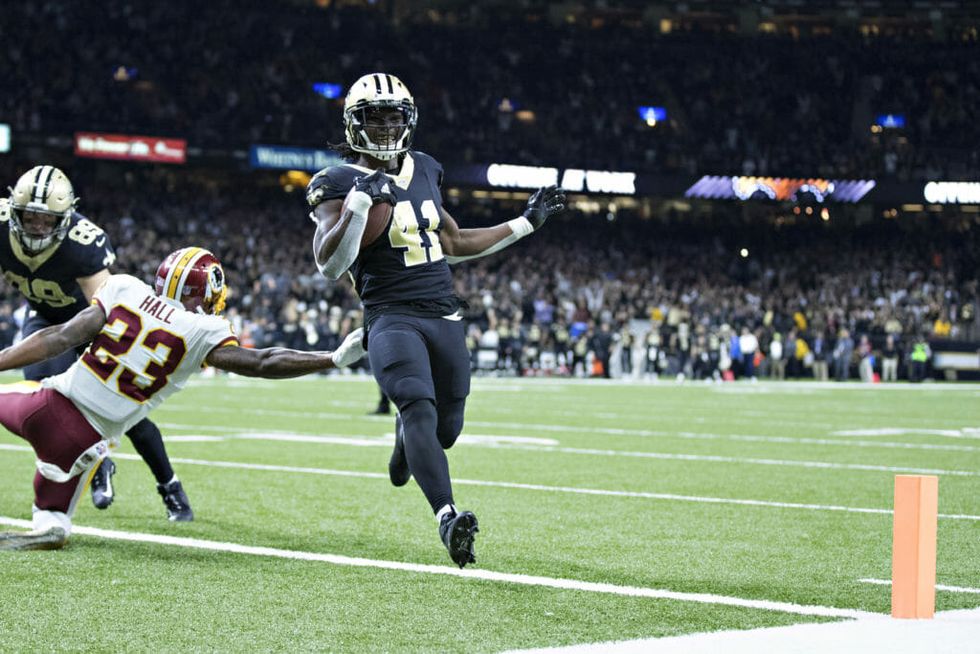 NEW ORLEANS, LA - NOVEMBER 19: Alvin Kamara runs the ball in for a touchdown (Wesley Hitt/Getty Images)
The rookie running back class of 2017 was the talk of football before the first game was even played. But with first- and second-round picks like Leonard Fournette, Christian McCaffrey, Dalvin Cook, Kareem Hunt and Joe Mixon getting so much hype, few were paying much attention to largely unheralded third rounder Alvin Kamara.
Fast forward to today, and it's a different story. Following his Week 11 performance, Alvin Kamara is sixth among running backs in PPR formats with 155 total fantasy points.  The Saints juggernaut has rushed for an absurd 416 yards on 64 carries; a full 6.5 yards per carry. He's added another 373 yards on 42 receptions and reached the end zone a total of six times. He may be the fantasy MVP up to this point in the season; Alvin Kamara wasn't even drafted in most leagues.
What can we expect going forward?
Nothing Alvin Kamara has done thus far seems like a fluke. Although he splits a workload with Mark Ingram in New Orleans, he's consistently been a fantasy monster. The Tennessee product has scored at least 20 points in each of his last three games. While it probably wouldn't be wise to expect that to happen every week, he gets consistent touches. Alvin Kamara has averaged 9.4 touches and 5 receptions per game over the past 5 games. That's unlikely to fall off, as New Orleans has begun to lean on their run game significantly this season.
Simply put, Alvin Kamara's place near the top of the fantasy running back leaderboard seems safe. Everything he's done so far seems legitimate; there's no reason his RB1 output can't continue from here on out. If there's an owner in your league willing to "sell high" on Alvin Kamara, pull the trigger. If you're the one with Alvin Kamara on your roster already, make sure he stays put; he'll be a force for you in the fantasy playoffs.
Keep reading...Show less