Really, dude?
16 September 2019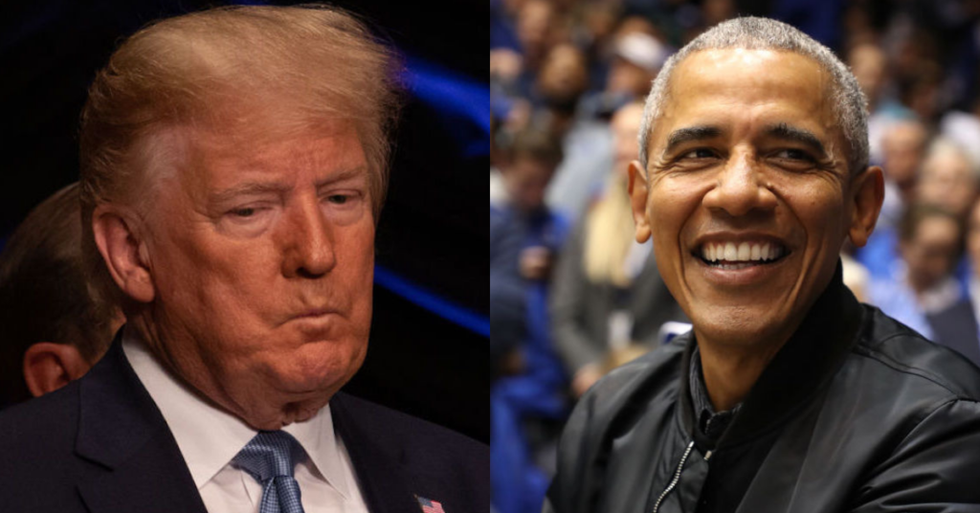 Cheriss May/NurPhoto via Getty Images; Streeter Lecka/Getty Images
As scrutiny builds on whether or not he's used the presidency to bring greater profits to his businesses, President Donald Trump railed against "Radical Left Democrats" on Twitter before implying that former President Barack Obama should be investigated for his Netflix deal.
Obama was a private citizen for around a year and a half before announcing that he and former First Lady Michelle Obama signed the deal to produce films and series with the streaming service.
Trump took to Twitter Monday morning to decry the deal.
....work that way. I have a better idea. Look at the Obama Book Deal, or the ridiculous Netflix deal. Then look at… https://t.co/kSm56TcQRw

— Donald J. Trump (@Donald J. Trump) 1568631798.0
He soon began railing about Democrats' calls for transparency yet again, concluding with "Obama Netflix?"
They failed on the Mueller Report, they failed on Robert Mueller's testimony, they failed on everything else, so no… https://t.co/kYwzVnE0Ll

— Donald J. Trump (@Donald J. Trump) 1568642474.0
....for the privilege of being your President - and doing the best job that has been done in many decades. I am far… https://t.co/nTC7CwIXDG

— Donald J. Trump (@Donald J. Trump) 1568642474.0
In the past month alone, the Trump administration raised eyebrows in regards to its financial practices. Vice President Mike Pence stayed at a Trump establishment during a state visit to Ireland, despite the resort being 180 miles from Pence's meetings in Dublin. Trump also had a deal with a Scottish airport to recommend travelers stay at his resort in Turnberry, Scotland. Since Trump's election, the United States Air Force has increasingly stopped at the airport to refuel, staying overnight at Trump's resort in the meantime. Trump pushed for next year's G7 conference of world leaders to be held at one of his hotels.
Unlike Trump, Obama no longer holds the Oval Office. While he may use the notoriety gained from two terms as President to leverage deals as a private citizen, he's unable to use the full power of the executive branch to enrich himself.
And therein lies the difference.
@realDonaldTrump You know you're allowed to make money on stuff after you leave office right? You just shouldn't be… https://t.co/Ih59SoromO

— Bethannie 🍁🍂 (@Bethannie 🍁🍂) 1568655549.0
@realDonaldTrump Doesn't work that way, Don. Book deals & TV shows are straight forward contracts. OTOH, bank fraud… https://t.co/dl2UjPI9WV

— James McLamb (@James McLamb) 1568653253.0
@realDonaldTrump why would anyone look into anything #Obama has done after he left office? the former president is… https://t.co/gqbrTfLlUf

— hdlc (@hdlc) 1568655087.0
@realDonaldTrump Obama is not President anymore! He can make all the money he wants. You on the other hand?

— John Slayer (@John Slayer) 1568658311.0
Many think Trump's calls to investigate Obama amount to one thing: jealousy.
@realDonaldTrump What's the matter, Biff? Still jealous of PRESIDENT Obama 🙄

— Lisa Lisa 😼 (@Lisa Lisa 😼) 1568653438.0
@realDonaldTrump Still obsessing over Obama's popularity. Jealousy can destroy you.

— Jeeneree (@Jeeneree) 1568656542.0
@realDonaldTrump Jealous of Obama much? 😺

— HonestGarry (@HonestGarry) 1568656745.0
The first Obama contributions to Netflix will be American Factory, a documentary on factory workers in Ohio; Bloom, a drama examining people of color in the fashion industry following World War II; and a biopic about famous abolitionist Frederick Douglass.
----------
Listen to the first four episodes of George Takei's podcast, 'Oh Myyy Pod!' where we explore the racially charged videos that have taken the internet by storm.
Be sure to subscribe here and never miss an episode.
Keep reading...Show less