Sad but true.
08 August 2019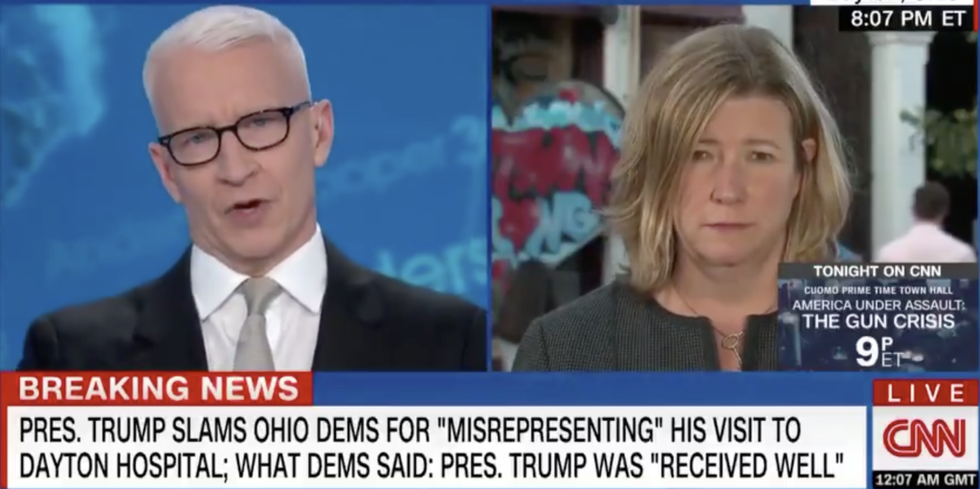 CNN
After two mass shootings in 13 hours this past weekend, resulting in the deaths of 31 people, there's been talk of how a president's job is to unite the country; to comfort his or her constituents in the face of senseless carnage.
President Donald Trump visited victims in Dayton, Ohio and El Paso, Texas, where the shootings occurred. He had no sooner departed from Dayton for El Paso before tweeting out insults against (D), Fox News anchor Shep Smith, Democratic presidential candidate Beto O'Rourke, former Vice President Joe Biden, Ohio Senator Sherrod Brown, and the mayor of Dayton, Nan Whaley.
His insults to Dayton officials Brown and Whaley particularly stuck out, considering the tragedy that hit their community.
Just left Dayton, Ohio, where I met with the Victims & families, Law Enforcement, Medical Staff & First Responders.… https://t.co/6wNWXBLhUX

— Donald J. Trump (@Donald J. Trump) 1565207307.0
....misrepresenting what took place inside of the hospital. Their news conference after I left for El Paso was a fr… https://t.co/mZ4usW2PvJ

— Donald J. Trump (@Donald J. Trump) 1565207308.0
Whaley and Brown held a press conference earlier in the day in which Whaley said that hers and Trump's interaction was very brief, and criticized Congress for not moving on gun violence.
While Whaley was reserved in her criticism of Donald Trump at the press conference, she didn't hesitate to call the president out in an interview with CNN's Anderson Cooper.
When asked by Cooper for her reaction to the tweets and later remarks to reporters calling her and Brown "very dishonest people," Whaley responded:
"I've watched President Trump's Twitter feed for a while. He's a bully and a coward, and it's fine that he wants to bully me and Sen. Brown. We're OK. We can take it. But the citizens of Dayton deserve action."
Watch below:
Dayton Mayor Nan Whaley calls President Trump "a bully and a coward" after he called her and Sen. Sherrod Brown "ve… https://t.co/n3g74VVxac

— Anderson Cooper 360° (@Anderson Cooper 360°) 1565223895.0
People expressed their support for Whaley.
@AC360 Mayor Whaley has been trying to hold her own emotions in for the people she represents. She's doing very wel… https://t.co/eY2IpCCln9

— Natural girl with natural curl (@Natural girl with natural curl) 1565252520.0
@AC360 She is absolutely correct!!!!

— DebK_RN (@DebK_RN) 1565228025.0
@AC360 Love her honesty.

— LCx3_Lala (@LCx3_Lala) 1565224149.0
And they were quick to agree with her assessment of the president.
@AC360 "respect for the office of the presidency" This is what Trump cared about. Himself. That's it. Says all we need to know.

— Erik Wehr (@Erik Wehr) 1565234842.0
@AC360 Comrade Trump will never change.

— Nick Danger (@Nick Danger) 1565230971.0
@AC360 Just another day that we've had to witness another despicable and cowardly act by Trump. He had a opportunit… https://t.co/2Qgv9jh59W

— bellairmb (@bellairmb) 1565224721.0
That day, Trump went on to insult Congressman Joaquin Castro (D-TX), his brother and presidential candidate Julian Castro, author Tim O'Brien, news anchor Brian Williams, CNN, MSNBC, and Democrats.
So much for comforting the country.
Keep reading... Show less