Over 130 hippos and 8 buffalo in Namibia's remote Bwabwata National Park have died since October in what officials suspect is an anthrax epidemic linked to the park's low water levels.
07 November 2017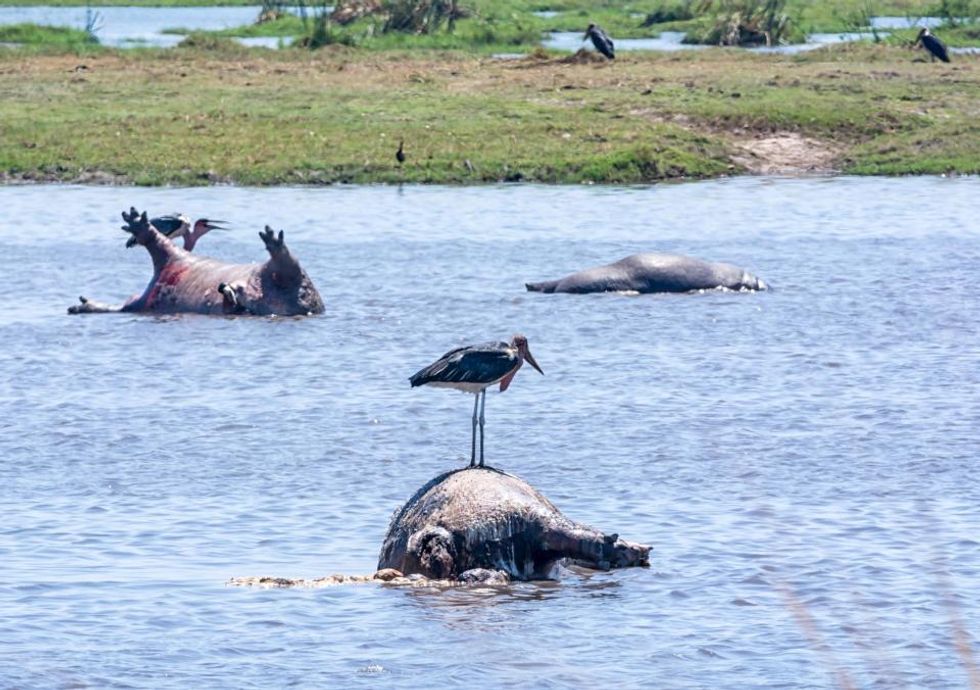 Since October, over 130 hippos and eight buffalo in Namibia's Bwabwata National Park have died following a suspected anthrax outbreak. Officials dispatched state veterinarians to the area to confirm the presence and prevalence of the lethal bacteria, which typically afflicts game and cattle. Authorities also emphasized the immediate need for locals to steer clear of the area and avoid consuming hippo meat, a regional delicacy.
Though slow to spread, once contracted, anthrax is highly lethal unless swiftly treated with antibiotics. Caused by bacteria Bacillus anthracis, its spores often lies dormant in soil or stagnant pools for years before entering animals through cuts or wounds. Hippos are especially susceptible to infection as they spend so much time in the water.
Following devastating photos and reports of the hippos' sudden deaths, Colgar Sikopo, director of parks and wildlife management at Namibia's Ministry for the Environment and Tourism assured the public there was no cause for concern. "This is a situation that we have seen before … It mainly occurs when the level of the river is so low," he said, adding: "This is a natural cause and with the animals dying people should not panic."
Acting director of Namibia's Ministry of Environment and Tourism Johnson Ndokosho stressed that Namibian hippo populations will not significantly be impacted by the bacteria. He stated: "We're concerned that animals are dying, but we're not worried about the [overall health of the] population." Currently, around 3,300 hippos live in and around Namibia; the International Union for the Conservation of Nature classifies hippos as a "vulnerable" species, meaning that unless officials actively protect the species and its habitat, they will likely become endangered.
Anthrax previously cropped up in Namibia in 2003, when several elephants and hippos within the Kasika Conservancy fell prey to the bacteria. Other nations have experienced more widespread anthrax outbreaks, including the death of 300 Ugandan hippos in 2004 and a massive wave that claimed over 2,300 Siberian reindeer, also leaving a Siberian child dead in its wake.  
It's unlikely that the most recent hippo outbreak would pass to humans, as instances of humans contracting anthrax are relatively rare. However, several notable outbreaks have occurred in recent years, including a devastating Scottish outbreak from 2009 to 2010 linked to spore-contaminated heroin, in which 119 individuals were infected and 14 died, the deadliest anthrax-related incident the UK had experienced in 50 years.
Namibian environmental minister Pohamba Shifeta expressed his hope for military aid to dispose of carcasses in Bwabwata's more remote areas, addressing concerns that crocodiles feeding on the bodies could become infected: "We still have a few decomposed carcasses, and we are trying to get reinforcement from the Namibian Defence Force, especially the navy because they have more equipment than we do." He also noted that several aerial reconnaissance flights have already begun scouring the park, even crossing into nearby Botswana, where an additional six hippos were recently found dead.
Shifeta stressed that "the hippo situation is getting back to normal." Still, he urged the public to avoid ingesting hippo meat and fish from Bwabwata National Park, as well as to refrain from swimming in the Kavango River, until experts can pinpoint the outbreak's source.
Keep reading...Show less