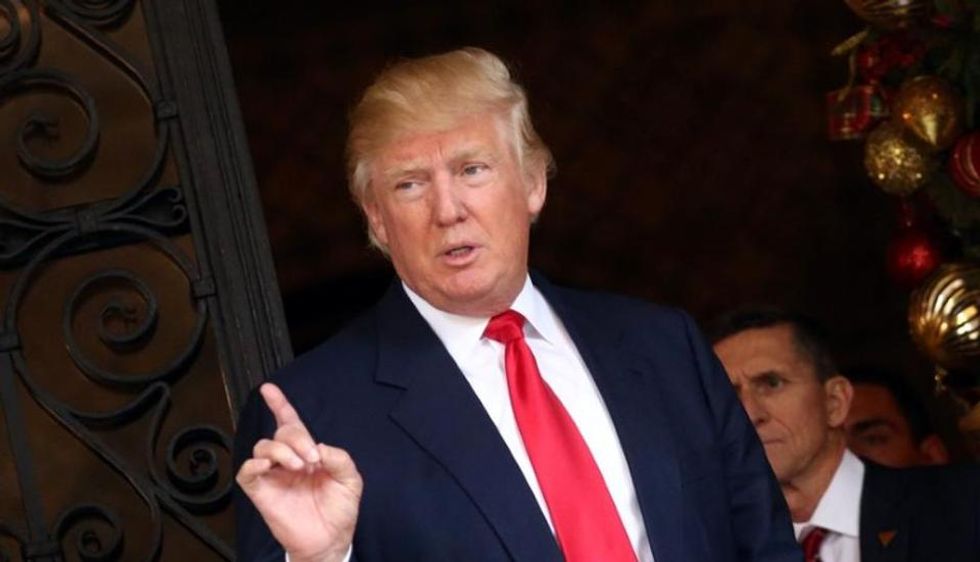 President-elect Donald Trump doubled down on his plans to establish a registry for Muslims and impose an immigration ban on Muslims entering the United States yesterday. Trump renewed his pledge for a registry following an attack on a Christmas market in Berlin claimed by the Islamic State which killed 12 people and injured dozens more.
"You know my plans," he told reporters at his Mar-a-Lago estate in Palm Beach, Florida, who asked him whether he would reevaluate his proposals in the wake of the attack. "All along, I've been proven to be right. One-hundred-percent correct. What's happening is disgraceful."
In response to other questions from reporters, Trump said he last spoke to President Barack Obama two days ago––and he denied his own assertion that the Berlin attack was an assault on Christianity. In a statement issued after Monday's attack, Trump said "ISIS and other Islamist terrorists continually slaughter Christians in their communities and places of worship as part of their global jihad," and linked the attack to the terror group before German authorities had said who was responsible.
"Who said that?" Trump asked.
"I believe you said it in a press release," said one reporter. "I'm wondering how this might affect relations with Muslims."
"It's an attack on humanity," Trump replied. "That's what it is. An attack on humanity, and it's got to be stopped."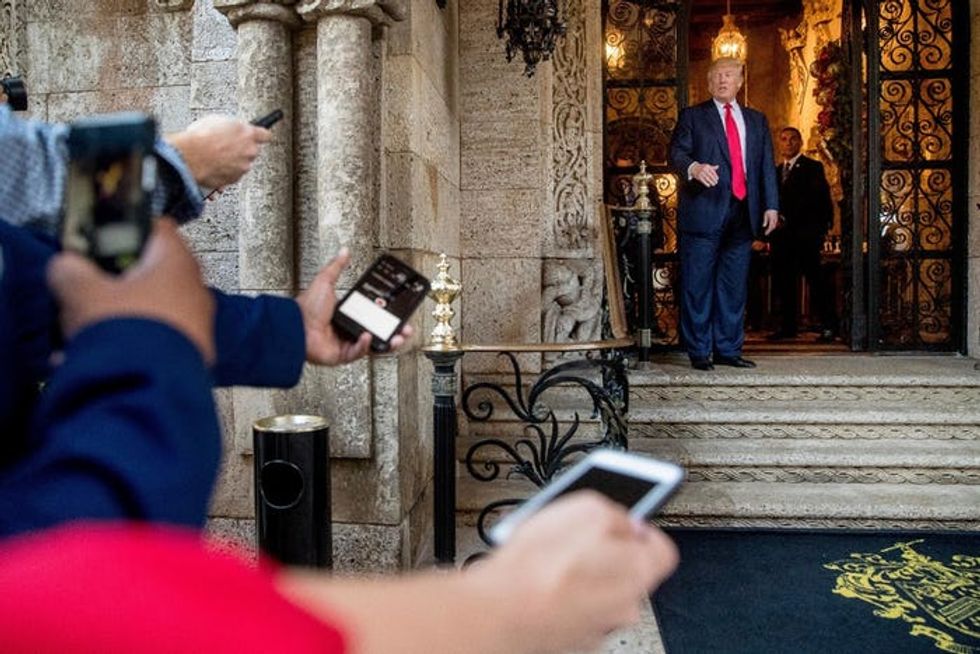 Trump speaks to reporters at Mar-a-Lago. (Credit: Source.)
Later Wednesday, a transition spokesman suggested that the president-elect's plans stand precisely as he articulated them during his campaign. "President-elect Trump has been clear that we will suspend admission of those from countries with high terrorism rates and apply a strict vetting procedure for those seeking entry in order to protect American lives," spokesman Jason Miller said.
The possibility of a Muslim registry first came up one year ago when Trump released a statement "calling for a total and complete shutdown of Muslims entering the United States until our country's representatives can figure out what is going on" and gave conflicting statements to the media. His suggestion received sharp criticisms from both sides of the aisle. For a time, he appeared to walk back on his stance, saying the proposals were "just a suggestion until we find out what's going on." Other times, he denied he ever suggested the proposal, despite mounting evidence to the contrary.
But throughout an often incendiary campaign,  Trump repeatedly stated he would want a Muslim registry and admonished Muslims for not reporting more terror suspects. In fact, he elaborated on his plans for a Muslim registry during the second presidential debate,
suggesting that Hillary Clinton, his Democratic opponent, would threaten the security of the country by allowing Syrian refugees on American soil:
It is called extreme vetting… people are coming into our country like we have an idea of who they are and where they are from and what their feelings about our country is, and she wants 550 percent more. This will be the great Trojan horse of all time.
Kris Kobach, the Kansas Secretary of State and a member of the president-elect's transition team, also indicated that Trump's administration might revive the National Security Entry-Exit Registration System (NSEERS), a Bush-era program that registered thousands of immigrants (most of them Muslim) which Kobach himself helped design.
Some Trump aides have appeared to backtrack, however, saying that the proposed registry will not, in fact, be created, but a statement proposing a "complete" shutdown of Muslim immigration remains on Trump's website and it is still uncertain which statements reflect the incoming administration's current stance.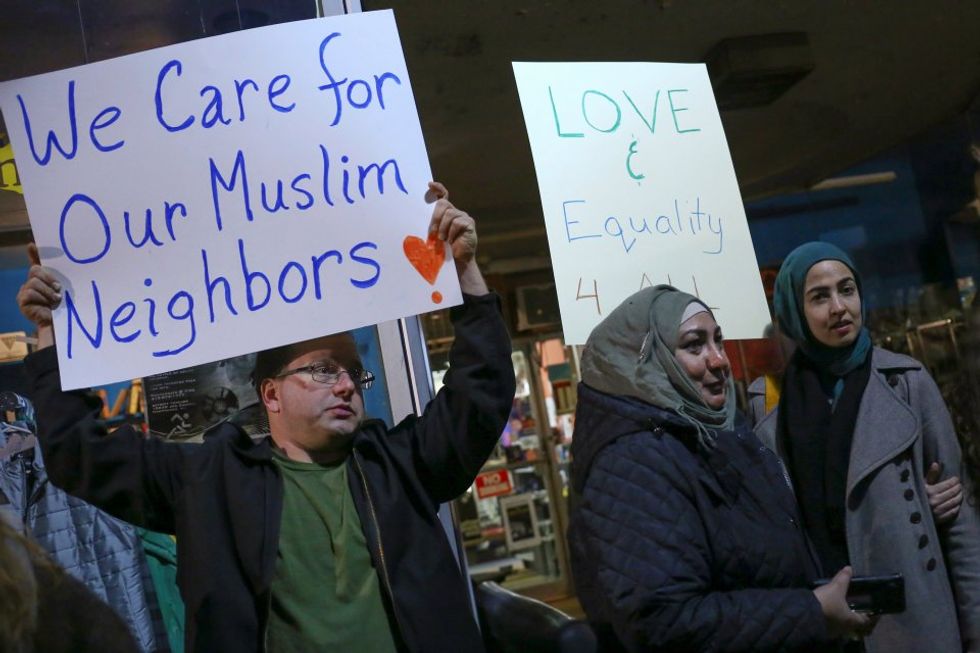 Credit: Source.
The president-elect's statements stoked fears and anxieties within the Muslim community.
"I think that at this point, we don't quite know what he means when he says Muslim ban," said Faiza Patel, the co-director of the liberty and national security program at the Brennan Center for Justice at NYU's Law school. "A lot of people have interpreted that as he intends to revive the NSEERS system, which was made in-operational a few years ago."
Jaime "Mujahid" Fletcher, the founder of IslamInSpanish, a center for Muslim Latinos in Houston, voiced similar concerns, and said the issue of a Muslim registry came up came up last week during a meeting with FBI agents attended by other area Muslim leaders.
"We met with the head of the FBI in their office," Fletcher said. "It was all about this new administration coming in: what can we expect from them? Is this going to be a change in the way they approach our community?" He said the FBI seemed to agree with Muslim leaders who felt a Muslim registry would cause the nation to regress. "They didn't foresee us going back to the past. They were reassuring. This is the way they see it... Obviously the community feels there are orders and commands from higher up and if those are sent down to a local level, will they act? And how much of what they think now could change in the future?"
Keep reading...Show less