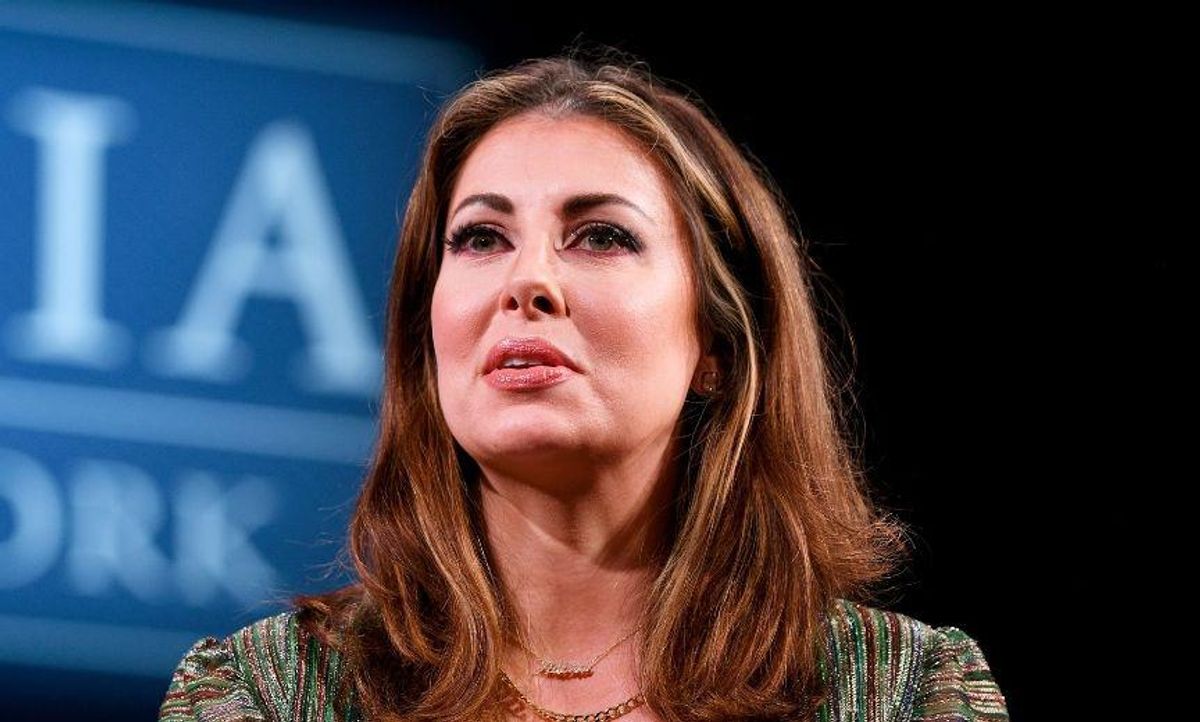 Riccardo Savi/Getty Images for Concordia Summit
A candidate endorsed by former President Donald Trump may find herself ineligible to run for a U.S. congressional seat in Tennessee's 5th Congressional District.
Morgan Ortagus served in the Trump administration as a staffer for Secretary of State Mike Pompeo. After Democratic Congressman Jim Cooper announced his retirement, Ortagus soon launched her House campaign in the district, which is now competitive after Republican redistricting in the state. In a glowing endorsement, Trump praised her as "an absolute warrior for America First and MAGA!"
But it wasn't until recently that Ortagus was even a resident of Tennessee, she has no political track record and very little name recognition in the state, and her candidacy soon prompted backlash from Tennessee Republicans.
Now, both chambers of the Tennessee legislature have passed a bill imposing a requirement that congressional candidates be residents for at least three years of the district they're seeking to represent.
If the bill is signed into law by Tennessee Governor Bill Lee, Ortagus's candidacy is effectively finished.
Ortagus previously said in an op-ed for the Tennessean:

"Whatever the outcome of this bill, I will continue to fight for my country, my state, and my community in any way that I can."
In an effort to save her congressional bid, a fledgling political action committee—the Tennessee Conservatives PAC—vowed to contest the constitutionality of the potential law on behalf of the 5th District's voters, according to Tennessee Lookout.
These developments have Republicans in disarray.
Some are speaking out against the bill.

This Tennessee bill places requirements beyond those found in the Constitution on individuals who choose to run for a congressional seat within the state and will almost certainly be litigated. https://t.co/GGdFuh6u6R
— Jason Snead (@jasonwsnead) March 29, 2022
I do not support this candidate but I also don't think you should change the rules to go into effect in the current cycle. https://t.co/6jQ5TkcKMc
— Mr. Brooks 🇺🇸 (@brookspw) March 29, 2022
Nothing short of rigging an election, this time against @MorganOrtagus. @BillLeeTN should veto this measure. https://t.co/D4GyZS5wQd
— Jackson Richman (@jacksonrichman) March 29, 2022
We'll see if the governor vetoes. Unconstitutional for the reasons I set out here, but proponents want to re-litigate Term Limits v. Thornton: https://t.co/oZJroxtBDV https://t.co/5dESLX5ZVO
— Derek T. Muller (@derektmuller) March 29, 2022
This is stupid— if voters wanna vote for a carpetbagger because Trump endorsed her, let them https://t.co/XVPjnmFOXy
— simpleton group 🇺🇸🇺🇦🏳️🌈 (@Fagocyte_) March 29, 2022
The primary twist is interesting, but it's still patently unconstitutional. That's up to parties and parties alone. https://t.co/PKBbmNNeI3
— Daniel A. Horwitz (@danielahorwitz) March 29, 2022
Others were more supportive.
This particular example aside I think this law is a pretty good idea. https://t.co/y6snLNv3kW
— trollbachur (@trollbachur) March 29, 2022
Good https://t.co/ZMmQKotnbP
— Korben Dallas 🇺🇸🦅🗽 (@korbendallas500) March 29, 2022
....and nothing of value was lost. https://t.co/2VibvMejoa
— 5point0pilot (@5point0pilot) March 29, 2022
The state's primary will be held on August 4.