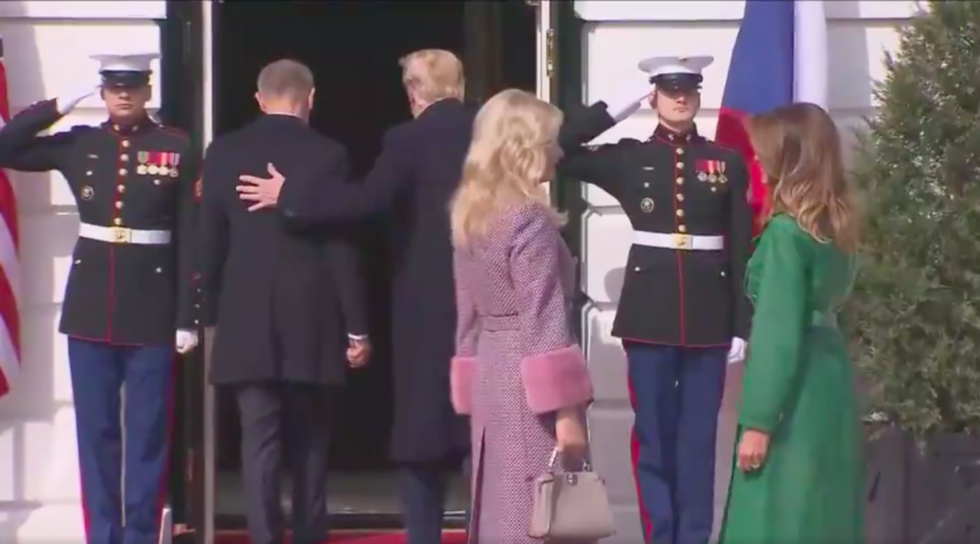 Screengrab via Politico/Twitter
First Lady Melania Trump and Monika Babisova, the wife of Czech Republic Prime Minister Andrej Babis, shared an awkward moment after their husbands left them hanging outside the White House on Thursday.
A video of the guests' arrival shows President Donald Trump greeting Babis and Babisova after they step out of a black car.
Trump then leads Babis inside as the First Lady steps aside, seemingly waiting for the traditional photo opportunity before heading into the White House. Babisova stands back as well and the two women look at their husbands leaving together before they both shrug and follow.
President Donald Trump and First Lady Melania welcomed Prime Minister Andrej Babis and Mrs. Monika Babisova of the… https://t.co/O7CK0Q0fEp

— POLITICO (@POLITICO) 1551985115.0
The moment soon went viral. Critics say it demonstrated the two world leaders' lack of basic chivalry.
@Newsweek The moment you realize you're a mere armpiece.

— Robbin Young (@Robbin Young) 1551990665.0
@Newsweek It's hard to overstate how thoughtless Trump is.

— Chris O'Brien (@Chris O'Brien) 1551992223.0
@Newsweek @FilipHorky They are both very alike in this. The prime minister did not care either. Two big egos.

— Gorn (@Gorn) 1551991898.0
@BlairGuild They both have husbands of similar qualities.

— Jarin (@Jarin) 1552053015.0
@politico Great show of indifference toward their wives.

— Richard Goodman (@Richard Goodman) 1551985361.0
The four later took a photo opportunity in another part of the White House.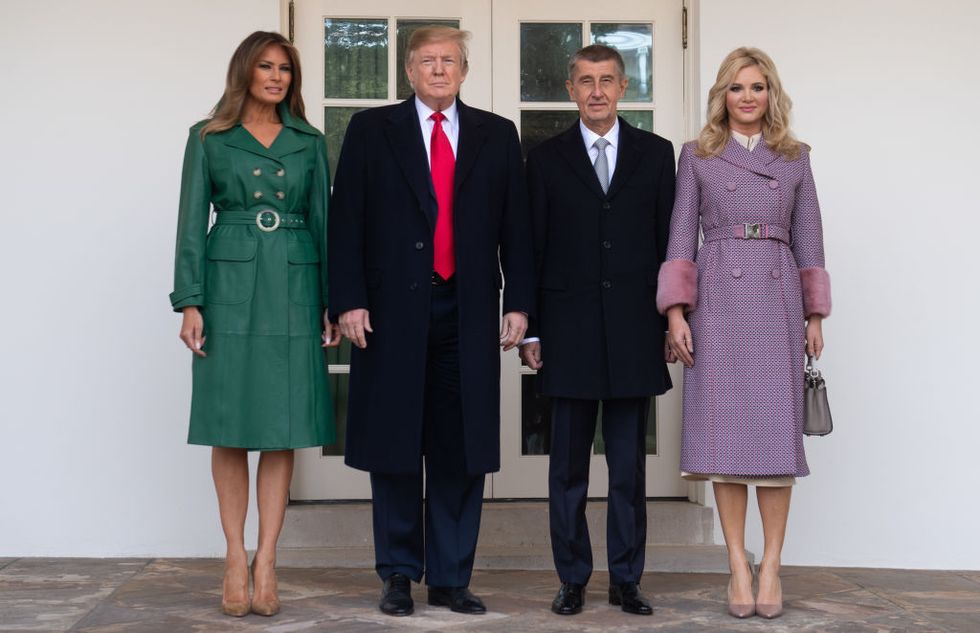 SAUL LOEB/AFP/Getty Images
The First Lady wrote that she and Babisova spent the day discussing "the many important issues children are facing around the world today," in accordance with her #BeBest campaign.
It was wonderful to welcome the Prime Minister & his wife Monika Babišová of the Czech Republic to the @WhiteHouse… https://t.co/ECBH6jvInR

— Melania Trump (@Melania Trump) 1551996332.0
Trump promised that the United States would cooperate with the Czech Republic on issues related to cybersecurity. The two world leaders also discussed topics such as terrorism, immigration, and international trade. Babis, for his part, praised Trump's leadership and expressed admiration for his vision to "make America great again":
"It's been 30 years since the Velvet Revolution, when the Czech people gained democracy and freedom. So Czech people are creative, innovative, great people…with unlimited potential, and our bilateral relations are growing, our investors are investing in the U.S. and already create[d] thousands of jobs. Mr. President, I watched your 2019 state of the union address, and I perfectly understand your plan to make America great again. I also had a similar plan to make the Czech Republic great again."
Trump offered his own praise for the Czech Republic, saying the nation is "strong."
"It's a great honor. Great country," Trump said. "Czech Republic doing very, very well economically and all other respects. A very safe country. Has always been a very safe country. A strong military. Strong people. And we have a very good relationship with the Czech Republic in the United States. We do a lot of trade and a lot of — just about everything you could imagine."
Babis and Trump are similar in that Babis is currently under investigation for alleged fraud and for conflicts of interest. Czech authorities charged him in December 2017, weeks before his election, with fraud over allegations that Capi Hnizdo (Stork Nest), a resort he controlled, improperly received millions of dollars in European Union subsidies.
Additionally, Babis has faced heated criticism for his intimidation of opponents and his tendency to surround himself with senior police officers and security agents. He is highly critical of media outlets that print stories critical of him and his administration. He denies allegations that he cooperated with the State Security Police (SIB) of communist Czechoslovakia and that he used his connections with the secret police to enrich himself.
Keep reading...Show less