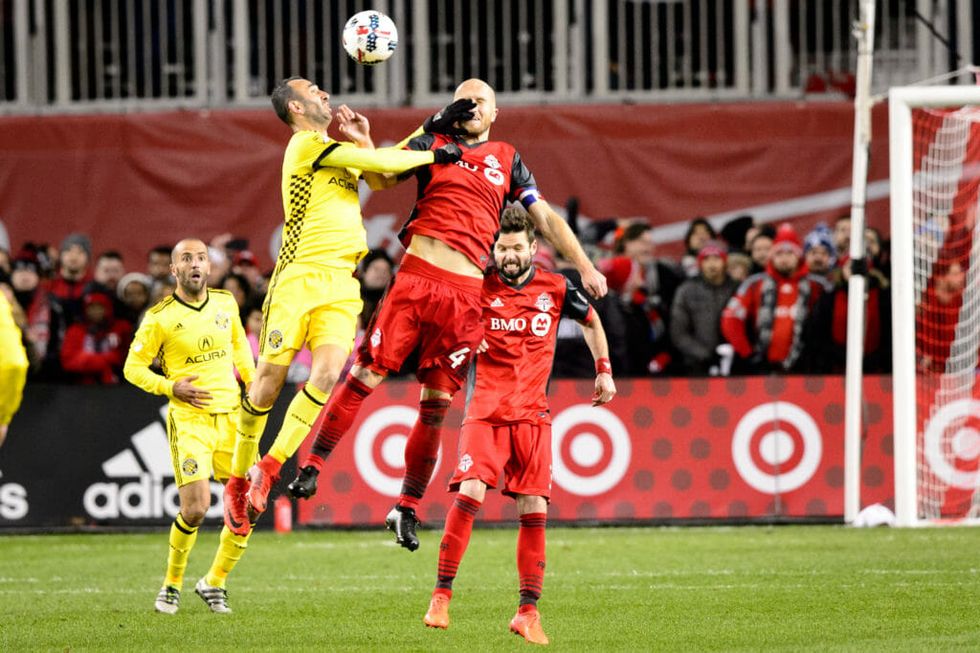 TORONTO, ON - NOVEMBER 29: Justin Meram and Michael Bradley fight in the air for the ball (Julian Avram/Icon Sportswire via Getty Images)
The MLS Cup will be televised this Saturday (December 9th) at 4:00pm on ESPN. This year's championship match will be a rematch of the teams featured in last year's cup. In 2016, the Seattle Sounders defeated the Toronto FC 5-4 in the franchise's first ever MLS Cup victory. Toronto will no doubt be looking for revenge, while the Sounders will attempt to continue their playoff dominance; they've crushed their opponents in the playoffs so far.
Not everyone will be able to watch the game on ESPN, though. For those who don't have cable, we've got a way for you to watch the game for free.
Start a fuboTV Free Trial (Then Cancel Immediately)
Like Sling, fuboTV is a streaming service that allows you to watch certain broadcasts. Their free trial requires a credit card to use and will automatically charge you $34.99 once the seven-day trial is up. Be cautious; they don't send e-mail reminders, nor do they give notifications when they charge your card. In this way, they can secretly drain your bank account until you notice.
However, the streaming service itself is legit, so if you follow these options, you can watch the MLS Cup for free this Saturday.
Go to the signup website for fuboTV.
Fill out the form on the web site, including name and credit card information.
Set an alarm to go off shortly after you expect the MLS Cup broadcast to finish.
Enjoy your free livestream of the MLS Cup!
Once the game is over, your alarm should remind you to unsubscribe. You can find the instructions to cancel your subscription here. Make sure you are logged in with the e-mail address you used to sign up for the free trial. If you're having trouble with the process, you can contact fuboTV at support@fubo.tv.
Keep in mind that your free trial will expire immediately after you cancel your subscription. This means that you can't cancel it during the game, or you'll lose access to the broadcast. Happy streaming!
Keep reading...Show less