Time to pay up.
25 October 2019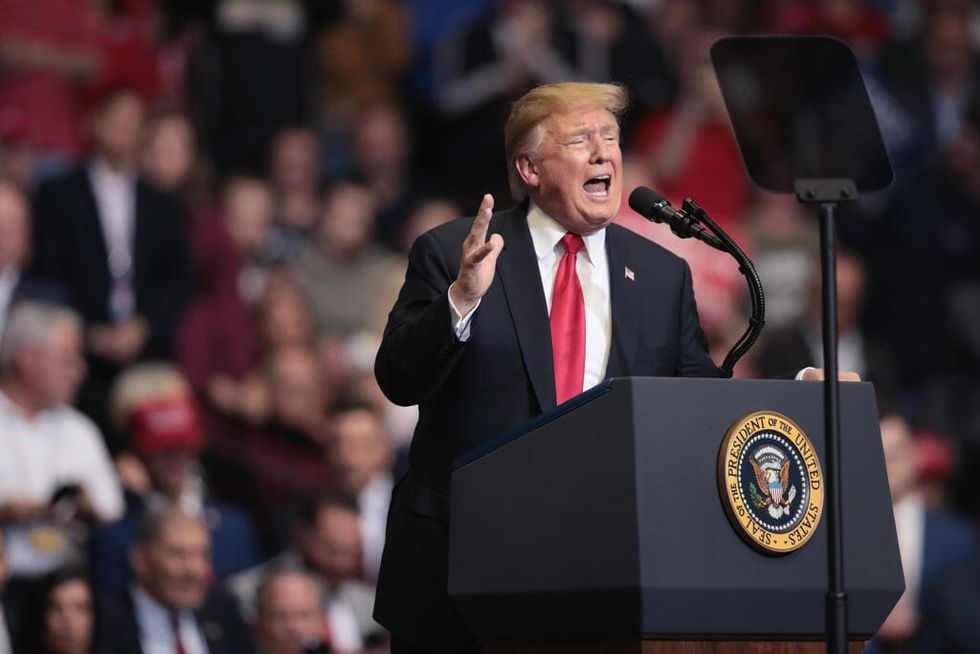 GRAND RAPIDS, MICHIGAN - MARCH 28: President Donald Trump speaks to supporters during a rally at the Van Andel Arena on March 28, 2019 in Grand Rapids, Michigan. Grand Rapids was the final city Trump visited during his 2016 campaign. (Photo by Scott Olson/Getty Images)
Earlier this month, President Donald Trump was publicly feuding with Democratic Minneapolis Mayor, Jacob Frey.
Frey wanted the Trump campaign to pay the city of Minneapolis up front for security and other logistics ahead of Trump's rally in the city. The Trump campaign accused Frey of partisanship and an seeking to silence the President. Frey just knew about the President's constant pattern of not paying up.
When Trump called Frey out on Twitter, he responded, "Welcome to Minneapolis, where we pay our bills."
Frey must be feeling a certain level of vindication, because the Washington Post is reporting that Trump has over a million dollars left to be paid to cities that hosted his rallies.
With Albuquerque billing Trump's campaign for $200,000, there are now more than $1 million in outstanding requests… https://t.co/129taQ84Em

— Philip Bump (@Philip Bump) 1571954597.0
According to the report:
"Adding in the bill from Albuquerque, that brings the total outstanding bill to more than $1 million — $1,052,395.78, to be precise. El Paso, which hasn't been paid for costs from a February rally, added a late fee of about $99,000 earlier this year, bringing the total to $1,151,183.36. Add in the $530,000 that Minneapolis was originally seeking and the total nears $1.7 million."
What's baffling is that the Trump campaign has more than enough to pay for these expenses. Unlike Democrats—whose donations are currently split over a dozen candidates within the crowded primary—Republicans only have one serious candidate to donate to, Donald Trump, and they're eager to do so.
The report goes on to point out:
"In the context of Trump's campaign, these costs are not significant. Earlier this week, the Republican Party celebrated having raised more than $300 million through the first three quarters of 2019. Reimbursing these cities for the costs they incurred from Trump's rallies, then, would eat up a little more than a day's average fundraising."
So why won't they pay a paltry million to settle up?
Pay your bills @realDonaldTrump! https://t.co/ZlfJ2OVNsa

— Deb Haaland (@Deb Haaland) 1572018980.0
@pbump @ChrisLu44 @realDonaldTrump Business Model 101: "When you don't pay for goods and services, you get to put… https://t.co/j5xHwsZ5pu

— Anisayni (@Anisayni) 1571959126.0
@pbump @ChrisLu44 Why is even one city hosting him?

— L. Lord (@L. Lord) 1571959743.0
@pbump Albuquerque et al will need to find some dirt on Biden if they ever want to get paid.

— Presidents are not kings (@Presidents are not kings) 1571955298.0
@pbump This is a proper representation of exactly who Donald Trump is: self promotion at the expense of everyone.

— Christina Moore (@Christina Moore) 1571956579.0
@pbump Just another example of his contempt for everyone.

— Elaine Doyle (@Elaine Doyle) 1571962571.0
Just add this million to the other millions Trump owes.
Keep reading...Show less