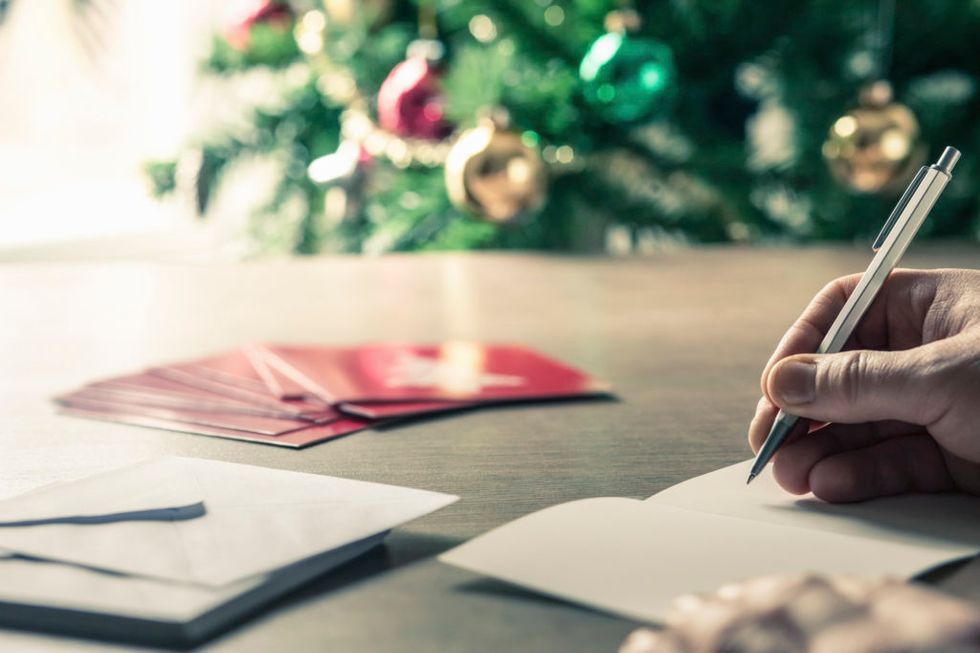 Dan Brownsword/Getty Images
Millennials are murderers.
Or at least that's what many people have come to think. Whether it be the death of beer or of patriotism or a vast array of other American institutions, Millennials often take the blame.
However, this time, they can take the credit.
The Chicago Tribune is reporting that millennials are the biggest buyers of paper greeting cards, an industry that—after decades of slumping sales with the advent of the digital age—is again enjoying stable profits, selling over six billion physical cards per year.
Though the digital age may have been a factor of its sales slump, the use of websites and apps by millennials in preparing paper cards for print has played a part in their resurgence. Many millennials have opted to use these sites to create original designs for print.
Some experts think that another factor of the comeback of holiday cards is a response to the digital age as well, rebelling against ubiquitous Facebook invites and E-cards with tangible displays of gratitude and well-wishes.
Some millennials chimed in to validate the findings.
I personally am a huge fan of snail mail, send me all the holiday cards and regular cards, too. https://t.co/EVAcygxFju

— Olivia Paschal (@Olivia Paschal) 1545246155.0
Sent my holiday cards far and wide from SF! Now to fly myself home to New York. RT @aliaemily: Belatedly sharing on… https://t.co/XDs3frorHd

— Danielle E. Alvarez (@Danielle E. Alvarez) 1545507022.0
Clearly I should be sending more holiday cards so that the Millennials in my life will send them to me... https://t.co/LMmU7lW6lN

— Naomi Kritzer (@Naomi Kritzer) 1545240777.0
The article also settles some questions on Twitter as to whether or not millennials had killed greeting cards after all.
Do millennials send holiday cards?

— michael tee (@michael tee) 1545404354.0
wAIT Have we started cataloguing reaction gifs like we catalogue greeting cards ARE GIFS JUST GREETING CARDS FOR MILLENNIALS

— emily yampermom (@emily yampermom) 1523805525.0
At what age do millennials stop texting each other happy birthday and start mailing physical cards?

— Holly Jefferis (@Holly Jefferis) 1503364064.0
Believe it or not, some people aren't in the fold.
Many appeared to be hoping that millennials would kill greeting cards as mercilessly as they've been accused of killing everything else.
Can millennials kill greeting cards next?

— kanye wesfarmers (@kanye wesfarmers) 1536293862.0
Can millennials please kill greeting cards? I would appreciate that @Ebigness @itsmissmandymac

— Liam C (@Liam C) 1503865271.0
I hate looking for greeting cards. I really and truly hate it. I hope the greeting card industry is the next thing killed by millennials

— S. E. Kesselring (@S. E. Kesselring) 1531346051.0
i hope millennials and gen zs kill christmas cards

— evie (@evie) 1542481086.0
If millennials need a suggestion for their "kill list" I'd suggest the overpriced & wasteful greeting / birthday /… https://t.co/HUq80dCbXB

— i am momo (@i am momo) 1535307991.0
If millennials kill anything, I hope we kill greeting cards. They're a complete waste of $5

— Wayne Thompson (@Wayne Thompson) 1515354705.0
Some expanded the definition to mean cards of all types.
Hopefully millennials will kill credit cards too :) https://t.co/D5O7TVQKbF

— Naheed Mustafa (@Naheed Mustafa) 1533477676.0
Hey, can us millennials finally be the generation that kills gift cards please?

— behold! real monster (@behold! real monster) 1514096828.0
Hey millennials, pls kill off the practice of thank u cards while ur at it. Sincerely, Centennials

— Madeline¯\_ツ_/¯ (@Madeline¯\_ツ_/¯) 1499054240.0
But at the rate millennials are buying, it looks like this house of cards won't tumble any time soon.
Keep reading...Show less